Collaborative Robot Series: Baxter from Rethink Robotics
by
Guillaume Robert
. Last updated on Apr 07, 2015 2:06 PM
Posted on Apr 24, 2013 11:42 AM. 3 min read time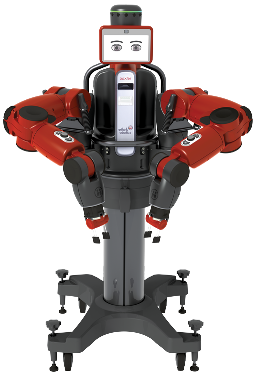 We continue our review of the newest collaborative robots on the market with Baxter from Rethink Robotics: Introduction, key features and challenges.
Baxter: An Introduction
Intended to support a rebirth of domestic production, Baxter is aimed at making North American manufacturing more competitive by lowering production costs in the US and thus avoid outsourcing to lower wage countries.
Targeting a range of businesses - from small job shops to major manufacturing players - this new robot from Rethink Robotics is intended to automate repetitive tasks actually done by human in an environment of high-mix products.
This is also coupled with the idea of breaking the usual barriers between the robot and the end-user by:
Making robotic programming as intuitive as possible for the people on the plant floor.
Making the robot itself an accessible tool in the production process (i.e: not having the robot surrounded by fences and signs warning about the danger of getting too close).
So instead of having people doing work which doesn't add value to the process, we would now have someone who does not have an in-depth knowledge of programming managing a group of robots who are doing this no value added work.
Baxter: Key Features
No Programming
Rethink Robotics highlight that Baxter can be trained in minutes without in-depth programming knowledge.
No Integration
Being a complete system, Baxter requires no integration. Only minimal training to be able to teach tasks to the robot.
Works Intelligently
Baxter is designed and programmed to perform a wide range of manufacturing and production tasks; it is aware of its environment, and can automatically adjust to changes.
Baxter: Challenges
Bringing the cost where it needs to be
Baxter sells for just above $ 20k. This is the price that potential customers said they were willing to pay for it. Reaching this price point, while Rethink and their distributors make money, is a real tough design and manufacturing challenge. As their sales pitch is about reshoring manufacturing in the US, they have to 'walk the talk' and produce their robots domestically, which they do. Baxter has a lot of features and is a big piece of hardware. In several talks that Rethink's founder Rodney Brooks gave in the past, he showed examples that the cost of a bearing 30 years ago is the same as today's price for the same bearing. Since material costs are not cheaper today, the trick is to have lower end mechanic costs and to compensate by having clever software and electronics. For this reason, we can envision that the Baxter will evolve continuously as its software does.
Educating the market
Baxter is not the fastest, strongest, toughest robot in town. On the other hand, it is the most adaptive and easiest to program. Manufacturing is an industry looking at how throughput and downtimes translate into dollar signs when it comes time to purchase equipment. Rethink therefore have to find ways to demonstrate the business case for their robot which is calculated using other variables than conventional robots. That will require educating the end-user to look at their automation from a different angle.
At Robotiq, we are very excited to see this kind of robot being deployed in the field. When we started in 2008, the robotics industry was at a record low point and innovation was not in the air. Since then it's been back on track and growing fast. Many plants want to start using robots and innovation is simply mandatory to make it happen. Rethink is preaching a message that is aligned with ours: Flexible and user friendly robots for every factory.
Interested to learn more about collaborative robots? Click on the link below to download our most recent eBook on collaborative robots: