Collaborative Robot Series : Workerbot from pi4_Robotics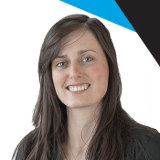 by
Catherine Bernier
. Last updated on Jan 29, 2015 10:54 AM
Posted on Jun 12, 2013 9:26 AM. 3 min read time
In order to satisfy manufacturing industries that want more flexible and affordable processes, we continue in our collaborative robot series to present different robots that can fulfill this challenge. In this article, we will introduce you to Workerbot from pi4_Robotics. It was released in 2010.
Workerbot : Introduction
pi4_Robotics is a German company that works in the field of robotics and optical inspection systems. They provide high-quality solutions for a variety of industries. They manufacture all their products in Berlin. Being attentive to their customers needs in flexible production, they developed in collaboration with the Fraunhofer institute, a humanoid industrial robot that can handle various tasks.
Workerbot : Key Features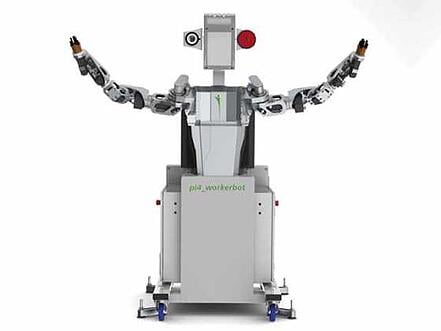 Most conventional robots have 6-axis arms, but Workerbot has two, 7 degrees of freedom, arms. This other axis correspond to the human wrist and enables Workerbot to perform more complex movements. Its size allows the robot to be used at any modern standing or sitting station. Even if it weighs 500 kg, it remains transportable due to its mobile platform. This base also contains all that is needed to make it work.
Since it can be used for inspection tasks, Workerbot also has 3 integrated cameras : two inspection cameras with illumination and one optional time-of-flight 3D camera. This last one allows face recognition, so the robot will react to someone who is looking at it. This is the collaborative feature of Workerbot, because it reacts to its environment. The inspection cameras are digital AVT Guppy. Each camera can work independently and simultaneously, for example, measuring a part with one camera, while inspecting the surface coating of another piece with the second camera.

Its "head" is a LCD screen that displays facial expressions such as: a smiling face, thinking face, or boring face among others. While doing inspections, it smiles and nods when the piece conforms.
PI4_Workerbot also has fingertip sensitivity on their end-effectors. Workerbot can therefore gauge the grip and force needed to be applied on the object it wants to grab. This allows it to hold an egg without cracking it.
Workerbot : What's next?
The company aims to change the existing standard by developing new technologies and Workerbot is just an example.
Since the current design is reminiscent of old sci-fi movies, some think that it should be changed in order to improve the aesthetics and modularity of their robot. However, this robot is reconfigurable and reusable and allows fast retooling. Moreover, its intuitive and easy to setup, so you do not need any knowledge of programming.
pi4_Robotics also offers to lease their robots under favorable conditions, so that manufactures can try this new kind of "worker" out in their own company. This gives Workerbot a smaller price tag and should allow it to be considered more by manufacturers.
We will stay on the lookout for further innovation from pi4_Robotics.
Interested in related articles on collaborative robots read about: