It's Easy Being Green for FANUC's New Cobot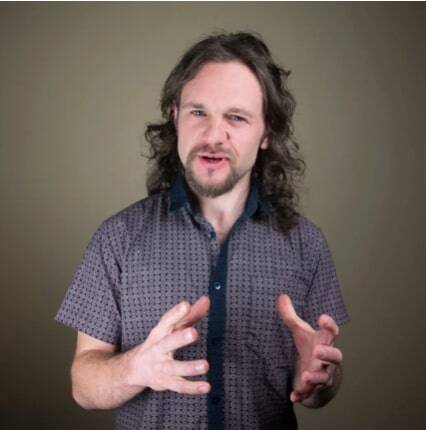 by
Alex Owen-Hill
. Last updated on Jun 24, 2016 10:45 AM
Posted on Jun 24, 2016 10:45 AM. 3 min read time
FANUC first collaborative robot (the CR-35i) was quite distinctive - it was bright green. We can now tell you that the CR-7iA, their second cobot, is equally distinctive. Amid a sea of yellow, FANUC's green babies stick out a mile away.
We visited the FANUC booth today. However, to call it merely "a booth" is to do it an injustice. They have taken over an entire North end of Hall B6 and created a multi-story tower of yellow! But, we're not going to show it to you yet. You will have to wait until this evening's post to see the booth itself. First, we want to show you their brand new collaborative robot.
The Old CR-35iA is Strong
FANUC's first collaborative robot, the CR-35i, came out last year. We introduced it here on the blog in May 2015 and added it to our Collaborative Robots eBook.
The CR-35i has a massive 35kg payload capacity, by far the highest for a collaborative robot at the time when it was released (though the Comau AURA which we saw the other day has now surpassed it). Even though the CR-35i is so big, the safety features make it suitable for collaborative tasks. Here's a video we took today which demonstrates its force limiting stop.
The New CR-7iA is Small and Fast
FANUC announced in January that the CR-7iA would be their next collaborative robot (although Robotiq got a preview of it at IREX 2015) . The new robot follows on from the success of the CR-35iA and is targeted at smaller applications. We were able to get a look at the CR-7iA in their "booth" (or perhaps I should say "in FANUC village").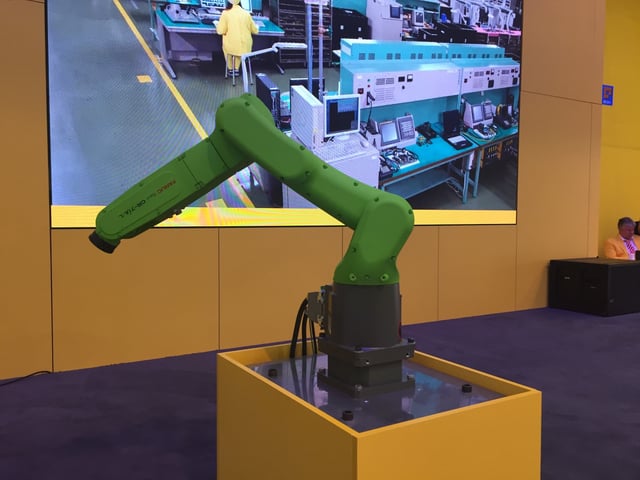 So, what are the changes? For one thing, the CR-7iA has only a 7kg payload capacity, bringing it in line with other collaborative robots on the market, such as the KUKA LWR5 or the ABB Roberta. This lower payload robot, they say "thereby continues FANUC's tried and proven scaling of its robot series, and thus providing a suitable robot for every type of job."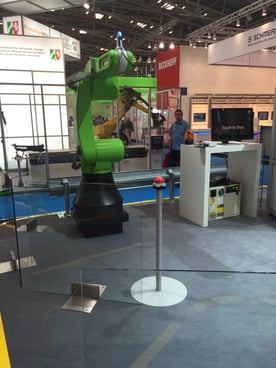 As with the CR-35i, under its green skin lies the mechanics of another, yellow, FANUC. In this case, the robot inside the CR-7iA is from their popular LR-Mate series.
FANUC wants to target the new robot at smaller jobs requiring a faster robot. The CR-7iA can reach 750mm/s, although you would have to introduce additional safety measures to use it at speeds over 250mm/s. We saw another CR-35iA here which FANUC has put behind a fence. However, you could also use safety sensors and implement speed and separation monitoring to access the robot's high speed mode without physical fencing.
This is not the first time that their new robot has been revealed in Europe. FANUC also showed off the CR-7iA in TechniShow, Netherlands, in March, the Industrie fair, France, in April, and both FOODEX and the MACH Show, UK, in April.