ABB Buys Gomtec to Enhance its Collaborative Robot Expertise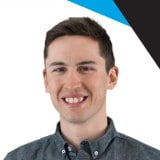 ABB, the leading power and automation group, announced today it acquired Gomtec GmbH to expand its offering in the field of collaborative robots. Gomtec's technology platform will strengthen ABB's development of a new generation of "safe-by-design" collaborative robots that can be operated outside of cages or protective fencing, expanding opportunities to deploy them in new applications.
"We are seeing an increasing trend of automation innovation where humans and robots work side-by-side in ways that weren't possible before. The addition of Gomtec to our robotics offering will help accelerate ABB's expansion into new markets as well as our penetration of traditional industries as manufacturers pursue new ways to increase flexibility, agility and competitiveness." said Pekka Tiitinen, president of ABB's Discrete Automation and Motion division.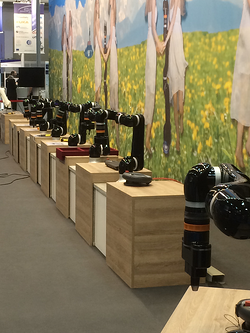 Gomtec's Roberta
Gomtec launched Roberta in 3 different models last summer (2014). The collaborative robot which was designed to be safe, cheap and light reached all of its goals. The robot is easy to use, incorporates visual features that tells the state of the robot and is also equipped with several safety features that make the robot really safe for end users.
The cobot is currently offered in 3 different sizes. The smallest robot having a 600 mm reach with a 4kg and 40 N payload. The medium one being able to reach 800 mm and to lift 8kg and 80 Ns is just spaced in between a UR5 and a UR10 and the biggest version can reach up to 1,200 mm and lift 12kg at 120 Ns. Gomtec's largest model being the collaborative robot capable of lifting the highest payload in the industry for collaborative robots.
We do not have any information about Roberta's sales track record. As it was launched only last summer, 2014, it is still probably too early to have significant numbers. But one thing for sure in this acquisition is that Roberta will greatly benefit from the ABB sales distribution network.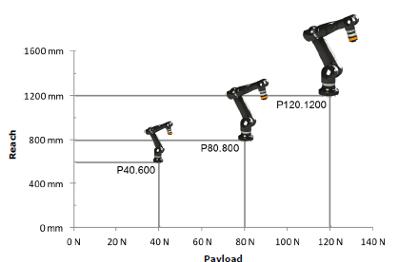 What About YuMi?
ABB just launched its first collaborative robot: YuMi. The robot has been around for a couple of years now (previously known as Frida) and the hype around it is quite high. The robot is touted as offering the next level in terms of collaborative applications. YuMi is designed for small assembly such as electronic boards and other high precision pick and place applications.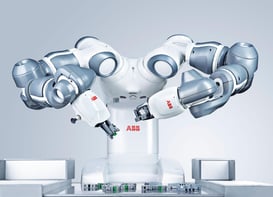 Now that ABB has announced the launched of YuMi and the acquisition of Gomtec, how will Roberta and YuMi fit into their product line? According to ABB they are placing themselves to take advantage of the increasing collaborative market, since all these robot models will complement each other very well.
In fact this acquisition is filling a hole in their product line. Indeed, even if YuMi is a collaborative robot, it has a very specific application range. With a low payload and a compact design (small reach) it is specifically designed for small applications. Since Roberta has a good size to payload ratio it may be interesting for ABB to keep these robots to offer a broader range of collaborative applications to users.
Historically, ABB has used the acquisition of other companies to adapt the acquired technology to their mindset. Since Roberta already has good technical features, they may just change a couple of esthetic features and they will be ready to go. At the time that this article is written, we don't have information concerning the future availability of Roberta. Will it still be available as it is now or will ABB plan to redesign Roberta and to release it within the coming months with an ABB imprint? We will surely follow this story.
About ABB

ABB is a leading supplier of industrial robots, modular manufacturing systems and service. A strong focus on solutions helps manufacturers improve productivity, product quality and worker safety. ABB has installed more than 250,000 robots worldwide.ABB is a leader in power and automation technologies that enable utility, industry, and transport and infrastructure customers to improve their performance while lowering environmental impact. The ABB Group of companies operates in roughly 100 countries and employs about 140,000 people.
About Gomtec

"A keen spirit of innovation, interdisciplinary cooperation, extensive development experience, and application and industry sector knowledge all combine to help us develop need-based, future-oriented solutions for our customers and partners. As a high-technology service provider we do not limit ourselves to devising and realising high-performance mechatronic products but accompany our clients' projects up to and beyond service entry. This comprehensive project support – from the initial idea up to the finished product – is underpinned by the outstanding commitment to service of our employees. Cooperation with our customers is based on a partnership of trust and loyalty." - Gomtec Website
Only the future can tell us what will happen with 'our new friend' Roberta and what ABB will do with it. Hopefully, the robot will stay alive and help issue in the next level of collaborative applications. Even if ABB is a world leader in industrial robots, this combination of Frida and Roberta will flesh out their selection of collaborative robots. This acquisition can help them to become a leading player in these kinds of applications. I can't wait to see what will happen. In the meantime, take a look at the eBook on collaborative robots we have put together to help you make the right choice in your robot shopping.