Force Torque Sensor FT 150 now Available from Robotiq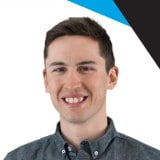 Robotiq launches its newest technology: the ROBOTIQ FORCE TORQUE SENSOR FT 150 – a 6-Axis Force Torque Sensor designed for force control with easy integration and immunity from external electrical noise.
Robotiq is releasing a 6-Axis Force Torque Sensor – the FT 150 – specially designed for force controlled applications, enabling the users to enjoy easy integration andimmunity from external electrical noise. With electronics included within the sensor, a high quality signal that does not require external processing, and software packages for Universal Robots, ROS, Linux and Windows; this new 6-Axis Force Torque Sensor makes integration easier for end users. This sensor is also compatible with industrial robot manufacturers such as: Yaskawa, FANUC and ABB.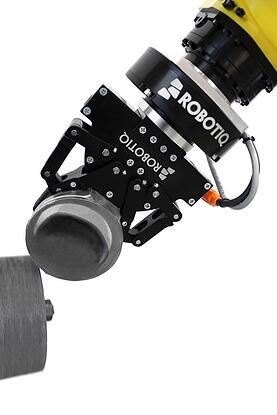 Targeted Applications
With the exact same concept as for a collaborative robot, you can now teach your industrial robot how to execute different tasks. To have a better idea of what hand-guiding looks like, take a look at our Kinetiq Teaching technology.
Applications such as grinding, polishing and deburring have to be done with a limited force to have consistent results. A force-torque sensor allows you to apply precision control in these operations with an industrial robot.
To be able to assemble parts together efficiently, you need to apply the right amount of force. This device, gives you the opportunity to adjust the force being applied, for example, in inserting a pin in a hole. Using a FT sensor brings the robot a step closer to human dexterity by controlling the force and by searching for surfaces.
Some companies are using robots to do durability tests. Robots are recognized as being steady and precise, so using them for testing is logical. Test cycles can be made with a robot using a force controlled device, this way you can determine the exact force necessary for the part / application.
Features
Digital measuring elements make the sensor immune to electro-magnetic noise, no filtering is required.
Direct Communication with your Robot Controller
The signal can be sent directly as digital input to your robot controller. No need for an external signal processing box with the associated costs and no need for costly fieldbus cards.
Software Packages Available
To speed up your application development, software packages are available for Universal Robots, ROS, Linux and Windows. Compatible with industrial robot manufacturers such as: Yaskawa, Fanuc and ABB.
To get more detailed information on the sensor itself, go to our FT 150 Force Torque Sensor product page.