Where Are We Now With Collaborative Robotics?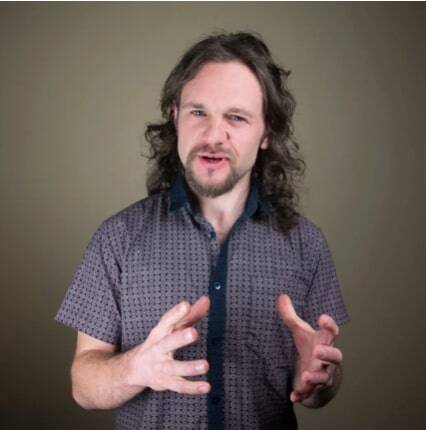 by
Alex Owen-Hill
. Last updated on Jan 24, 2019 2:01 PM
Posted on Jan 24, 2019 11:02 AM
Let's forget the sensationalist speculations and the sentimental memories. Why don't we take a moment to take a practical look at where we are now with collaborative robotics? The age of cobots is here.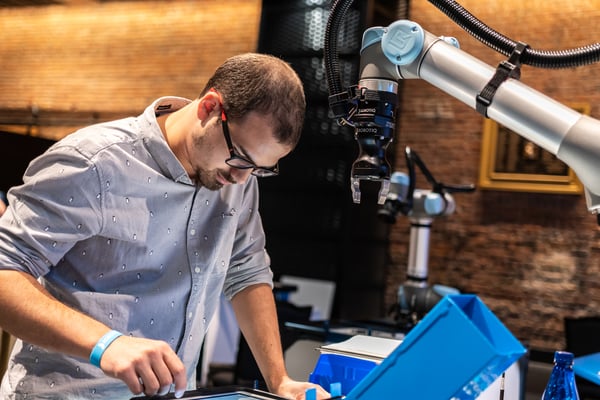 Collaboration with a cobot at the RUC 2018
At this time of year, we sometimes look back to remember what we have achieved in the past. Other years, we look forward to what we hope to achieve in the future.
In the world of technology blogging, at this time of year, it's customary to look "into our crystal ball" and speculate about what we think will happen in the next 3 to 5 years. If you've read any of my past new year articles you'll know that I'm not a big fan of making wild predictions. In my opinion, change is slow but powerful, and people have a tendency to over-hype the next big thing.
Robotiq has come a long way in the last 10 years, through slow but powerful progress. Right now, we're at the start of a new era, led in by our recent funding boost from Battery Ventures. Collaborative robotics has already grown alongside us and it is set to grow even further.
But, we don't always need to fixate on where we have been or where we are going. It might be a good idea to take a moment to appreciate where we actually are now — and what that means for you.
We are already in the "age of cobots." Let's take stock of where collaborative robotics are right now.
Right now: Cobots are becoming ubiquitous
When Robotiq began a decade ago, collaborative robots were generally thought of as an "interesting idea" but not a real solution for businesses. People thought that they were too slow, too imprecise, and too small for any real applications.
As we saw at Automatica 2018, cobots have now well and truly "arrived." Hundreds of cobot models have sprung up from manufacturers in the four corners of the world. Businesses are adopting them left, right, and center. Robotiq Grippers and sensors can be found on cobots from Canada to Australia.
Cobots are no longer just an "interesting idea." They are now an accepted solution. We like to think we've had a hand in creating this change, if you excuse the pun (… grippers … "hand" … never mind).
Right now: Data is vital for success
Data tracking and analysis is one of the most important skills in all modern businesses. Everything is tracked these days and cobots are no different. When you actively track the performance of your cobots, you will ensure that you are using them to their full potential, and that they are actually improving your processes.
The Robotic Industry Association recently published a list of future trends in robotics. In it, they noted that big data analysis is going to be a competitive differentiator in the near future. By collecting and analyzing data about your operations, you will set yourself apart from your competitors.
At Robotiq, we have been aware of this for some time now. In 2017, we launched Insights, a solution which monitors your robots and tracks Key Performance Indicators, allowing you to optimize production and minimize downtime. Our eBook The Top 5 Cobot KPIs explains how to effectively use data in your cobot cells.
Right now: Cloud and IoT are here
Related to data is cloud computing and the Internet of Things (IoT). It's no longer enough just to track your manufacturing data in an isolated spreadsheet stored on some dust-covered laptop in the corner of your office. The real power of data comes when you can access it everywhere and combine many data sources to spot trends.
IoT is no longer just a "thing of the future." It is already well-established, particularly in industrial robotics which has been using versions of the Industrial Internet of Things (IIoT) for over a decade.
Over the past year, we have focused a lot of energy on incorporating cloud and IoT concepts into our services. This year we added a remote access feature to Insights which allows you to fix problems with your robot by logging into it's teach pendant online. Jean-Philippe performed a risky demonstration of the new feature at the Robotiq User Conference 2018.
Right now: Accessories are easy to integrate
Tools, sensors, and end effectors. There are so many of them available for industrial robots and an increasing number of them for collaborative robots too. In the past, it has been up to the robot integrator to make sure that they work nicely with your robot. Recently, that's all changed.
There is now a move towards easy-to-integrate accessories for collaborative robots. This has become necessary because integration is no longer only performed by dedicated robot integrators. Anyone can add a cobot to their business with very little external help.
A pioneer of this approach is UR+, a plug-and-play application library for Universal Robots which they announced in our shared booth back at Automatica 2016. It allows manufacturers of robot accessories and software developers to make products which seamlessly integrate with collaborative robots. Our brand new Hand-E gripper worked with UR+ out of the box.
It seems likely that plug-and-play integration will become even more important in the coming years. Cobot users aren't going buy a hard-to-integrate sensor when there is an easier option available.
Welcome to the Age of Cobots
Change is slow but powerful. At Robotiq, we have been championing collaborative robots for the last decade. Now, finally, it seems that the world has caught up with us. The age of cobots is already here. It has arrived slowly and steadily, but it looks like we are now inside it.
Let's see what we can achieve in 2019 and beyond!
What changes do you think are going to be the most important in 2019? Tell us in the comments below or join the discussion on LinkedIn, Twitter, Facebook or the DoF professional robotics community.