The New Way to Work in 2015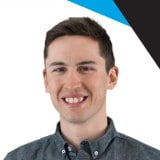 Ever wonder what your shop will look in 5-10-15 years from now... Well here's a preview. The Scott Fetzer Electrical Group has integrated several collaborative robots into their shop and the results are impressive and... it looks nice, too!
Key points
Not to make the analysis too exhaustive, I just wanted to underline a couple of points that can help you with your future robotic implementation.
Flexibility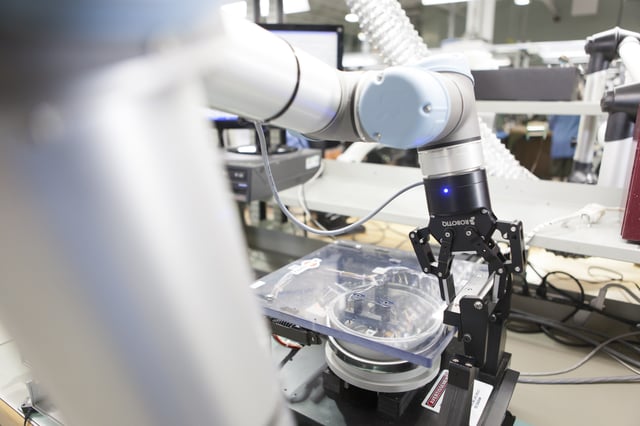 This is often an argument that is placed up front when it's time to buy a robot. In fact, traditional industrial robots always need fixed fencing and require highly complex programming knowledge. In opposition to this, collaborative robots require minimal programming skills, because of the intuitive programming which manually teaches the robot the task you want it to do. Cobots also require no to very minimal safety devices to work normally next to humans. This increases the level of flexibility for the robot and what can be done with it.
If you also consider the fact that the robots in the video were mobile, it is even easier to repurpose them on different tasks in a couple of minutes.
''One of our biggest challenges is we're a high mix / low volume producer. For most of our lines, they don't run every day. So trying to find a way to put robots on the lines in the traditional way was a very big challenge.'' - Matt Bush Director of Operation SFEG
Redesign
Sometimes a major downside to switching to automation is that the product hasn't been designed to be assemble or manufactured by a robot. However, a revision of the product can make most of the assembly steps easier to automate.
Don't let yourself think that it's not possible to achieve a task with a robot, a lot of things can be done to automate a process if you look a little further.
''So we are looking at all of our designs and saying: If we can't put that together with a robot, we need to get back to the drawing board and try again.'' - Matt Bush Director of Operation SFEG

Physical implementation
Except the product itself, what has to be changed on the work floor to adapt the robot to the production? Do you need more pneumatic devices or rolling racks to move your robot around the plant?
''First thing in the morning [...] we move the robot back in, drop a couple of pins in the floor and off to work it goes again.'' - Matt Bush Director of Operation SFEG
Mindset implementation
This is a tool to help employees, not steal their jobs. As seen in the video, monotonous, dangerous tasks are automated to make the life of the worker a lot easier. It is sometime hard to introduce these devices into a plant, but when the employees learn to work with them, then it is easier to accept the robot and to use it.
''We are looking for tasks that are really monotonous or very intensive or hazardous to do.'' - Matt Bush Director of Operation SFEG
''They are constantly asking: Can we put a robot in this position?'' - Sebrina Thompson, Line Leader
So what are you waiting for? Robotics is not a thing of the future, it is now and you should leverage your manufacturing process with them. It is easier than ever to introduce a robot into your plant and the return on investment is proven to be fast.
Learn more about collaborative robots with the comparative chart we have put together. This includes all (well, most... there is almost a new robot introduced every week) the collaborative robots on the market.