What does Flexibility in Automated Manufacturing Means?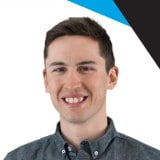 In the industrial automation world, the word flexibility is often used. We've heard about flexible robot grippers, flexible manufacturing, flexible robotic cells and even flexible plants, but what does flexible mean? How can I become flexible? What's the point of having flexibility? These are all questions that you might have already asked yourself. Let's try to answer a couple of these questions and make flexibility clearer.
Flexible manufacturing definition
The general definition of flexibility is: being responsive to change, adaptable. In fact, being flexible in terms of automated manufacturing is basically being able to adapt your process to different options. The best way to describe flexibility would be to describe the total opposite of it, rigidity. Having a rigid manufacturing process consists of having a single product that can be produced in a given operation. If the process needs to be modified, it can not be quickly adapted. Most of the time, rigid processes need a complete changeover when another kind of product must be produced.
Flexibility vs. rigidity
In more concrete terms, when talking about robot grippers, a two position pneumatic gripper would be a classic rigid robotic end effector. In fact, by only having two positions, the gripper can only grab parts that it has been designed for, ie custom design. If the position, the size or the weight of the part changes during production, there are few possible ways to adapt the gripper. In certain cases, to adapt the gripper to the production, tool changers will be used, which means more customization, more money and longer cycle times. However, these kinds of end effectors have in the past been used on highly repetitive production lines, where the same product is produced for a long period of time.
Another example of rigidity in general manufacturing is production dedicated to food products. Companies that are producing soup cans, for example, don't have to change their production lines since the canning, labeling and sealing operations remain basically the same for years and years.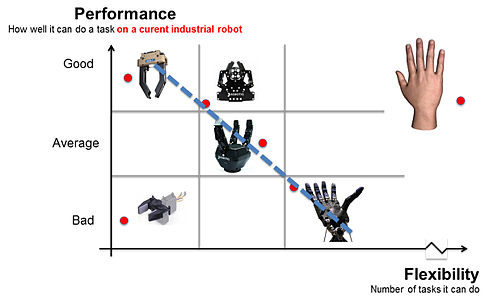 On the other hand, in terms of grippers, more companies are developing different concepts of adaptive robotic grippers. These robotic end effectors are able to adapt to different shapes, sizes, textures and weights. In fact, along with being able to adapt to different geometries, these kinds of tools can also adapt their grip force depending on the manufacturing application. For example, our 3-finger adaptive gripper can handle everything from a fragile light bulb to metal parts.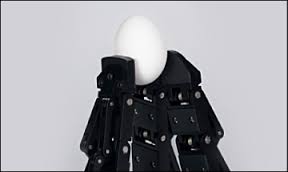 Another good example of flexibility, in general manufacturing, is production lines where electronic devices are produced. As you may know, electronic device generations are produced over a very short period of time (from 12 to 18 months for iPhones). So the production needs to be switched frequently. All the equipment needs to be capable of adapting quickly to new production methods and parts.
What do I need to do to become flexible?
Well, there is no real answer to this question, but there is a path to follow in order to be more flexible. First of all, in a production line, the best way to become flexible is by using cells or modules. By doing so, you can ''pick and place'' a cell and keep the rest of the line unchanged. For example, if the drilling operation is changed on a given part, this won't necessarily have to change the painting operation.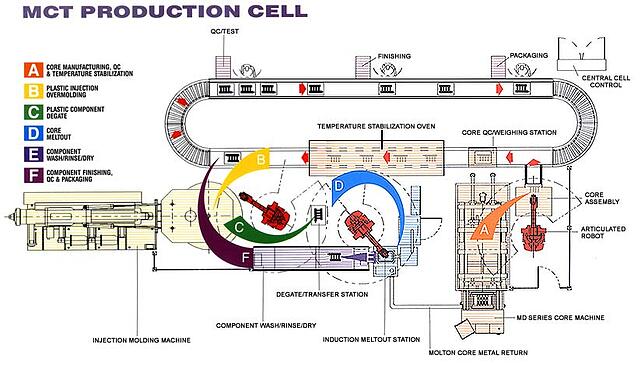 Secondly, using fast and efficient changeover methods are crucial. For welding robot applications, the programming steps need to be done quickly, so that production can be continued. By using tools such as the Kinetiq Teaching programming method, you can weld small batches and adapt your production very easily. Or, for other applications, you can do off line programming or simulations which would allow for reduced downtime.
Finally, use adaptive tools. When it's time to get new tools, think about flexibility in case your production needs to change. Of course, a 4-axis robot can work for what you are doing right now, but in one year's time will you need supplementary axes? Plan long term and try to figure out the best flexible options for your manufacturing process.
What's the point?
Being flexible is all about saving time and money. By using adaptive tools, such as adaptive robot grippers, the starting investment might be a little higher, but the savings are incredible and will grow over time. There means there is no need to use tool changers, since the robot can handle parts with different geometries without changing tools.
By reducing the cycle time, you are basically saving time and money for your operation. The end effector can also be used for other operations. In fact, if a given product is not produced anymore, you can relocate the gripper and use it in another application. Also, consider buying one device that can fit most of your parts instead of buying several custom devices that need to be stored and maintained somewhere else in the plant.
''You need machining centers that can leverage the full capabilities of a flexible manufacturing system by minimizing every instance of out-of-cut time, while offering the flexibility necessary to produce a diversity of part materials and features.'' -Doug Conrad, owner of Metal Technologies
Although, since I use robotic grippers as an example, it may seem like I am speaking about the advantages of our own products, yet flexibility really is the next big thing in manufacturing. The goal is basically to save time and money. Even if the outlay of investment initially seems to be a bit higher, the payback will certainly be worth it. Even though we mostly discussed grippers in this article, there are plenty of other examples that can probably fit your application. So, when you shop for your next production device keep in mind that flexibility might be the right tool to make you step it up!