The New FANUC CRX Cobot Now Supports Robotiq Grippers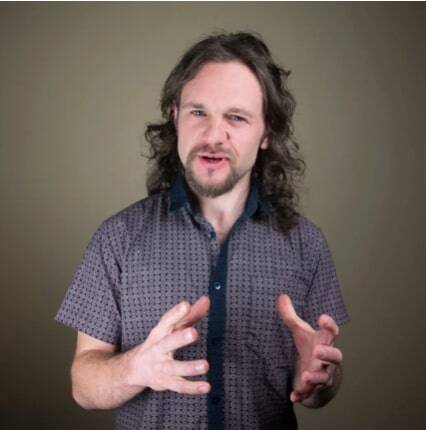 by
Alex Owen-Hill
. Last updated on Nov 02, 2021 10:35 AM
Posted on Nov 02, 2021 10:35 AM. 6 min read time
The FANUC CRX cobot heralds the next step in the company's line of collaborative robots. And with the new support for Robotiq grippers, we know this sleek, light robot will bring cobot applications to a wide range of new users.
If you're looking for a new collaborative robot, you certainly are spoiled for choice. There are many different cobots on the market these days. Soon, there might be many cobot models as other types of industrial robots!
Back in 2019, FANUC first announced the latest addition to its lineup of collaborative robots, the CRX. This is a departure from its existing cobots and shows how the cobot landscape has changed recently.
Here at Robotiq, we are committed to making our grippers and other peripherals easy to use for everyone. We recently added support for CRX cobots, allowing you to add a gripper in just a matter of minutes.
The growing line of FANUC collaborative robots
Japanese-based manufacturer FANUC is no stranger to collaborative robots. The company's cobot offerings have brought new spins on the concept of collaborative robotics for the last 5 years.
FANUC's first collaborative robot was the CR-35iA (or as Robotiq's Mathieu Bélanger-Barrette calls it "The Green FANUC"). It was released back in 2015 and we first caught sight of it at the IREX 2015 trade fair.
Its first distinctive feature was its color. Unlike most FANUC robots, which are bright yellow, this one was a shocking lime green. The second feature was its payload capacity. Most cobots can lift around 5-10kg. The CR-35iA can lift a whopping 35 kg (that's as much as an empty beer keg).
FANUC closely followed the CR-35iA with a smaller 7 kg version, the CR-7iA. They later extended the line with several other models.
When you look "under the hood" of the CR series cobots, they are quite different from most collaborative robots. They are basically conventional 6 DoF manipulators from FANUC's LR-Mate range but with a protective bright green skin.
This means that they are heavier than most cobots. It also means they have the speed, stiffness, and accuracy associated with conventional industrial robots.
Introducing the FANUC CRX collaborative robot
The new CRX cobots are quite different from FANUC's existing range. Like some other collaborative robots on the market, they are sleek and lightweight.
At the time of writing, there are two cobots available in the range:
The CRX-10iA — This is a 10 kg payload cobot with an impressive 1.25 m reach.
The CRX-10iA/L — This is the extended reach version of the cobot with an even more impressive 1.42 m reach. The extra reach is achieved by making the first linkage 170 mm longer, but all other dimensions are the same.
FANUC's new CRX vs the CR series cobots
What makes the CRX cobots different from the existing CR series cobots?
Quite a lot!
When you look at robots from both series side by side, the differences are striking. The CRX robots look more like a KUKA lightweight arm in terms of design. The CR robots have a more "traditional" industrial robot look (apart from their bright green coloring).
Some other differences are:
| | CRX Series | CR Series |
| --- | --- | --- |
| Weight | 39 kg | 48 - 990 kg |
| Reach | 1249 - 1418 mm | 550 - 1813 mm |
| Payload | 10 kg | 4 - 35 kg |
| Pinch points | None | Some, such as at the elbow |
| Power | Standard 120V/240V | Depends. Smaller models, standard 230V. Larger models, 3-phase 380-575V |
Overall, the CRX series cobots are just a bit more accessible. They offer a long reach for their light weight and have an intuitive programming interface.
FANUC cobot + Robotiq gripper = simple integration
One feature that FANUC is emphasizing with the CRX cobots is the easy installation of peripheral devices. After all, a robot is only as useful as the end effectors, tools, and other accessories that it supports!
Often, integrating components can be the most complex part of a robotic deployment. At Robotiq, we think that integration should be as easy as possible.
We have just released a new plugin for CRX series robots that makes it easy to integrate Robotiq grippers. Together with the mechanical coupling, the new plugin makes installation onto the cobot arm extremely quick.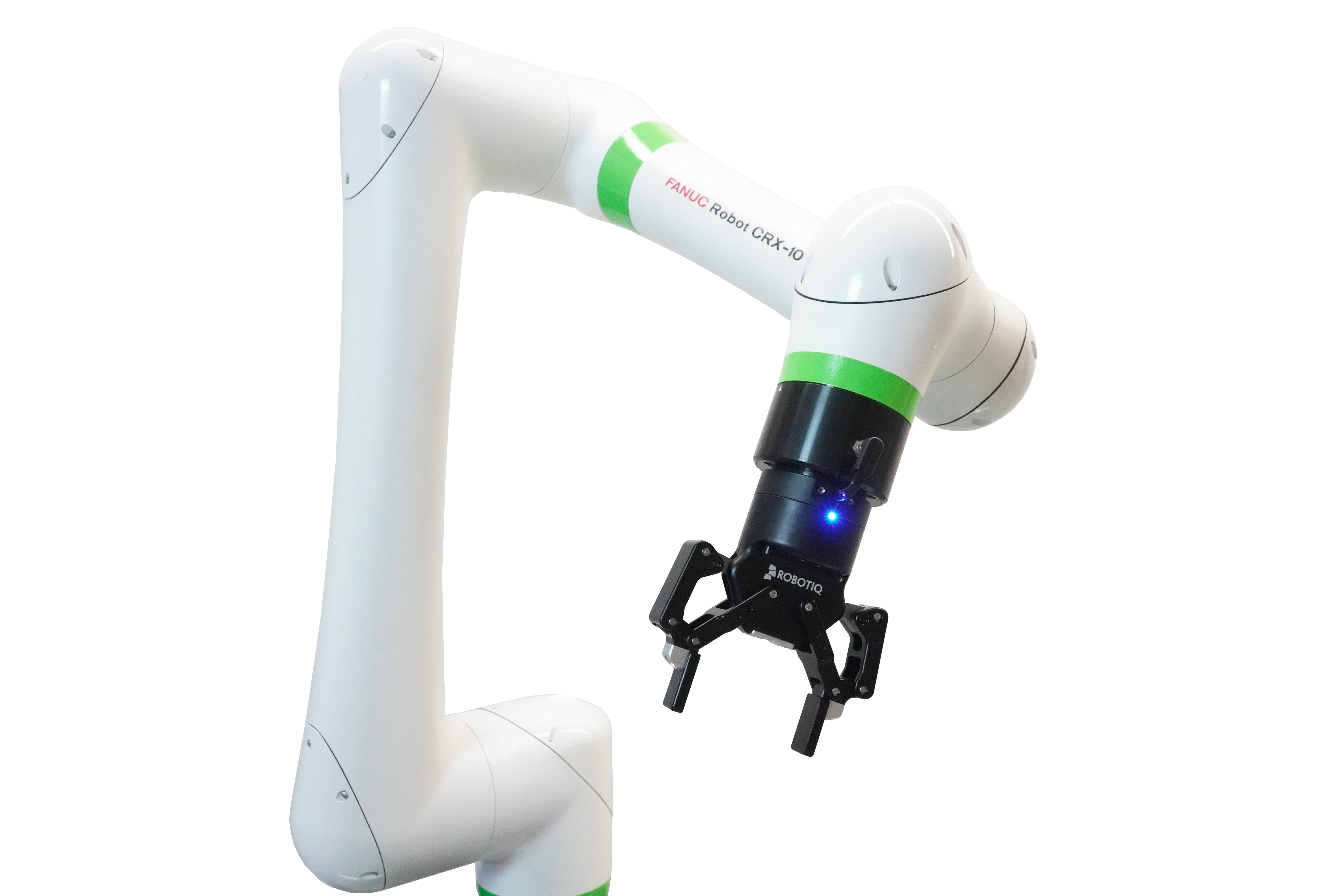 Adding the Robotiq gripper to a FANUC robot controller
There are now just 2 simple steps for adding a Robotiq gripper to a CRX robot:
First, you load the plugin into the CRX's controller.
Then, you attach the gripper to the robot using a mechanical coupling plate. There are options for both single gripper installations and dual grippers.
The plugin loads directly into the controller of the CRX. This adds programming functions for the functionalities of the gripper, such as opening, closing, and setting the force and speed.
Operating the gripper from the teach pendant is then as simple as pressing a button on the user interface.
What you can do with a FANUC cobot and a Robotiq gripper
When you have integrated your CRX cobot and gripper, you can use the system for any suitable robot application.
Common applications include:
If you are performing a task where there will be water or dust, both the CRX robots and the Hand-E gripper have an ingress protection rating of IP 67. This protects them from particles or water droplets entering the mechanism.
We predict that you will see a lot of CRX cobots and Robotiq grippers in facilities from now on! Will your facility be one of them?
What applications would you like to perform with a FANUC CRX cobot? Tell us in the comments below or join the discussion on LinkedIn, Twitter, Facebook, or the DoF professional robotics community.