The Big, Small and Creepy of Automatica 2018 Day 1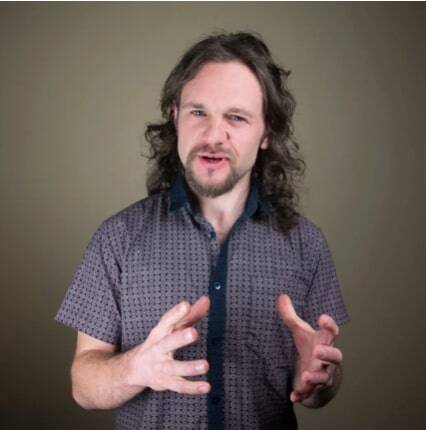 by
Alex Owen-Hill
. Last updated on Jun 19, 2018 4:05 PM
Posted on Jun 19, 2018 4:05 PM. 5 min read time
Tiny arms, surprisingly long fingers and creepy robot smiles. It can only be the first day of Automatica 2018!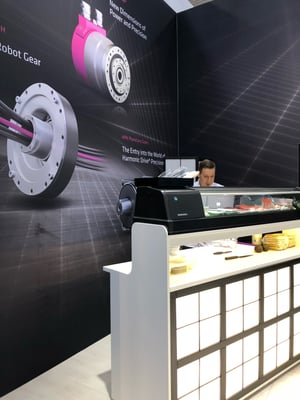 The halls of the Neue Messe München Exhibition Centre have quietened down again. People wearing lanyards have made their way to the exits. They're all looking forward to a relaxing meal and a rest, and so are we.
The sushi bar is now closed (yes, there's a sushi bar at Automatica) and the bars and restaurants of the city of Munich are calling our names.
Is Automatica 2018 over? Certainly not! This was only Day 1.
We've still got three more days of revolutionary robots, mind-blowing machines and state-of-the-art shiny things with lights all over them (sometimes it's hard to tell what a machine is just by looking at it).
So, as we prepare to take a well-earned rest in preparation for another big day tomorrow, here are some of the cool things we saw on this first day of Automatica 2018.
Tiny arms are on the rise
Earlier today, in our first live blog post of the day, we showed you a video of one of the biggest robots that we've seen so far in Automatica.
But, it isn't just big robots that are here. This year, we've noticed a trend for tiny robots. It seems that tabletop robots are on the rise and they are starting to show up at Automatica.
Like these fun little MotoMini robots from Yaskawa (Hall B6 Booth 502). These guys weren't doing much in their glass box, but they are pretty fast. Apparently they are 20% faster than comparable robots of a similar size, with a some joints able to reach 600 degrees per second. For reference, they are about 14% shorter than the UR3/UR3e, which is already pretty small.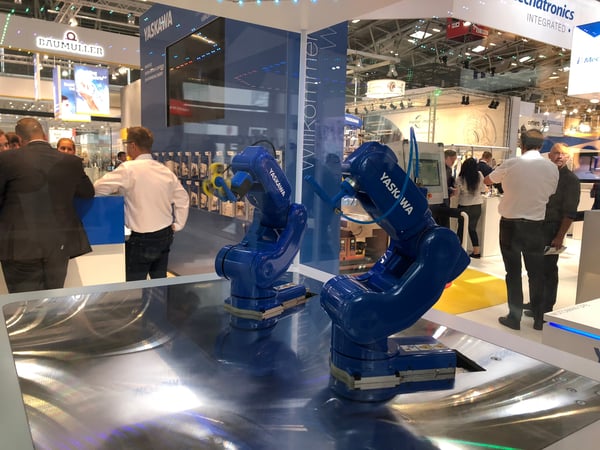 Of course, the great thing about tiny robots is that you can fit a lot of them into a box. I guess that's why Denso (Hall B5 Booth 311) decided to bring a whole bunch of their new Cobotta collaborative robots. We took this photo of them yesterday when everyone was still setting up.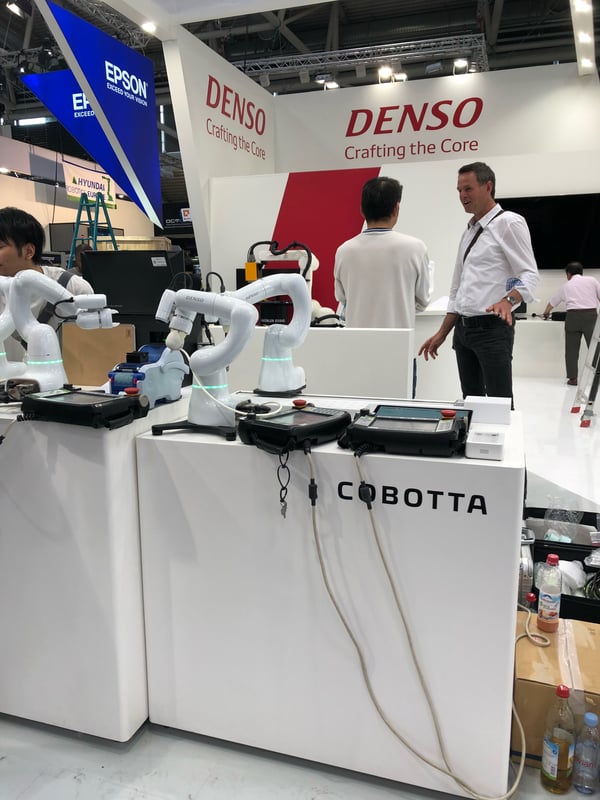 These little things are aimed at research, education, testing and lab work, among other application areas. They come with an open controller API so that you can do pretty much whatever you want with them.
How long are those fingers!?
You know that it's really easy to change the fingertips on our Robotiq Adaptive Grippers, right? Well, even if you didn't know, it is very easy to customize them by making your own fingertips.
Most custom fingertips are usually within 10 cm length. You make them as long as you want but the gripping force becomes quite low beyond that length (10 cm fingertips have just 40N on the 2F-140).
However, if you don't need much gripping force — say, if you're picking up light electric socket covers — then you can make the fingertips as long as you need! Like the team at Pick-it have done (Hall B4 Booth 325). These fingertips are almost as long as the gripper itself:
That's some impressive 3D vision. But, what we like best about this demo is that it demonstrates both the internal and external grip function of the Adaptive Gripper (grasping with both the outside and inside of the fingertips).
Lots of smiley faces here... but they're a bit weird
We've been seeing a lot of smiling faces around the show today — and some of them were even on the delegates! :)
The thing is, we're not sure if these smiley faces were really that jolly. Some of them are kind of creepy, like this little guy at the PAiCE booth (Hall B4 Booth 331).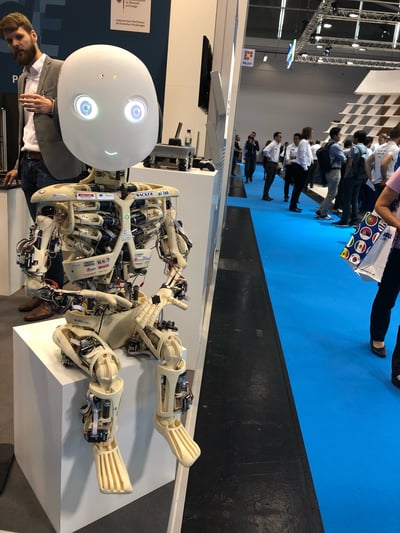 A bit weird, isn't it?
What was even weirder was walking into the next hall and meeting this bicycle riding robot at the booth of Maxon Motors (Hall B6 Booth 300). It's got the same face as the first one (!!!)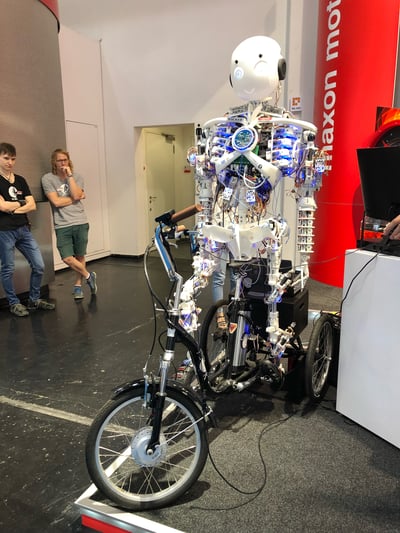 I think the confused expression of those two guys behind it says it all really. I think we'll stick with robot arms.
Maybe I just have faces in my mind today because when I first saw this next robot, the first thing I thought was "it's another face!"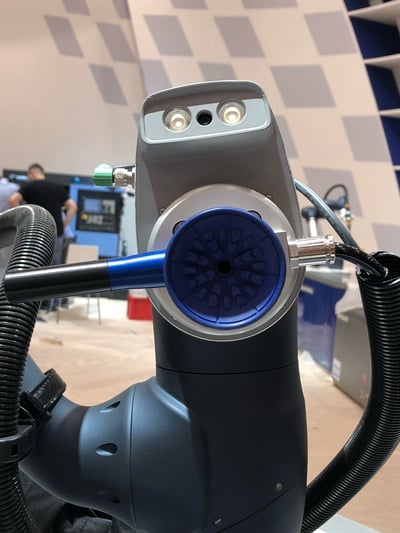 Actually, it's not a face, it's a suction cup and lights on the new cobot from Doosan (Hall B4 Booth 439).
Maybe it's time for us to get some rest.
Another day tomorrow
Yes, the first day of Automatica 2018 has been great.
The whole team is eager to get some food, relax and enjoy the sights of beautiful Munich.
Hey guys! Wait! We need to get a final photo for the blog...
... oh, never mind.