Automatica 2018 Begins with The Future of Cobots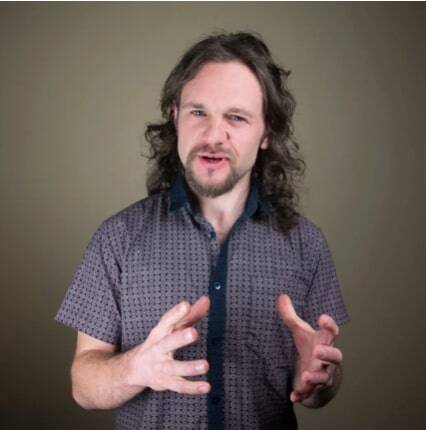 by
Alex Owen-Hill
. Last updated on Jun 19, 2018 11:03 AM
Posted on Jun 19, 2018 10:43 AM. 4 min read time
We've seen tiny robots, giant arms and and lightsabers this morning at Automatica 2018. And the future of cobots is brought to you... by the letter E?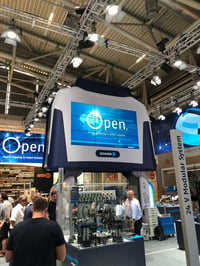 3, 2, 1… and we're off!
Automatica 2018 is Open!
The trade show is well and truly underway, and we've had a busy morning!
The Robotiq booth (which we wrote about in our exclusive blog post yesterday evening) has been filling up with interested attendees to the conference. Our team is getting into the swing it and are getting very good at explaining the demos to the streams of interested delegates who enter our booth.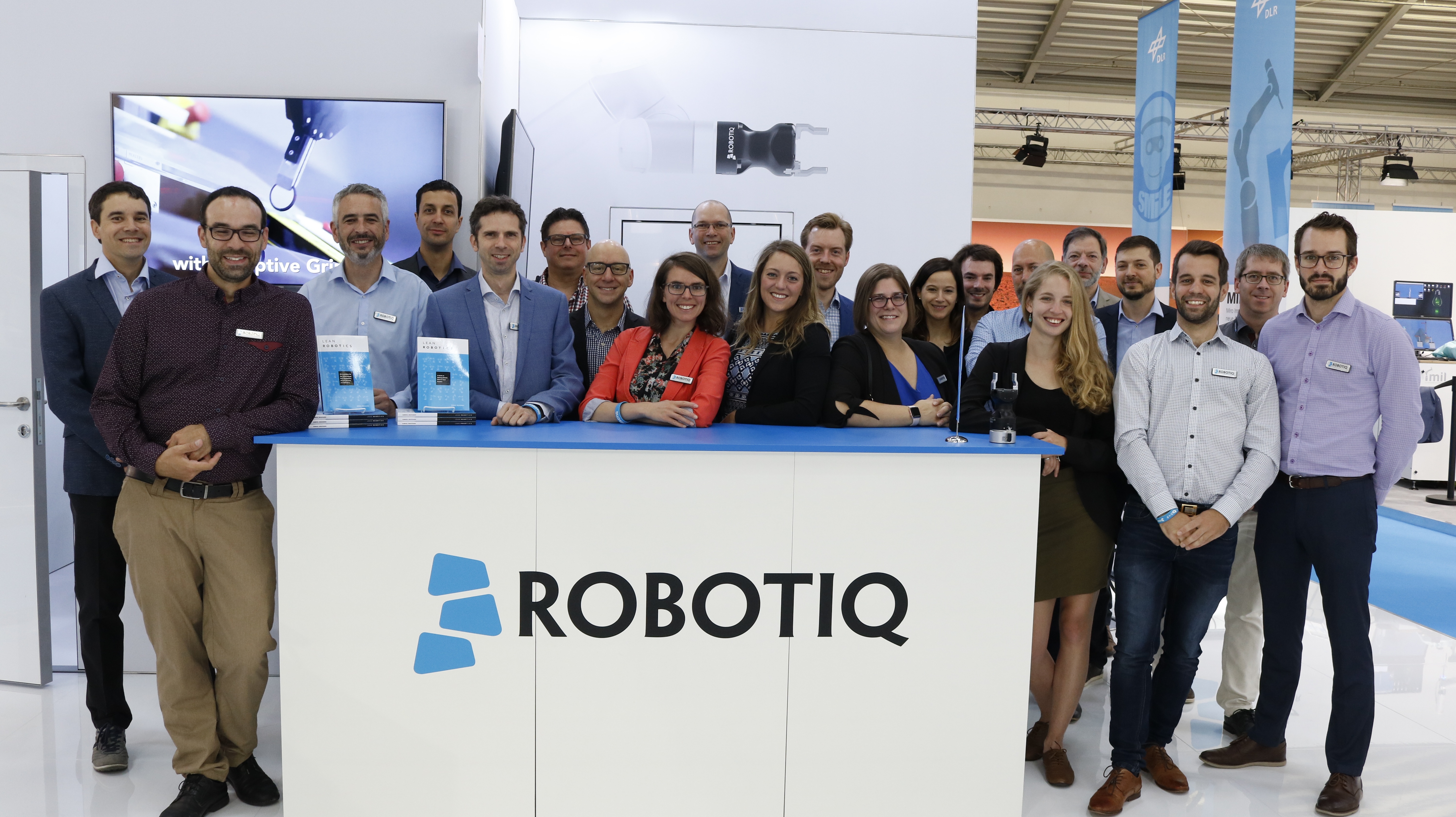 With such a skilled team in place, everything seems pretty under control. So, a few of us took the opportunity to have a stroll around the halls and check out what else is on offer at Automatica...
Lightsabers and thrill rides !!!!
And we weren't disappointed. One of the first things we saw was this crazy exhibit — a thrill ride over in Hall A4 at the booth of BEC GmbH (Booth 235, if you're here and you want to go and see it). We didn't get a photo of it today, but Karine had taken this photo yesterday, hence the vacuum cleaner on the floor.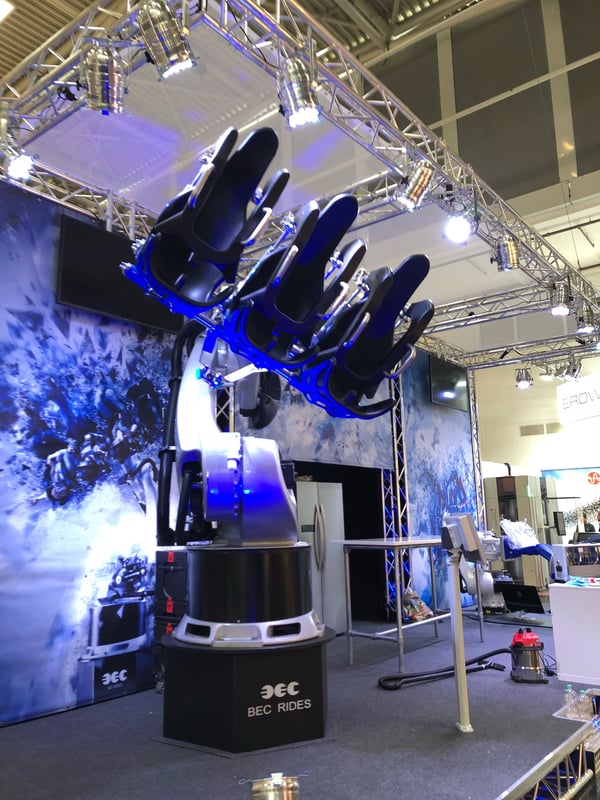 We also saw this cool exhibit by HIWIN at their booth (Hall B6.318). A three-robot lightsaber demo! In it, they were showing off their robot manipulators, their linear axes ... and their love of Star Wars.
But then we had to rush back to our booth because there was something special going on...
The Future of Cobots, brought to you by the letter E
Huge news today! Universal Robots announced their new e-Series robots, and we announced our new Hand-E Adaptive Gripper. Clearly, the letter E is important in the future of collaborative robotics!
The e-Series marks a leap forward in collaborative robotics. UR's CTO Esben H. Østergaard explained that there are three robots in the range: UR3e, UR5e, and UR10e. These names should sound familiar to you as they're based on the existing UR3, UR5 and UR10.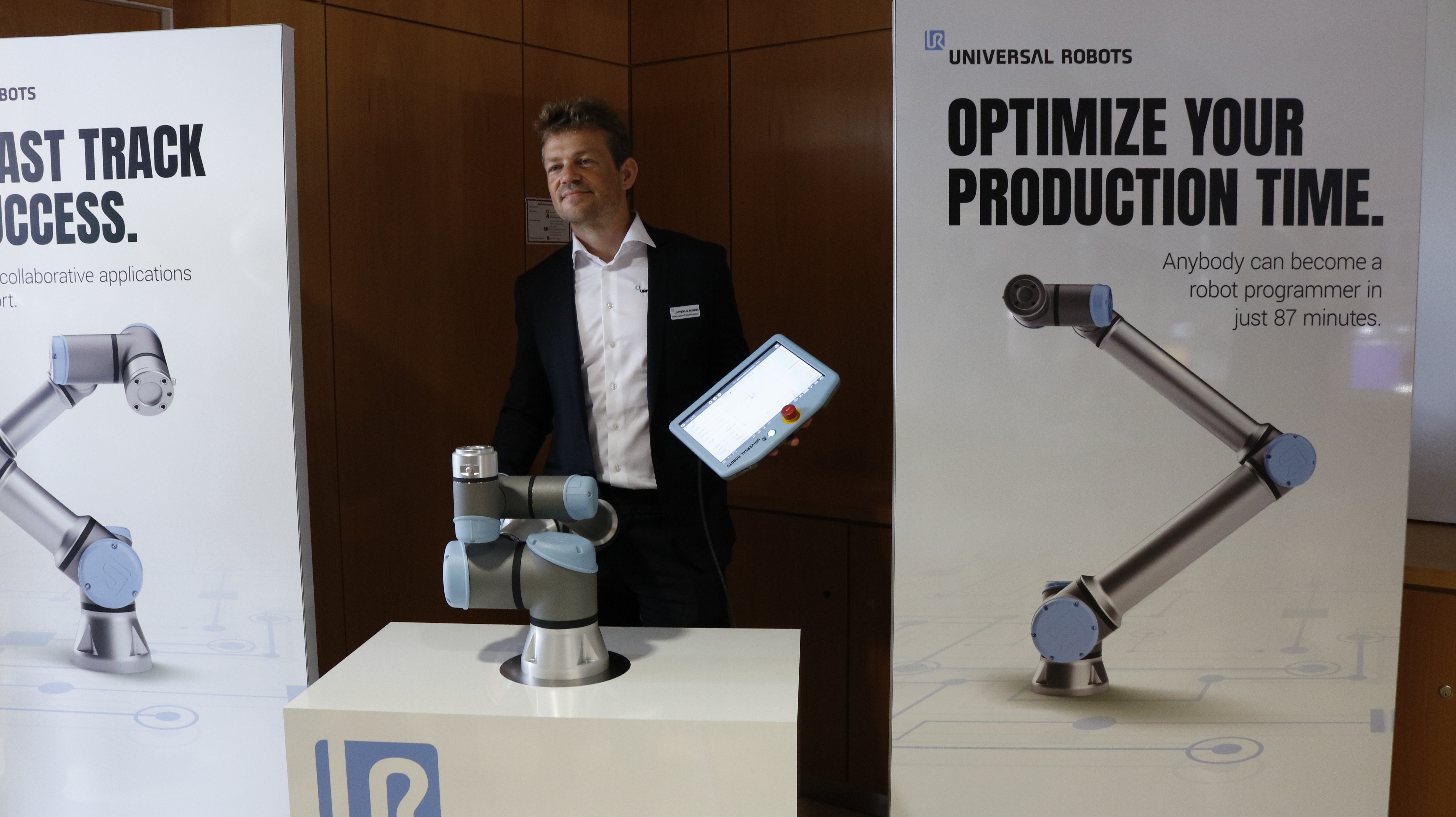 But, what's the difference between these new robots and the existing range? Quite a lot!
For one thing, the robots come with an in-built force-torque sensor. This explains their higher price point over the normal UR range (they'll cost about 5-15% more). This addition allows people with more complex applications to use UR robots right out of the box. They've also redesigned the user interface to make it more intuitive and have included a wider-screen teach pendant. All of this should make programming just that little bit easier.
Esben explained that the new line won't replace the normal range. As he said "[The existing URs] are the best collaborative robots in the world. We simply improved them to be easier to use for any SME worldwide."
This announcement comes along with our own announcement: the Hand-E Adaptive Gripper. Hand-E is completely compatible with the e-SERIES robots. We've designed it to be very easy to integrate, program and customize.
Read our announcement post that we published this morning to find out more about Hand-E (and watch our super-cool video with dramatic music).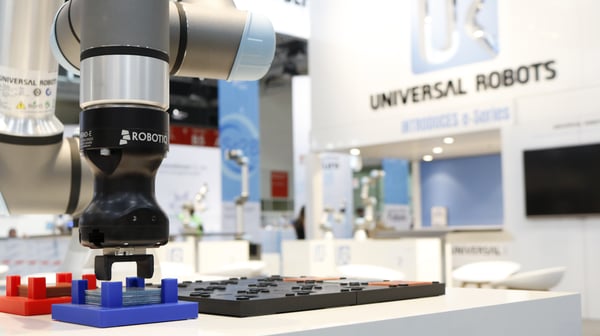 Who wins the contest for the strongest arm?
Automatica is always great place to see giant robots. Companies love to bring out their biggest offerings and show off their strength. It's a bit like the robotic equivalent of a load of muscled weight-lifters showing off in the gym. Our winner so far is probably this FANUC 2000iA, lifting a BMW. It has an astonishing 2.3 t payload capacity! That means it could still lift this car even if it was crammed full of ten average weight people!
(you'll be relieved to hear that there wasn't actually anyone in the car)
Come and Meet Us at the Booth !
If you're here at Automatica 2018, make sure to come and visit us at our booth at some point this week. It's Hall B4 Booth 405.
Come along and say Hi. We're a friendly bunch!