My 8 Takeaways from Automate 2022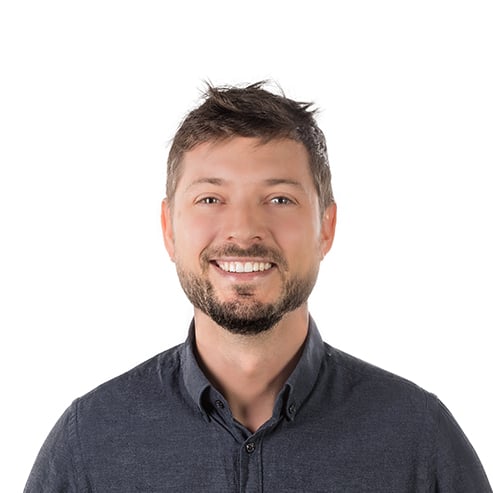 by
Samuel Bouchard
. Last updated on Jun 16, 2022 8:36 AM
Posted on Jun 10, 2022 1:43 PM. 4 min read time
Three years ago, I was given by our friends at A3 a cool looking "Automate - Detroit 2021" t-shirt. Just like the caps they never give that were made for the team ending up losing the professional league's final, my t-shirt will be a forever anomaly. Automate 2021 never happened. We had to wait until 2022 to live it… and it was great! Here are some very personal (and thus biased) takeaways. If you want to get a more journalistically correct and exhaustive review of the show, I invite you to look at what professionals like Steve and Eugene write.
1. I Missed the People Behind the Robots
Automate 2022 was an opportunity to reconnect with our own team members and with many business partners who helped us grow during the covid years. We all know it by now : it is technically possible to collaborate remotely. But all of that work has been possible because there was already a solid relationship and trust level we had built in person before. We love robots and what they can do for us. We love even more the people behind the robots and it felt really good to spend time together in person.
2. New Faces, More Innovation
My first impression while entering the show floor was "wow, there are a lot of new players and new faces here this time!" And that is great news to see that influx of talent and innovation into robotics and automation. That aspect felt more important than in the previous editions of Automate.
3. Manufacturers Love Cobot Applications
More than 2 years ago, we got on a new phase of our evolution and started building Cobot Applications from our Plug & Play Components. At Automate, it became clear that this strategy is now in full motion with Palletizing, Screwdriving and Machine Tending occupying the Robotiq booth and our visitors' attention. Manufacturers get it. Many of them don't even know what a cobot is, but they totally understand how these Applications can be deployed easily on their floor to do work for them they can not find people to do anymore.
4. Machine Shop Owners and Engineers get the Machine Tending Solution
The previous point was especially true for the CNC Machine Tending Solution that we launched on the first day. Machine Shop owners, engineers and machinists totally got it when they saw it running. If they were there, it is because they are looking to automate that job. They all saw the two problems that we're solving :
Connecting the cobot to diverse, sometimes old machine
Designing and programming these applications is always seem simpler that it is
And they all liked the simplicity and elegance of the approach.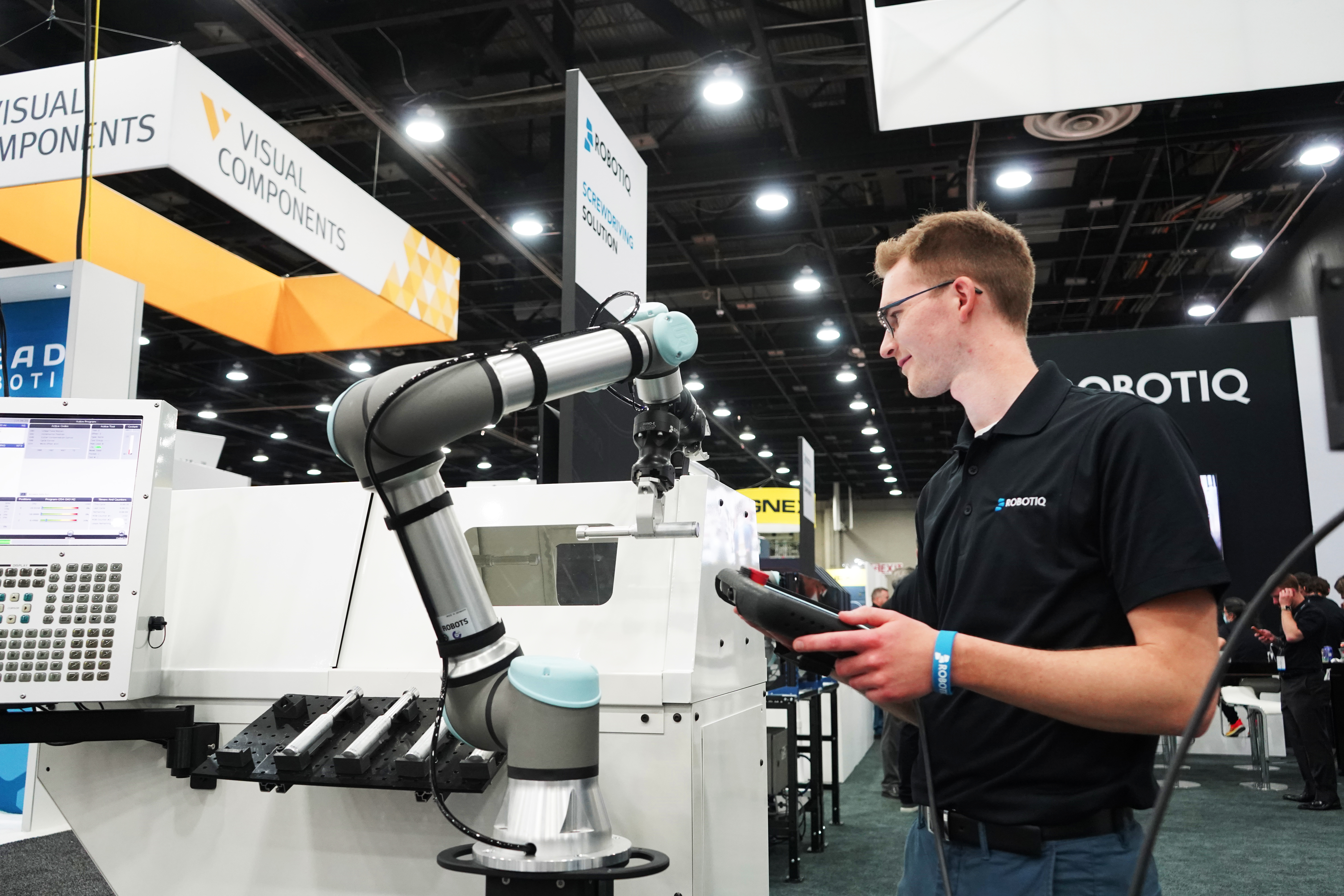 5. Lean Robotics is Becoming a Classic
I was pleasantly surprised by the number of people who came to me, thanking me for writing Lean Robotics… or having been given the book as part of their onboarding process when they started a new job in the robotics industry. It makes me feel that I did something useful 5 years ago by organizing and sharing that knowledge that we had built over our first decade at Robotiq. By the way, if you're one of them, please go write a review on Amazon! :)
6. Our Ecosystem Want back the RUC
The Robotiq User Conference (RUC) was a yearly event that we did in Quebec City for 4 years. It was very unique in the industry: mixing Robotiquois, partners and end users from around the globe, with a strong emphasis on hands-on & peer learning, late night programming (...and maybe a bit of partying). We won't do a RUC in 2022 unfortunately because of the travel restrictions globally. But I had dozens of people asking us to bring it back. Let's cross our fingers for an easier-to-predict environment next year…
7. Logistics is Invading Manufacturing
To solve the booming e-commerce operational challenges, there has been a bonanza of investments in robotics for logistics over the past years. Many startups funding, mergers and acquisitions happened. And many of these companies were there despite a traditional focus on manufacturing at Automate. Obviously, there is an overlap between logistics and manufacturing. Many large manufacturers have warehouses as part of their operations and all factories receive and ship goods. It will be interesting to see how that innovation and money is put to work and percolate into the manufacturing world in the coming years.
8. Investors are Interested… but Cautious
There were dozens of investors and investment bankers walking the show. They all see the macro-trends that will make automation grow ever faster in the coming years : labor is harder to find, wages are rising, technology is getting more powerful and easier to use. They all ask the same question : are you offering a robot-as-a-service model? And they all start to realize that a healthy robotics business at scale is hard to pull off. So there is a lot of money out there but the bar to get funding is getting higher. And some secretly hope that the market slows down a bit so the valuations adjust to a justifiable level. Let's see what the future holds!
All in all, I had a blast at Automate 2022! I want to thank the Robotiq Team who made it work, the partners and customers who came to discuss and the organisers at A3.
Next stop: Automatica in Munich in 2 weeks. See you there!