Day 3 @Automatica Begins with Giant Robots and a Speedy Walkway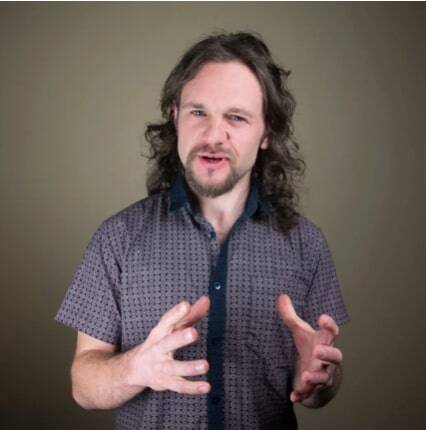 by
Alex Owen-Hill
. Last updated on Jun 23, 2022 6:21 AM
Posted on Jun 23, 2022 6:21 AM. 4 min read time
It's a sunny day today at Automatica 2022. And time to check out what else the trade fair has on offer!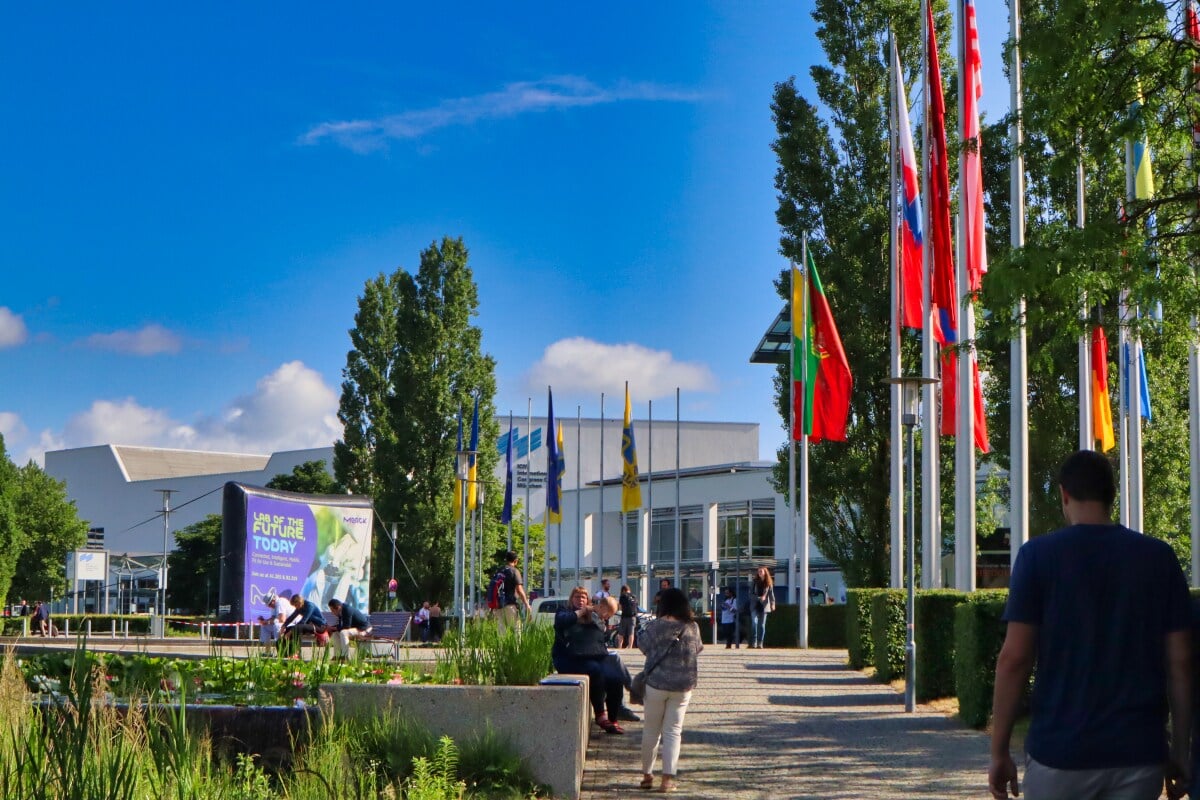 Here in the Robotiq team, we are back in our booth again for Day 3. Some of us are a bit tired after several full days of hard work (and the correspondingly hard winding down in the bar last night). Some of us are energized, ready to take on another day of engaged questions from visitors to the booth.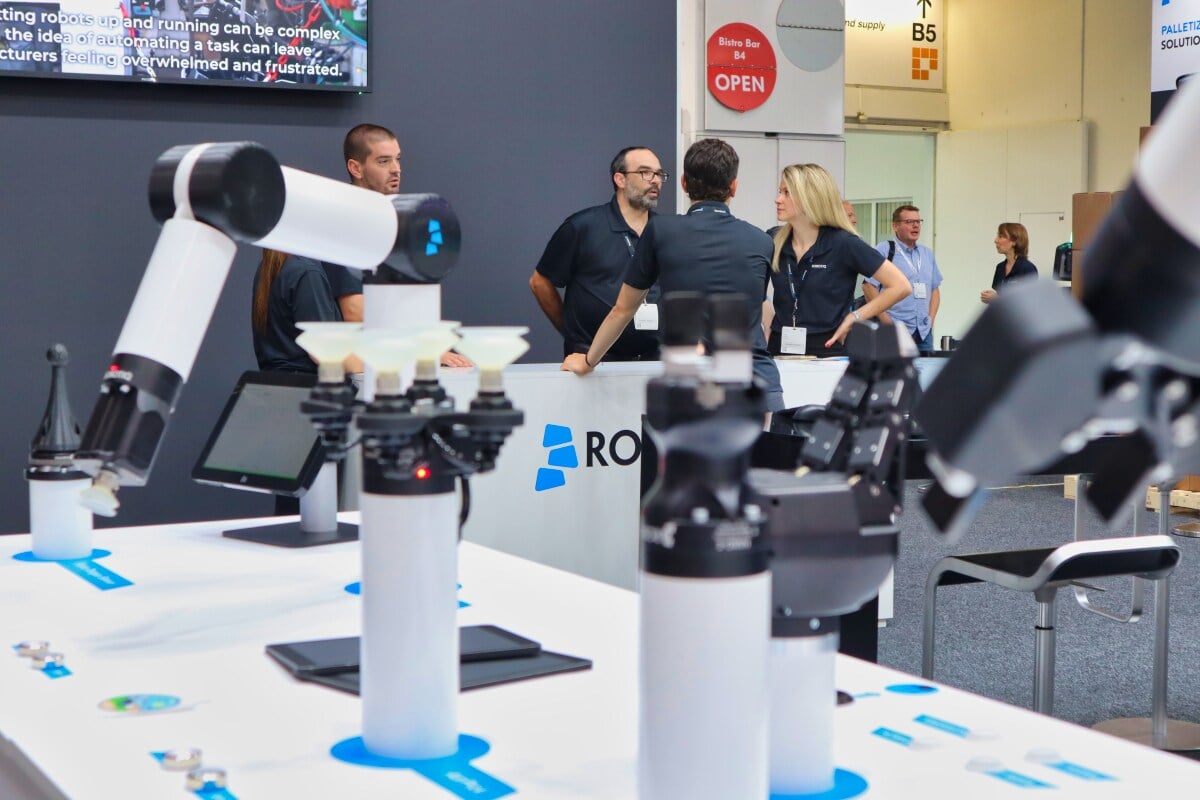 We're now getting very familiar with the environment here in the massive Messe Munchen exhibition center. We've even discovered the "fast route" to our hall (Hall B4) by going upstairs and taking the moving walkway.
The FANUC booth makes you feel tiny!
This morning, we started off with a visit to the booths of "The Big 4" robotics companies (FANUC, KUKA, ABB, and Stäubli).
The FANUC booth is probably the most impressive of the big booths this year. But the demos aren't as striking as they were in previous versions of Automatica.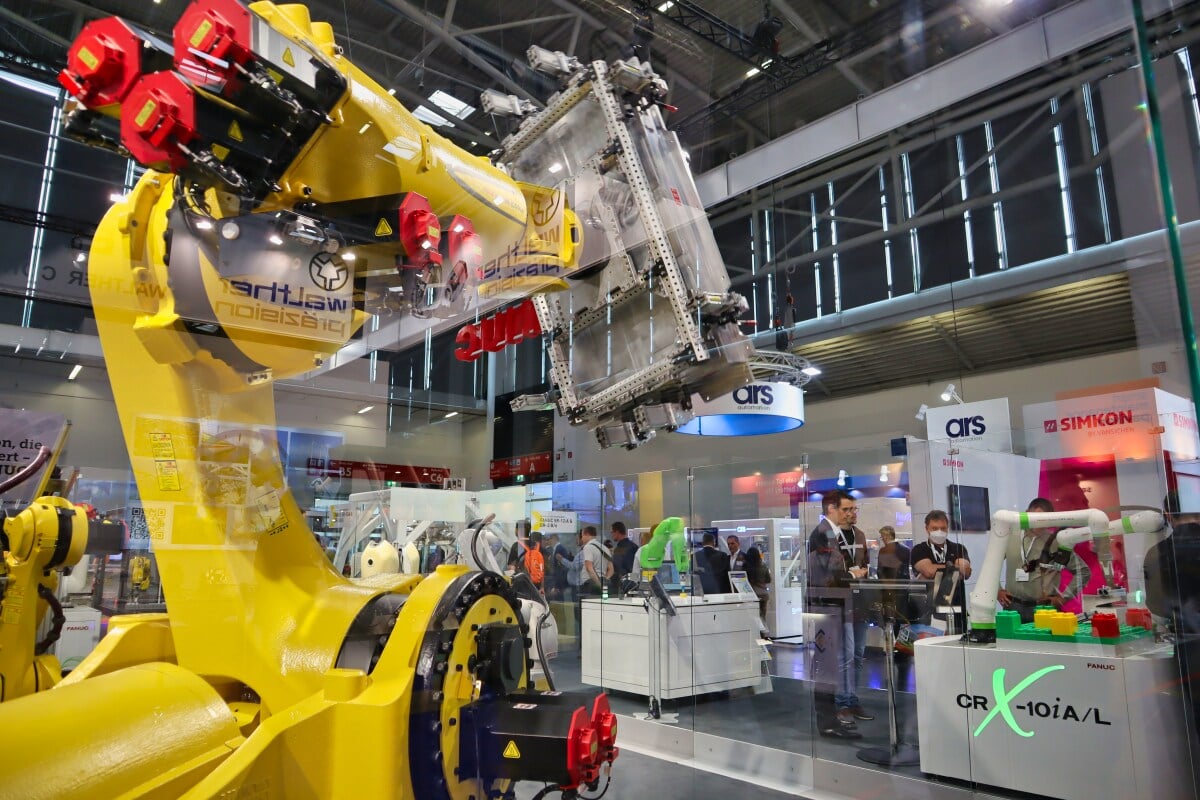 Back at Automatica 2016, for example, the FANUC booth had 2 levels – the lower booth and an upstairs "chill out zone." This year, the booth is all on one level, smaller, and demos of all The Big 4 feel less spectacular.
Walking alongside the giant M-1000iA is enough to make anyone feel tiny! But it's not as impressive as the robot lifting BMW car that FANUC had at Automatica 2018.
Probably the most impressive thing we saw was this cool graffiti-painted CNC machine in the booth. Everyone should make their CNC machines this artistic!

FANUC also had this "drive your own robot" display – like one of those fairground attractions but where you have to pick up a chocolate bar with the robot.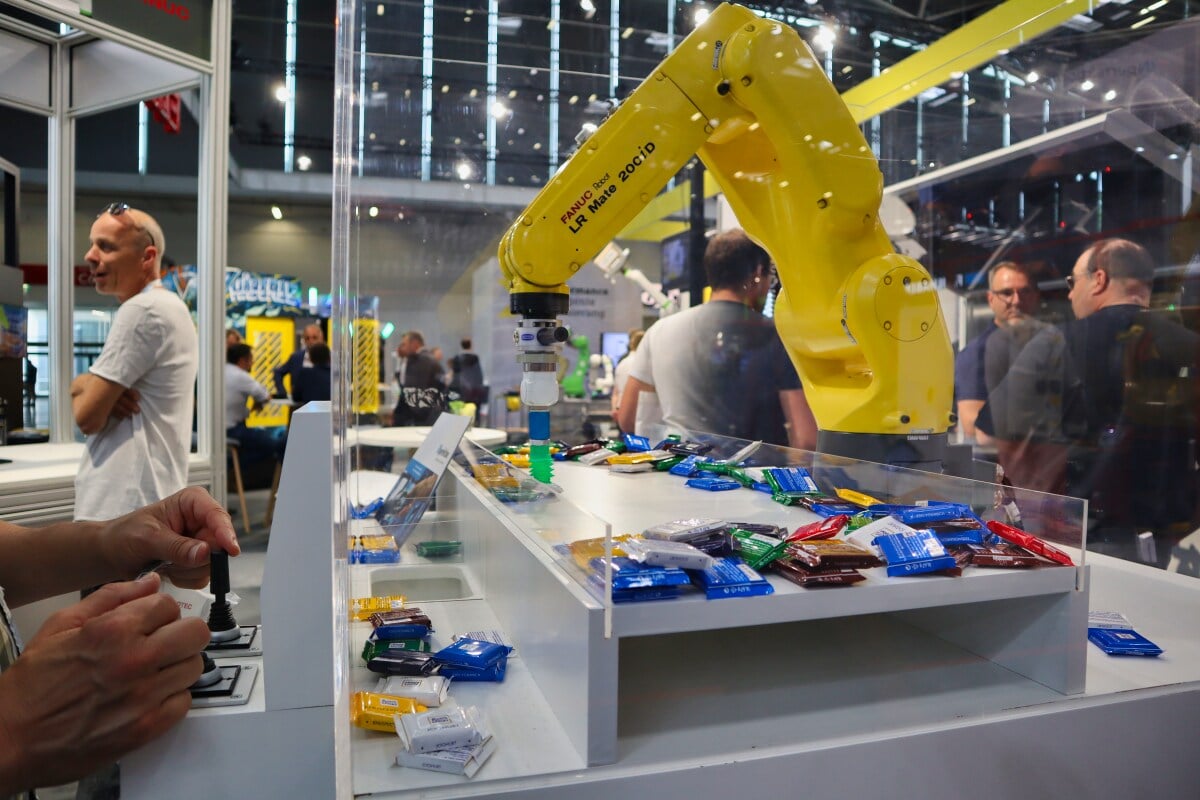 And, similar to the bar tending robot we saw yesterday, they also had a cobot mounted on a mobile platform, serving soft drinks this time.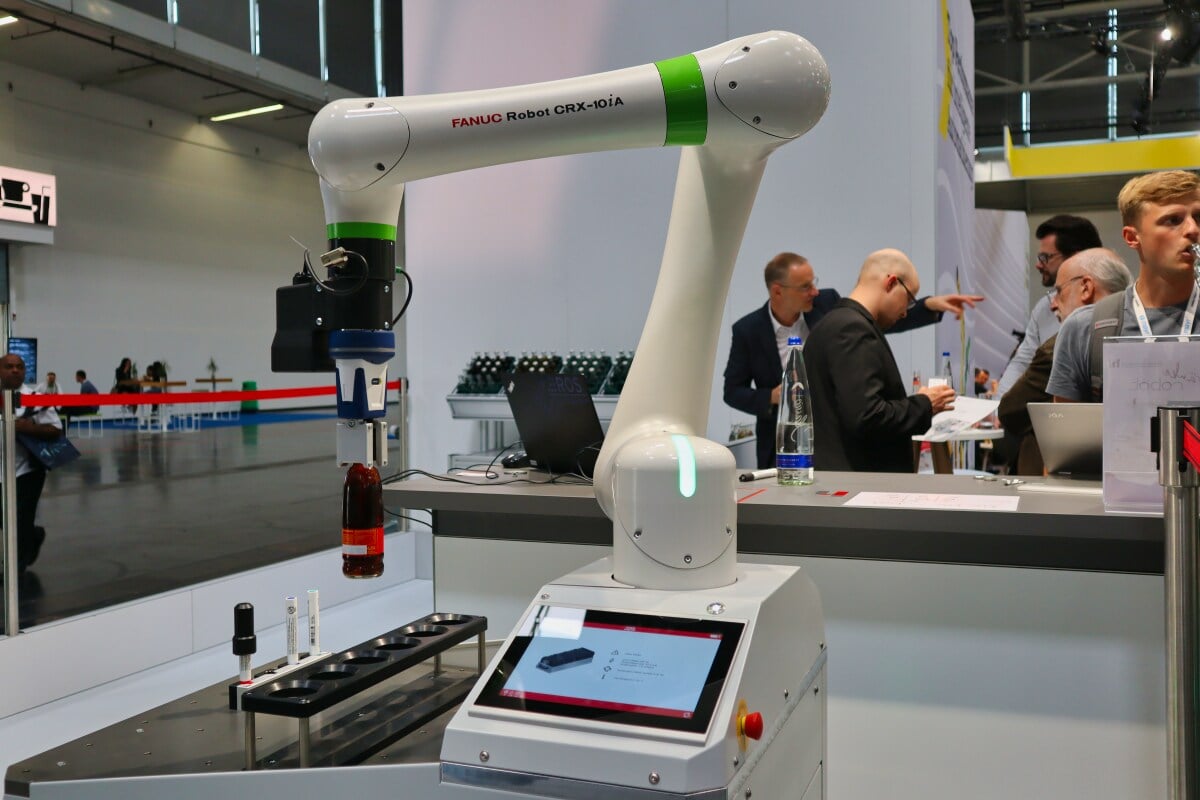 And there was this ultra-fast delta robot moving pieces of (what looked like) plastic cheese around its display case.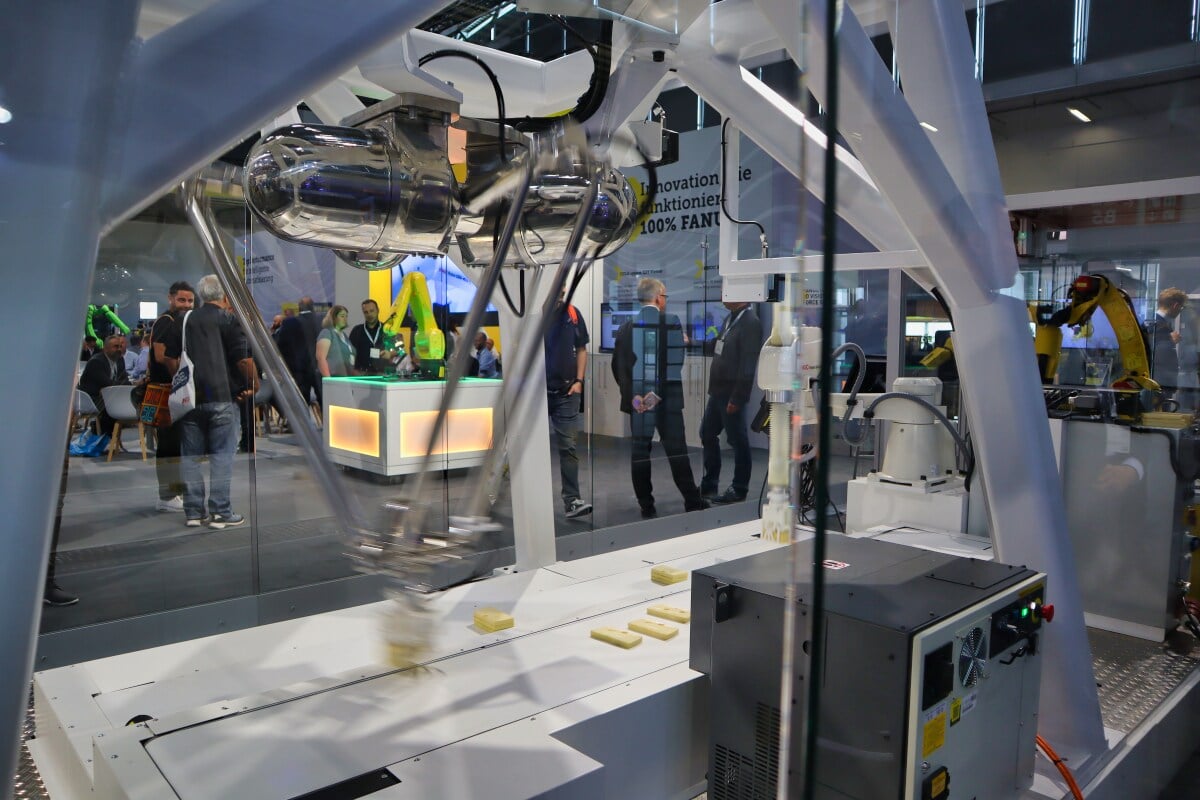 So… this is all fine. But we have seen no demos yet that are jaw-droppingly spectacular.
In fact, it feels like all the booths here at Automatica are more reserved than they were in previous years.
Sure, there are a lot of little extras on booths, like bars, free coffee, and even table football…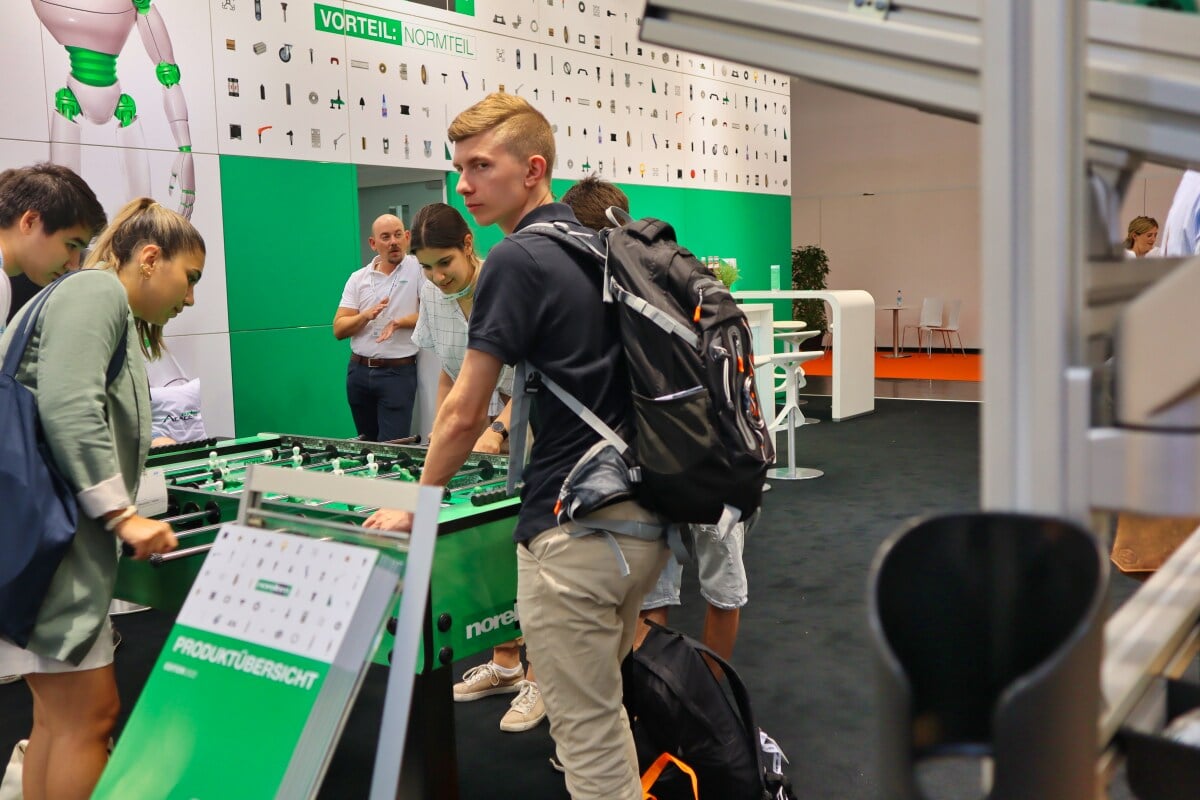 …but it feels like a lot of the exhibitors are "playing it safe" this year.
Maybe that makes sense. The world is in a bit of a tailspin, as Peng-Sang Cau said in her keynote on Day 1. Perhaps companies are trying to be prudent in what they include in their booths.
Apart from one company…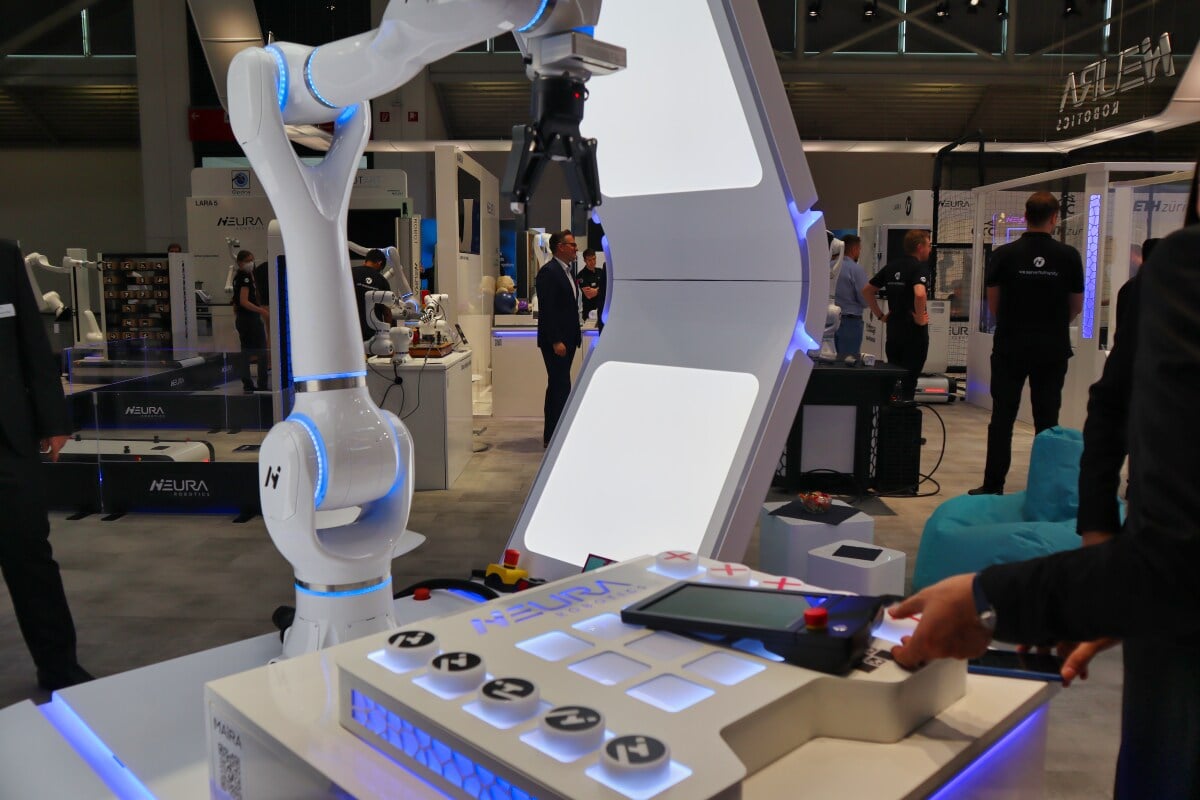 The most impressive booth we've seen so far is the one from "new kid on the block" Neura… which we'll take on a full tour of for you later today (so keep an eye out for that!)
For now, it's time to go talk about our brand new Robotiq application solutions with the attendees here Automatica 2022! (which we'll also show you this new demo later today)
And if you're here at Automatica, come and visit (B4.502) and say hi!