Which Robot Brand Is the Most Popular?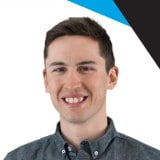 Which robot is the best? Well this is a very simple question that can probably only be answered by: it depends! In fact, it depends on what you are doing, what is your present robot brand and what your integrator recommends for you. It also depends on the industry you are working in and what your requirements are. Well actually a lot of factors apply. As we cannot answer all these questions, we have reviewed some different stats from the web and analyzed what the robot market looks like. Here are some of the surprising results we have found.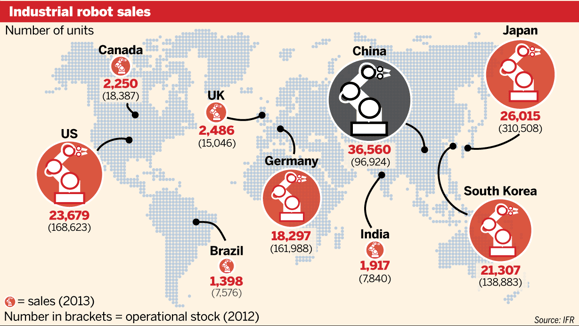 Robots by Brand
It is really rare to have specific data on active robots worldwide. But, Robotic and Automation News has quantified worldwide active robots and split them into the most popular brands. The results are quite surprising. This data was released in July 2015.
Active Robots Worldwide
Motoman/Yaskawa - 300,000
ABB - 250,000
Fanuc - 400,000
Kawasaki - 110,000
Kuka - 80,000
Denso - 80,000
Adept Technology - 25,000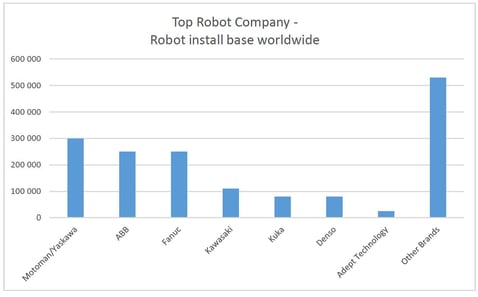 What surprises me the most is definitely the big gap (50,000 robots) between Motoman/Yaskawa and Fanuc. I was sure (and I am sure many people had the same impression as I did) that Fanuc was the world leader when it came to robots. The other interesting fact is that Kawasaki appears to have an edge on Kuka. Which is also surprising since Kuka, as far as I know, is part of the ''Big 4'' that includes: Fanuc, ABB, Kuka and Yaskawa Motoman. So now what does this mean for the ''Big 4'', has it totally been dismissed, it is now the ''Big 6'' or "Top 21"... which makes no sense!
According to a study from the International Federation of Robotics (IFR) in 2012, the world robotic park was about 1,235,000 units. With sales of 165,000 industrial robots in 2013 and 225,000 in 2014, we can estimate the worldwide industrial robot population to be near 1,625,000 robots. When adding all the different robots ranked by brand; we come up with a total of 1,095,000 robot units. Which means that there are about 530,000 robots that have been manufactured by other brands. With the constant rise of robots built by Foxcon; Foxbot and other smaller brands such as Universal Robots and Rethink Robotics, it is not surprising to see the combination of other brands taking the lion's share of the market.
Where are Collaborative Robots?
And what about collaborative robots? Well, since they are a relatively new market, there is not a lot of data specific to these kinds of robots. As far as I know, Universal Robots has approximately 60% of the collaborative robot market and has sold 3,500 robots since 2005. This is over a ten year period. They are expecting to sell 2,000 robots in 2015 and double this number for each of the following years. So you can visualize the rapid hockey stick spike in collaborative robots that has taken place recently and is likely to continue.
Looking back at the top 7 robot sellers, I was surprise to notice that the top 4 manufacturers do not have collaborative robots in their product line (except ABB's Yumi that has only recently been launched a couple months ago and so isn't reflected in these results). With the automotive industry still being a leader in the use of robots, it is not surprising to see collaborative robots reflecting a smaller part of the market historically. Yet, with the constant rise of the electronic market, we can see a slight shift in the use of collaborative robots on assembly lines where it will work alongside humans. In this perspective, with Precise Automation's Scara and Cartesian robot models, we can expect to see a lot more collaborative robots used in electronic manufacturing and boosting the figures for other brands in the future.
So the bottom line is: the robotic world is doing fine. With a constant rise in popularity, industrial and collaborative robots are making their way out there. This is good for us and for any kind of enterprise that is looking for fast growth or a more effective process. To get further information on collaborative robots or to compare them, we have put together a comparison grid to help you figure out which one would suit your needs best. Just follow the link below.