New Collaborative Robot: The First Cartesian Cobot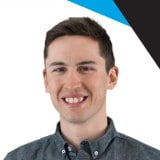 In the last few weeks we have seen different robot manufacturers coming up with new collaborative robots. The UR3 from Universal Robots, then maybe a week later, SAWYER from Rethink Robotics. These robots have what we have come to recognize as a standard geometry. In fact, they are composed of an articulated (6 or 7 axis) arm that can execute different automation processes. However, Precise Automation has also been working on a ''new'' kind of collaborative robot, but theirs is a cartesian robot.
Cartesian?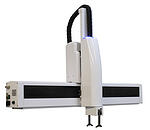 The PP100 is the first cartesian robot to claim collaborative robot status. Cartesian robots are generally represented as 3-axis robot. So basically, X, Y and Z axes. Or to put it another way, the robot can't rotate any of its joints. It is just a linear actuator that allows for the movement of the robot. The same as a laser cutter or a 3D printer. However, the robot is designed to pick-and-place stuff. So if your applications need to pick and place objects on a flat surface it might be the perfect robot for you. The targeted applications seem to be laboratories or simple light assembly tasks. Notice that a rotating axis and a gripper can be added to the robot.
Specifications
Precise Automation claims that their cartesian robot is safer than a regular collaborative robot, because all the axes are force limited in all situations. And they have a point there, some collaborative robots presently on the market require the exertion of a sufficiently high level of force on the first joint (or the base joint, depending on your nomenclature) to stop them.
Another cool aspect of the PP100 robot is the built-in electronic control, harnesses and power supply. This creates a more compact robot which allows you to carry it from one table to another. The lightweight PP100 comes out of the box fully assembled. It can be carried by one person, mounted on a table and, just by plugging in an AC power cord and an Ethernet cable, it is ready to operate.
On the top of that, algorithms enhance the collaborative nature of the robot and the Guidance Motion Controller (which is embedded in the robot base) provides many advanced features such as: kinematics for simplified programming; gravity balanced free mode teaching that allows the robot to be taught by manually leading the end effector; a vision interface for advanced sensing; absolute encoder servo motor control for quiet operation and motionless homing; and an embedded web server that permits the robot to be operated locally via a standard browser executed on a PC, a wireless tablet or remotely from anywhere in the world.
Key Features:
Payload: 3 kg (1 kg with gripper option)

Maximum speed: 1.5 m/sec

Gripper: 0-23 N force range

Impact sensors for all axes
Since this is the first cartesian collaborative robot we've seen to date, I guess more robot manufacturers will eventually produce more variants of this type of device. Unfortunately none of our present Grippers can be fitted on this robot particularly because of its low payload. However, their gripper seems to work well for the jobs that can be done by a collaborative cartesian robot. We will have to wait and see the place this robot finds in the collaborative robot market, but as far as I'm concerned the more robots the better!