New Collaborative Robot: Sawyer from Rethink Robotics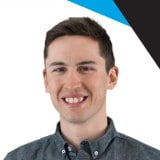 The Automate trade show is always exposing the latest innovations in the robotic market. Now not even a week before the opening of the show Rethink Robotics has announced the launch of a new collaborative robot: Sawyer. A single-armed, more compact and more precise version of Baxter.
Earlier this week Universal Robots launched a smaller version of their collaborative robot (UR3) and now with the introduction of Sawyer, the collaborative robot market is exploding. Rethink Robotics seems to have found the right balance with their effort to build a more robust and more complete solution for users that were looking for a smaller robot than Baxter but with all its proven sensors and safety features.

New and Enhanced Platform
As you can see, Sawyer has many things in common with Baxter, but there are also major differences. The same elastic actuators are used to allow the robot to be mechanically compliant. However, the actuators have been slightly redesigned to enhance the rigidity of its joints. Baxter uses springs made out of "C"-shaped pieces of steel, whereas Sawyer uses springs made out of titanium in the shape of a symmetrical, curvaceous "S." The spring redesign (and running cables through the joints) allows Sawyer's arm to be made considerably smaller. You can also notice that the joints are more integrated into the robot shape which reduces the possibility of sharp edges and gives a smoother look (and feel) to the robot. One major upgrade has been done to the arm's vision system, which now includes a built-in light. This allows for clearer vision and limits any obstruction a camera might have had with the gripper. The same easy-to-program devices are integrated into the robot arm. The smiley Baxter interface remains mostly the same with small graphical upgrades. Notice that Sawyer is not designed to be mobile, as Baxter was, it is a fixed robot.
In this short video you can detect right away the rigidity difference between Sawyer and its older brother. Baxter was looser and more shaky, and it always looked like it was just barely able to reach its targeted position. Now with Sawyer's more enhanced platform, we see a more rigid system that leads to a more accurate robot. Since the robot is designed for applications such as electronic assembly, you surely want to design a more precise robot arm!
Sawyer has a smaller and more robust platform to be able to achieve tasks such as machine tending and small assembly, tasks that Baxter wasn't able to do since it was such a big robot. The fact that the bulky Baxter had a big footprint and big segments, was a huge downside when it came to entering small spaces like those required for CNC machines.
Specifications
Weight: 19 kg (42 lbs)
Payload: 4 kg (8.8 lb)
Reach: 7 degrees of freedom and 1-meter reach
Actuation: Series elastic actuator and Harmonic Drive, with optical encoder
Repeatability: N/A
Force sensing: High-resolution force sensing embedded at each joint
Vision: Camera in the head for wide field of view and Cognex camera with built-in light source in the wrist for precision vision applications
Software: Intera
Body: Sealed against dust and spray [Baxter isn't]
Expected lifetime: 30,000 hours
Price: US $29,000 (available in North America, Europe, China, and Japan)
Just so you can compare, here are the Baxter specifications:
Weight: 75 kg (165 lbs)
Payload: 2.2 kg (5 lb)
Reach: 2 arms x 7 degrees of freedom and 1-meter reach
Actuation: Series elastic actuator and Harmonic Drive, with optical encoder
Repeatability: N/A
Force sensing: High-resolution force sensing embedded at each joint
Vision: 1 integrated camera per arm for detecting parts, vision-guided movement and object detection, 360 degrees sonar and front camera for human detection
Software: Intera

Expected lifetime: 30,000 hours
Price: US $22,000
Rethink Robotics: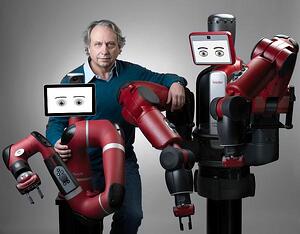 "For decades, production robots have been separated from people by protective cages, programmed only by specialized engineers, and affordable by a small percentage of manufacturers. Rethink Robotics is changing that paradigm. And in doing so, we are redefining what's possible with automation. Our robots work side by side with skilled labor, are trained interactively, and provide a rapid ROI for companies of all sizes. The manufacturing industry's most significant innovation in a generation has arrived, and it's only the beginning. The time has come to Rethink Robotics."
This is really exciting news for the robotic market. Even if there are a lot of collaborative robots models out there, companies all have their own small twist to add to make each and every one of them special. Having such a huge diversity will also bring the price down. This is really good for end-users who will be able to implement a bigger robot park and still have a fast ROI. We will keep our eyes and ears open to see if there are any other interesting launches during Automate 2015. We'll keep you posted.
In the mean time, take a look at our updated version of our eBook on Collaborative Robots which will soon include Sawyer.