Universal Robots Releases UR3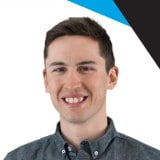 The Danish robot manufacturer Universal Robots just release its new version of collaborative robot: The UR3. Universal Robots has had huge success with their UR5 and UR10 in many different kinds of applications because of its safety features, flexibility, easy to use specifications and fast payback. The missing link was a smaller robot that met the same requirements to complete the robot family. Following its two older brothers, the UR3 is more compact and designed for smaller applications.

As you can see in the pictures, the UR3 is literally a scalded down UR5. The goal of bringing a smaller robot to their product line was to target smaller applications, such as electronic assembly and general dispensing applications. With more and more electronic assembly tasks being done autonomously, it was a logical move for UR.

"With the UR3, table-top automation is easy, safe and flexible; a single worker can accomplish what traditionally would be a two-person task by having the UR3 robot as a third-hand helper. It's an ideal choice for applications that require 6-axis capabilities where size, safety and costs are critical." says Eben Oestergaard, UR CTO.
UR3 Specifications
Since it is a scaled down version of the other UR robots, you can figure that the specification are pretty much the same as its older brothers. Notice that the same teach pendant and controller are used for this new version. The user-friendly built-in programming software remains Polyscope. It uses the same specifications and programming methods. Here are the general specifications for the new robot.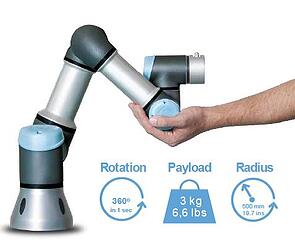 6 axis, collaborative table-top robot
Weight: 11 kg (24.3lbs)
Payload: 3kg (6.6lbs)
Reach: 500 mm (19.7in)
360 degree rotation on all wrist joints, infinite rotation on end joint
Repeatability: ±0.1 mm (±0,004 in)
15 adjustable, advanced safety settings; force limit: Default 150 N , can be adjusted down to 50 N
Modular design: exchanging a joint takes less than 30 minutes with one day delivery
Improved force control
New motherboard with faster boot-up
UR3 Targeted Applications
The bigger versions of the robots are beginning to make their way into machine tending, product testing, assembly and general pick and place applications, however the UR3 has been designed for smaller applications. The same ease of integration and programming, but on a smaller scale, it is now easier to automate your small part process since the robot is more compact. It can basically be fixed on a table. Some targeted applications might include: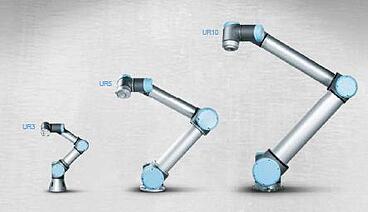 Soldering
Gluing
Screwing
Painting
Pick and place
Operating hand tools
Laboratory work
Fume hood tasks
"With the UR5 and UR10 robots, we see end users integrating our robot arms in applications and industries that we didn't initially expect. I'm sure we will be equally surprised to witness the adaptation of the UR3 into new scenarios where robots haven't ventured before." says Oestergaard.
Robotiq and the UR3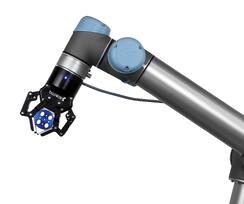 Since the mechanical interface for the UR3 robot is exactly the same as for the UR5 and UR10, this means that our 2-Finger 85 Gripper is also ready to be fitted on the UR3. With a weight of 0.85 kg, you still have plenty of heft left to grab stuff. Notice that the software and wiring are also exactly the same. So if you want to order a Robotiq bundle or simply fit your present setup on a UR3, you should know that it is the exact same kit as the other two UR versions.
Universal Robots
Universal Robots is a result of many years of intensive research in robotics. The product portfolio includes the collaborative UR3, UR5 and UR10 robot arms named after their payload in kilos. Since the first UR robot entered the market in December 2008, the company has seen substantial growth with their user-friendly robots now being sold in more than 50 countries worldwide. The average payback period for UR robots is the fastest in the industry at only 195 days. The company is headquartered in Odense, Denmark, where all development and production is carried out.

Robotiq
Our goal is to enable all manufacturers — especially those dealing with high mix production — to take full advantage of robotics. We work with robot manufacturers, system integrators and end-users to automate applications that require flexibility. Robotiq sells product in more than 30 countries, through our global network of partners.
Get our updated eBook on collaborative robots which now include the new UR3.