What's New in Robotics This Week - Jul 14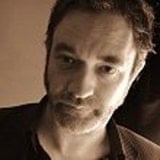 by
Emmet Cole
. Last updated on Jul 14, 2017 7:00 AM
Posted on Jul 14, 2017 7:00 AM. 10 min read time
Manufacturing & cobot roundup; 13 minutes to print a robot; Robots discuss the future of humanity; Intuition Robotics raises US$14m, and much, much more. We hope that the news we have selected will interest and amuse you. Enjoy!
Manufacturing & Cobot Roundup
Denso celebrated 50 years in automation this week and the Japanese-owned firm used the milestone to reflect on its emergence during the Swinging 60s: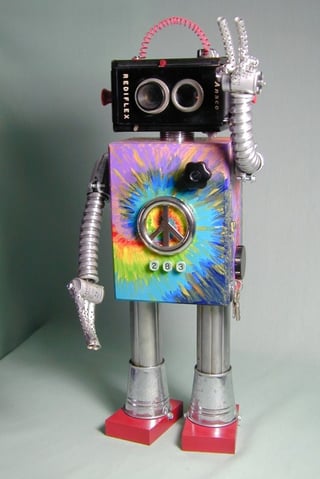 Caption: Hippy Robot by Nutzenboltsworks.
Back in 1967, the U.S. was immersed in the cultural "Summer of Love" - a time of rapid change when new ideas flourished freely. Robotics was relatively unknown, with most people only able to dream about robots such as those they'd seen in sci-fi films. Few knew what a vital role robots would play in the years to come.

During the "Swinging Sixties" decade, DENSO Robotics was developing a range of state-of-the-art controllers, software and industrial robots that would forever change the face of automation. By 1970, manufacturing and implementation of their first aluminum die-casting robot was well under way.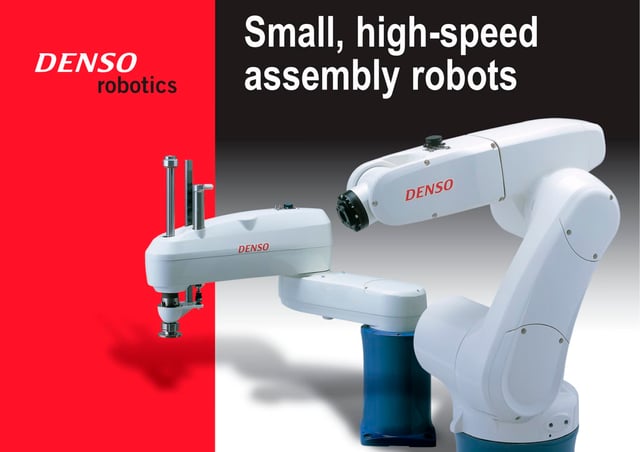 Learn more about Denso's fascinating 50 year history and the firm's contribution to industrial robotics here.

Also this week, Denso released a new virtual fence controller, designed to make human-robot collaboration even safer.
Google's DeepMind and the nonprofit OpenAI are teaming up to work on AI safety issues using human-ai collaboration:
DeepMind and OpenAI's solution is to have reinforcement learning software take feedback from human trainers instead, and use their input to define its virtual reward system. They hired contractors to give feedback to AI agents via an interface that repeatedly asks which of two short video clips of the AI agent at work is closest to the desired behavior.
Brett Brune, Editor in Chief of Smart Manufacturing magazine, penned a piece in praise of apprenticeships and robotics 'roadmaps,' in which he argues that "the hand-wringing around robotics and jobs in the US really needs to stop":
It's astounding that manufacturers here are still fighting this battle.

Meanwhile, manufacturers around the world, including in China, are busy figuring out how quickly to acquire robots. They will eat the lunch of those who just can't seem to get with the program.
The numbers back up Brune's case.
Between 2010 and 2016, 136,748 robots were shipped to the US —the most in any seven-year period in the US robotics industry. At the same time, US manufacturing employment has increased by 894,000 and the unemployment rate fell from 9.8% to 4.7%.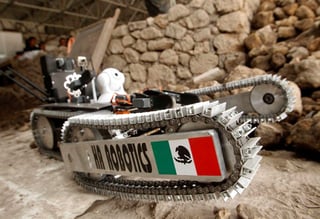 Caption: The Ttaloc II remote-controlled bot.
Meanwhile, in Mexico, automation is thriving. So much so that the country is now the sixth-biggest auto producer globally, according to MIT Technology Review. At the same time, the number of manufacturing workers is starting to swell:
A record-high 5.15 million Mexicans worked in manufacturing as of May, nearly a quarter of all workers registered with the country's social security institute. Around 202,000 Mexicans joined the ranks of manufacturing workers during the first five months of this year alone.

"What I see in Mexico is there's a balance between automation and manual labor, where you take advantage of both," says Patton. Grueling and repetitive jobs will get automated, while tasks that require eyes, ears, a sense of touch, and a brain should still be done by humans.
Researchers at Siemens Robotics Labs in New Jersey are developing autonomous robots "equipped with vision, processing and additive manufacturing systems, designed to cooperate on additive manufacturing tasks."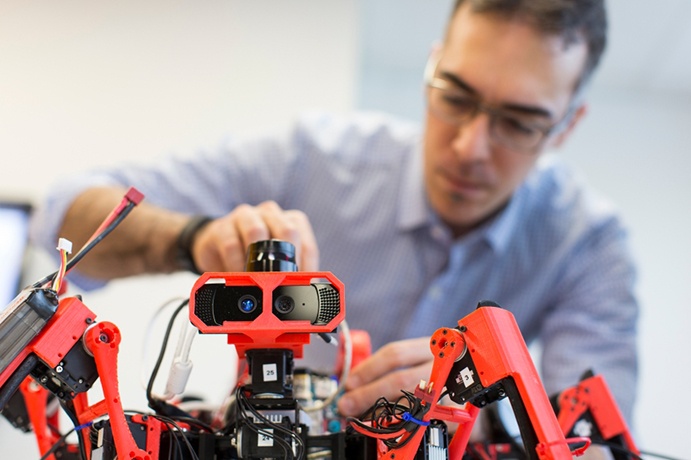 Frank Tobe provided an excellent summary and analysis of two new reports that show the robotics industry is growing at a faster rate than previously expected. The first, from Boston Consulting Group, projects that the market will reach $87 billion by 2025. The second, from Tractica, incorporates the robotic and AI elements of the self-driving segment, predicts that the market will reach $237 billion by 2022.
Tobe writes:
"Both research firms acknowledge that yesterday's robots — which were blind, big, dangerous and difficult to program and maintain — are being replaced and supplemented with newer, more capable ones. Today's new, and future robots, will have voice and language recognition, access to super-fast communications, data and libraries of algorithms, learning capability, mobility, portability and dexterity.

These new precision robots can sort and fill prescriptions, pick and pack warehouse orders, sort, inspect, process and handle fruits and vegetables, plus a myriad of other industrial and non-industrial tasks, most faster than humans, yet all the while working safely along side them."
In related news, WTWH Media has acquired Tobe's Robot Report.
Elsewhere, Vietnam's interest in robotics continues to grow, AML has received a grant from the Australian government to commercialize its "wire arc" additive manufacturing process, robot piece picking is reaching a tipping point, says Modern Materials Handling, Japan is seeing an increase in automation at "monozukuri" (conscientious manufacturing) sites, and Pakistan's robot pizza server is proving a big hit with customers.


Intuition Robotics Raises US$14m
Intuition Robotics --the company behind ElliQ, a companion bot for the elderly-- has raised $14 million in a series-A funding round led by Japan's Toyota Research Institute (TRI), according to a report in The Times of Israel. This latest round of funding brings the total amount raised to date to $16 million.
ElliQ is an artificial intelligence-based robot companion that aims to keep older adults active and engaged with family members by helping make technology use easier. The robot, named after a Norse goddess, is designed to learn an owner's personality and preferences, and uses machine learning and natural language processing to suggest things like taking a walk or Skyping a grandchild.

The partnership is TRI's first outside investment in robotic technology specifically for older adults, Intuition Robotics said.
TechCrunch has more.
Israel is also home to medical robotics firm Mazor Robotics and autonomous vehicle AI firm Mobileye, both of which feature in "Meet Israel's Next Top Robots" on The Next Web.


13 Minutes to Print a Bot
13 minutes is all it takes to '1D'-print a robot using a new technique developed by a team of researchers at the IT University of Copenhagen, Denmark.
Via New Scientist:
It works by bending wire that already has motors attached into different shapes, using a process its designers call 1D printing. Once the robot has performed its job, it can simply be flattened and fed back into the system to be recycled into a new type of robot.
Robots Discuss Future of Humanity
Two humanoids from Hanson Robotics discussed the future of humanity this week at a Hong Kong tech conference.
Don't panic though. The event was at least partially scripted.
Via Mediaite:
Robots permitting, I'll be back next week with more robotics news. Until then, I hope you enjoy these videos and links!

Can a robot help solve the Atlantic's lionfish problem? (BBC)
How a One-Man Team from California Won NASA's Space Robotics Challenge (IEEE Spectrum)
Efficient and intelligent: Drones get to grips with planning the delivery of goods (AlphaGalileo)
Second edition of Springer Handbook of Robotics (Robohub)
Cancer-fighting robots are great but still need a human touch (c|net)
Can robots solve Grandma's loneliness? (CNN)
Can Robots Teach Us What It Means To Be Human? (NPR)
VW is working with Kuka on robots to charge electric cars (Electrek)
'World's first robot lawyer' now available in all 50 states (The Verge)
Is robotics the key to repairing societal infrastructure? (Diginomica)