What's New In Robotics? 28.12.2018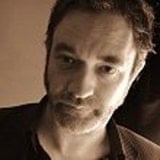 by
Emmet Cole
. Last updated on Dec 28, 2018 8:15 AM
Posted on Dec 28, 2018 7:00 AM. 8 min read time
-SK Telecom's 5G Production Line
-SUNY Poly's Robotics Lab
-Iran's 1st surgical robot
-LarvalBot seeds coral reefs
-India's USTAAD inspection bot
-Five vids for Friday
-And much more!
Manufacturing & cobot roundup
Korea's SK Telecom has been showcasing a 5G production line at the Smart Manufacturing Innovation Center in Ansan.
SK Telecom also revealed that it plans to commercialize a "multifunction collaborative robot" in Q2, 2019. Korea JoongAng Daily reported:
"The robot is used mainly to move things around the factory on workers' demand. It has a cart-like body and a robotic arm. It can store objects it needs to deliver inside its body and drive itself using a three-dimensional sensor. Orders are given by an AI server on a 5G network."
SUNY Polytechnic Institute (SUNY Poly) formally opened a new robotics lab this week. The Hage Family Robotics Lab is part of SUNY Poly's new Center for Global Advanced Manufacturing (CGAM) and is home to research, development, and educational opportunities based on robotics and automation capabilities. The new lab will also feature a Baxter cobot, which is being used in the research of Yu Zhou, professor of mechanical engineering. (H/T CNYBJ)
Allendale Machinery Systems released video about the rise of cobots in manufacturing environments...
Supply Chain Dive (SCD) looked at the business case for cobots in the supply chain with a host of experts, including Jonathan Tilley, a partner at McKinsey & Company and Gartner analysts Simon Jacobson and Dwight Klappich.

Vasu Bhat, Managing Director, Digital and Data Services Practice, AArete told SCD:
"You'll see them on the shop floor in manufacturing scenarios, say performing welding tasks, assembly and such — they're ideal for taking on repetitive, manual tasks, particularly when there's a severe shortage of manual labor. And even when there is the manpower, they provide the ability to free humans from monotonous tasks allowing them to do higher value work. But the game changing use I'm seeing with cobots is in e-commerce, because of their ability to do things just in time, and at scale."
Industrial and service robot maker Yujin Robot announced an alliance with the robotics wing of "South Korea's eighth-largest conglomerate," Hanwha Group, to jointly develop "automatized service robots for factories, hotels, hospitals and restaurants."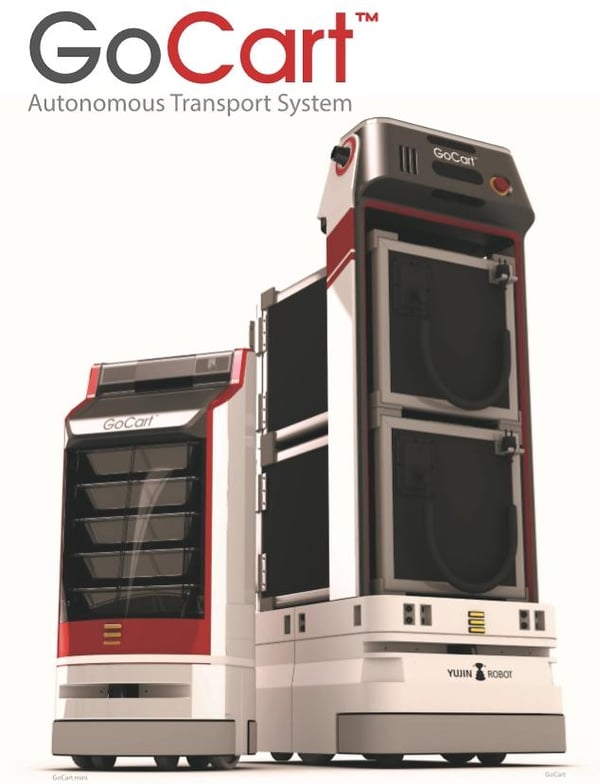 Yujin's GoCart system. Credit: Yujin Robot

A memorandum of understanding will see the companies co-develop "an automatized service robot system capable of checking inventories and delivering parts from supply warehouses to manufacturing lines" (H/T AJU Daily)

Meanwhile, in other cobot and manufacturing automation news:

Elsewhere...
Researchers from the Tehran University of Medical Sciences unveiled what they is say is the country's first surgical robot this week. Dubbed the 'Sina Surgery Robotic System,' the system consists of two main sections --a remote surgical console and surgical robot arms located by the patient's bedside.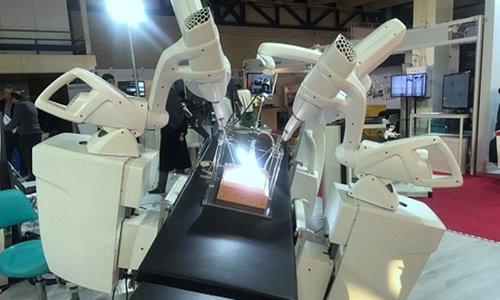 The surgical robot revealed earlier this week. Credit: IRNA
Global Times reported:
Alireza Mirbagheri, CEO of 'Sina Robotic and Medical Innovators' company [...] pointed out that the Sina robotic surgery system has been successfully tested in early technical and animal testing, adding the new robotic surgery systems in Sina and Shariati Hospitals of Tehran University of Medical Sciences are planned to being used to teach robotic surgical techniques on animal models.
Australian researchers may have found an automated solution to the problem of dying coral reefs. 'LarvalBot' is a small submersible that's able to move autonomously along depleted areas of reef seeding thousands of microscopic baby corals along the way.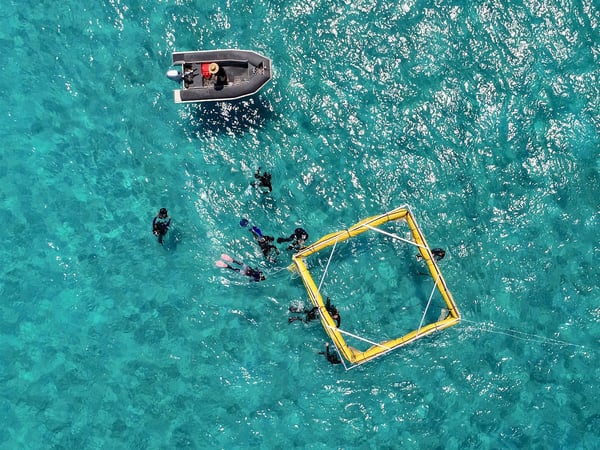 LarvalBot (in blue, by the top left-hand corner of the yellow rectangle) begins its mission.
Credit: Gary Cranitch / Queensland Museum / Great Barrier Reef Foundation
Via NBC:
Harrison's team recently tested LarvalBot at Vlasoff Reef, an outer part of the Great Barrier Reef along Australia's northeastern coast. In the trial run, the submersible dispersed 100,000 baby specimens derived from corals that survived the bleaching event of 2016-17, which are believed to be especially tolerant of warmer ocean temperatures.
Experts at India's Central Railways (Nagpur Division) have created a robot designed to help humans inspect the undergears of trains by sending images and video to engineers working on repairs and maintenance tasks. The USTAAD (Undergear Surveillance Through Artificial Intelligence Assisted Droid) is currently being tested but is already being considered for use in other parts of the Indian rail network, Central Railway spokesperson Sunil Udasi told The Economic Times: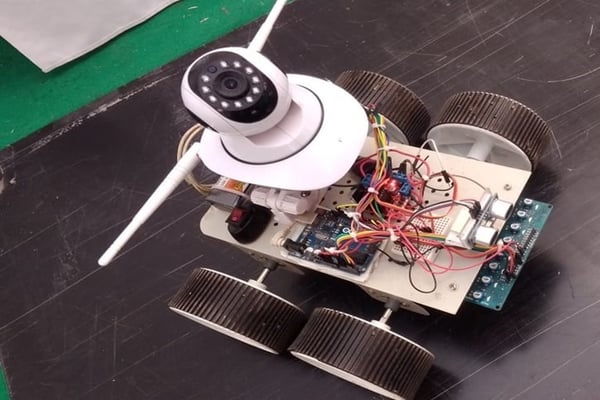 USTAAD is being tested for railway inspections. Credit: Central Railways
"[Engineers] can also zoom on the spot in case of any doubt. It is equipped with LED flood light and able to capture the videos in low light as well as in dark mode. By use of this robot the chances of mistake and any deficiency overlooked by human eye can be eliminated thus reducing chances of human error."
In an excellent long read ('One Giant Step for a Chess-Playing Machine') published this week, Steven Strogaz explored the success of AlphaZero, the deep-learning algorithm that has triumphed over the world's best human Go players and Stockfish, the world's most advanced chess playing software.
In 100 games against Stockfish, AlphaZero won twenty-eight drew seventy-two draws, but it was the manner of the victory that stunned observers.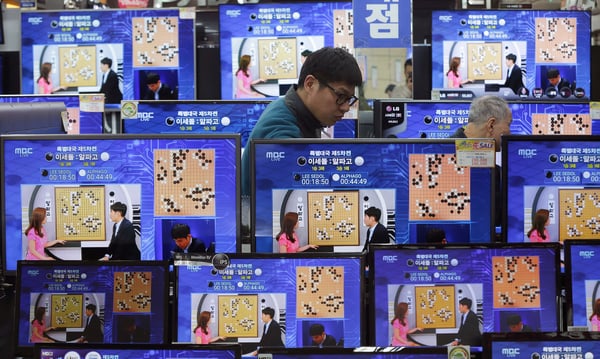 AlphaZero's predecessor (AlphaGo) gained massive media coverage when it beat
South Korean professional Go player, Lee Sedol in 2016.
Credit: Ahn Young-joon/Associated Press
Via The New York Times:
Most unnerving was that AlphaZero seemed to express insight. It played like no computer ever has, intuitively and beautifully, with a romantic, attacking style. It played gambits and took risks. In some games it paralyzed Stockfish and toyed with it.

Grandmasters had never seen anything like it. AlphaZero had the finesse of a virtuoso and the power of a machine. It was humankind's first glimpse of an awesome new kind of intelligence.
And in other news:

Come back next week --Jan 04, 2019-- for more of the latest robotics and AI news and insights from cobots to space robots through manufacturing automation, human-robot interaction studies, bio-inspired bots and beyond. Happy New Year! I can't wait to see and share what's coming in 2019! Until then...


Five vids for Friday
1. Meet HAMR-E (short for Harvard Ambulatory Micro-Robot with Electroadhesion). HAMR-E uses gecko-like skills to climb on surfaces in any direction, including upside down. The aim is to use HAMR-E for jet engine inspections. How does the bot do it? HAMR-E's foot pads contain copper electrodes that enable it to cling to any conductive surface when a charge is applied. (H/T Futurism; More: HAMR-E team's Science Robotics paper)
2. Endeavor Robotics (a participant in the DARPA Subterranean Challenge) released new video about their entry. Dubbed 'CRETISE' (Collaborative Robot Exploration and Teaming in Subterranean Environments) their system is the result of a collaboration with Neya Systems and Persistent Systems.
3. VICE News spoke with Professor Howie Choset of Carnegie Mellon University's Robotics Institute and Dr. Byron Clayton, the CEO of the Advanced Robotics for Manufacturing (ARM) Institute, about the history of the robotic arm and the future of humans and robots working side by side.
4. A new research hub aimed at tackling the UK Government's "Grand Challenges" ('AI, Big Data and Robots') has just been launched at Brunel University London.
5. Boston Dynamics CEO Marc Raibert sat down with Wired to share "the backstory of his company's viral videos and how the Internet's favorite robot dog, SpotMini, came to be."