What's New In Robotics? 14.12.2018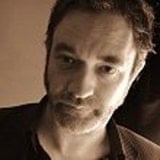 by
Emmet Cole
. Last updated on Dec 17, 2018 2:29 PM
Posted on Dec 14, 2018 7:00 AM. 11 min read time
-News from Robotiq, Wandelbots, House of Design
-Shape-shifting drones
-Multi-terrain Velox
-Caterpillar-inspired robot
-Space bots, AI News
-Five vids for Friday
-And much more!
Manufacturing & cobot roundup
Robotiq has raised Can$31 million (c. US$23.1 million) in funding from global investment firm Battery Ventures.
Via The Robot Report:
This is Robotiq's first round of funding. Battery General Partner Jesse Feldman, who specializes in industrial technology investments, will join Robotiq's board. Robotiq says it will use the funding for product development, international expansion and enhanced support of its partner ecosystem.
Robotiq co-founder and CEO Samuel Bouchard has more on this exciting development.
New video shows one of KUKA's LBR iiwa cobots collaborating with humans at automotive supplier Yanfeng Automotive Interiors' German manufacturing facility. The cobot safely fastens screws to assemble armrests for the doors of the Opel Insignia in close proximity to human operators...

German start-up Wandelbots, which is developing a system to help people program robots via a smart jacket fitted with dozens of sensors, has raised US$6.8 million to fund further growth and support the opening of a new China office.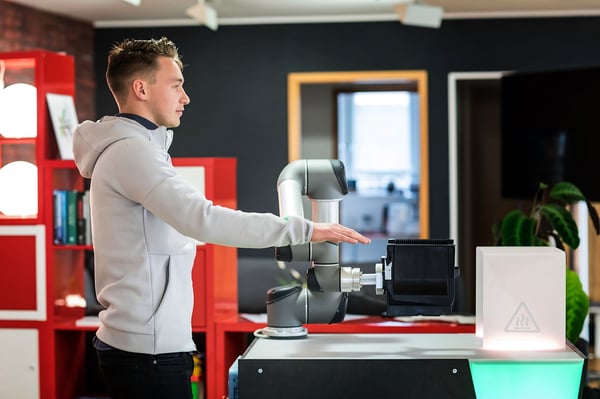 Credit: Wandelbots
TechCrunch reports:
"We are providing a universal language to teach those robots in the same way, independent of the technology stack," said CEO Christian Piechnick said in an interview. Essentially reverse engineering the process of how a lot of software is built, Wandelbots is creating what is a Linux-like underpinning to all of it.
The extraordinary accuracy and consistency of advanced cobots is creating opportunities in novel robotics domains. For example, new video released this week shows cobots from Universal Robots being used as part of a prototype human-robot spinal surgery system.
It's all part of a research project at Nottingham Trent University, UK, in which experts are exploring how surgeons and cobots can collaborate on advanced medical operations...

77 per cent of U.S. workers think that "working hand in hand with robots without safety fences will improve manufacturing," according to the automatica Trend Index 2018 survey of 1,000 U.S. workers, published this week. Via BusinessWire: "The reason for that: Human talents like judgement and fine motor skills will be combined with those of robots like force and precision. Almost 80 percent say that human machine collaboration will make US companies more competitive."
Collaborative robots "will augment workforces" next year, according to IoB's '10 smart factory trends to watch in 2019':
The most successful businesses will be those that also help their people do what they do better with the new digital tools that are available. In other words those that focus on using digital and robotics innovations to augment their workforces, rather than replace them.
One of Robotiq's 2-finger adaptive grippers was spotted doing some maze-running...
Idaho State University (ISU) announced a collaboration with industry partner House of Design to develop augmented reality applications for robots.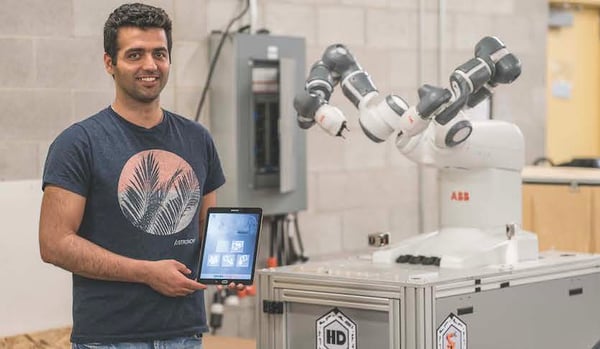 Credit: Idaho State University
ISU reports:
This project will be supported by a US $162,606 grant to ISU from the Idaho Global Entrepreneurial Mission Council, which is administered by the Idaho Department of Commerce. The grant to design and develop an augmented reality platform for robotic systems design and interaction (ARPRI) will run next year.
In other news...
Elsewhere...
In a busy week for soft and bio-inspired robot news, New Atlas ran a feature story on the new Velox robot --a versatile, multi-terrain, wriggling, undulating bot developed by New York engineering startup Pliant Energy Systems.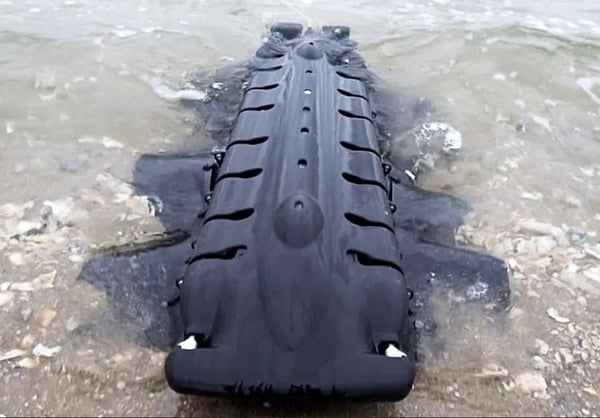 Credit: Pliant Energy Systems
Meanwhile, Autodesk profiled the amazing work of Takuya Umedachi, who builds soft, caterpillar-inspired bots. From Umedachi's perspective, caterpillars' soft and simple "tubelike bodies—with no clear bone structure, controlled by a very small number of neurons yet adaptable to diverse environments—provided the ideal model for developing robotic movement using soft materials."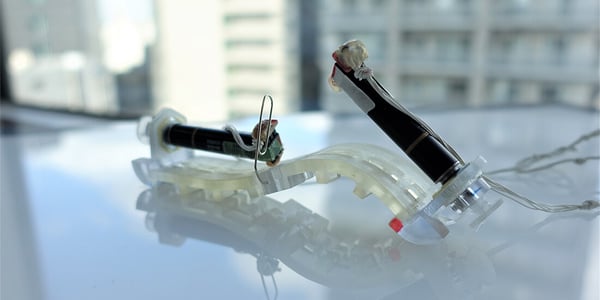 Credit: Takuya Umedachi
Researchers at KAUST revealed a bio-inspired artificial skin with embodied electronics that they hope could "enhance the way robots sense and interact with their surroundings."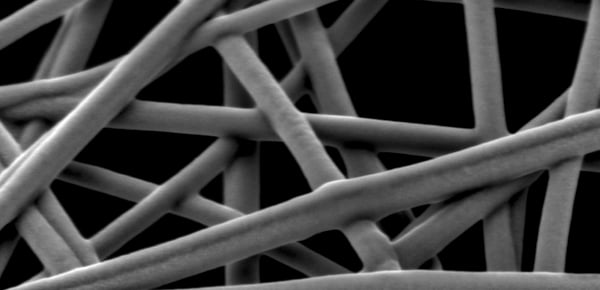 Up close, the artificial skin appears as a mesh of nanowires. Credit: 2018 Wiley-VCH
The Register explored the work of Michael Levin, director of the Allen Discovery Centre at Tufts University. While traditional artificial intelligence systems tend to be human brain-inspired, Levin believes that other biological processes (e.g. limb regeneration and metamorphosis) could be sources of inspiration for those building next-gen machine-learning software and hardware.
This week also brought us a plan to advance AI by exploring the minds of children (H/T MIT Technology Review), the launch of a new ethical AI institute in Australia (H/T ZDNet), a call to instill greater trust in AI systems, and Ozy's exploration of the question 'Could Robots Develop Prejudice On Their Own?'
Space bots were busy too. InSight returned its first full Martian selfie...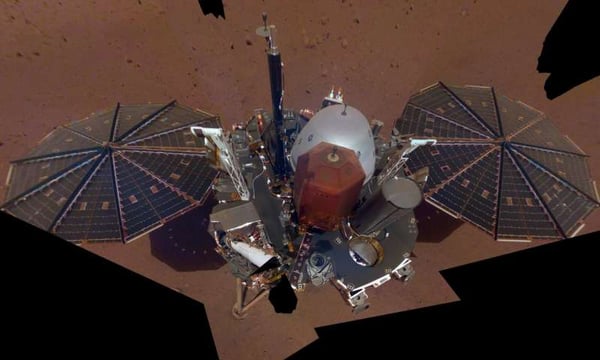 Credit: NASA/JPL-Caltech
China launched the Chang'e-4 robot on its mapping mission to the dark side of the moon, where it is expected to arrive in early January, 2019...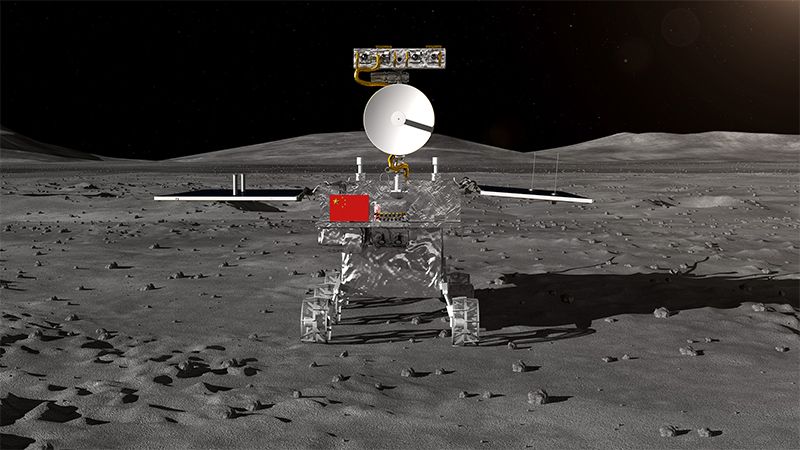 Artist's impression of the Chinese robot on the lunar surface. Credit: Xinhua
And SpaceX's holiday season delivery arrived at the International Space Station...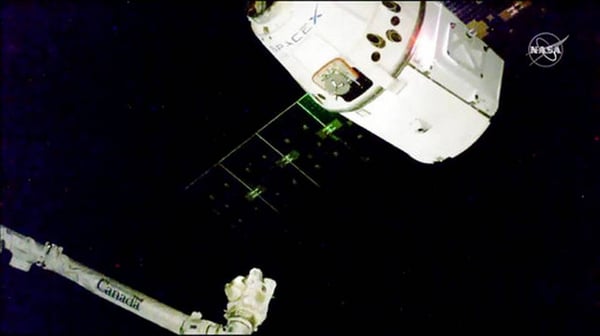 Credit: NASA TV via AP
If you find yourself near the Lawson convenience store near Osaki Station, Japan between now and Dec. 28, make sure to check out 'Dekitate Karaage-kun Robo' during its trial run.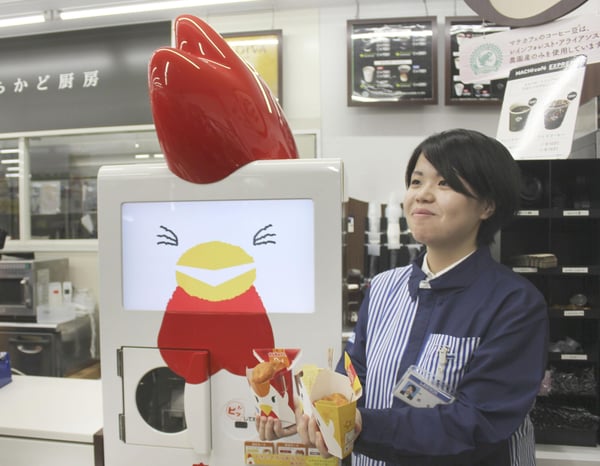 Credit: The Japan Times
Able to prepare, fry and dispense chicken, the robot was introduced this week to see how effectively it enhances the productivity of human workers. If the daytime trial is successful, Lawson may use the robot to prepare and serve other kinds of food. (H/T The Japan Times)
In other news...
Come back next week for more of the latest robotics news in manufacturing and beyond! Until then...


Five vids for Friday
1. NASA revealed that after an extraordinary 42-year journey its Voyager 2 probe has finally entered interstellar space. To put that achievement in perspective, Viking 1 and the robots onboard Matthew McConaughey and Anne Hathaway's spaceship are the only other bots known to have traveled such a distance! More seriously, Edward Stone, the mission's project scientist and Suzanne Dodd, the mission's project manager sat down to discuss the milestone with NASA TV.
2. Take a peek behind the scenes at Stanford University's Bao Research Group where researchers are investigating ways to print "stretchable, flexible inks for use in robotic skin and biomedical wearable technology."
3. Fresh video from the German Research Center for Artificial Intelligence showcased the facility's test vehicle (a modified, off-the-shelf electric car) and CERMcity, a test track for autonomous vehicle technology.
4. Experts at the University of Zurich and EPFL, Switzerland have created a bio-inspired, shape-shifting drone that can change its shape in order to squeeze through gaps while remaining in flight.
5. Elias Knubben, Head of Research and Innovation at Festo and an expert in bio-inspired and soft robotics systems, spoke about these topics at a TEDxVienna event this week.