What's New In Robotics? 11.10.2019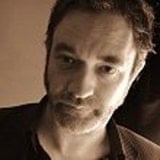 by
Emmet Cole
. Last updated on Oct 11, 2019 7:15 AM
Posted on Oct 11, 2019 7:00 AM. 9 min read time
Good morning. In this week's news mix: ABB unveils mobile 'lab assistant' YuMi, researchers reveal a soft robot for future manufacturing and journos take a trip to Airbus' Hanger 245. We also visit an automated insect factory, cheer the UK's lunar mission plans, give thanks to an automated trash can and much more!
Cobots & manufacturing
ABB officially opened its "global healthcare research hub" in Houston, Texas on Wednesday and the company's dual-arm YuMi cobot -–perched on a mobile platform-- was the star of the show.
Designed to assist medical and laboratory staff with laboratory and logistics tasks in hospitals, YuMi is able to autonomously navigate its way around humans and can teach itself the best routes to take between different locations. Researchers at the hub plan to test and extend YuMi's capabilities as a medical/lab assistant over the coming years.
Via ABB:
[YuMi] has the potential to undertake a wide range of repetitive and time-consuming activities, including preparation of medicines, loading and unloading centrifuges, pipetting and handling liquids and picking up and sorting test tubes. YuMi may be able to dispense medicines, transport them to where they are needed in hospitals, bring medical supplies to hospital staff and bed linen direct to patients' bedrooms.
Airbus gave journalists a behind the scenes look at its advanced manufacturing facility in Hamburg, Germany, where planes are built and experts are exploring ways to combine cobots with VR and AR technologies.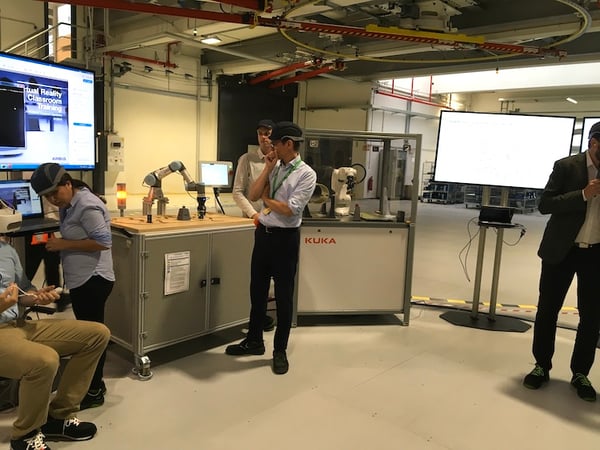 Airbus' innovation centre in Hanger 245 features cobots fitted with Robotiq grippers. Credit: Robotics & Automation News
Robotics & Automation News published a special feature (and a worthwile long-read) on the trip this week:
Hamburg is the largest Airbus site in Germany, and employs more than 13,000 people. It is at this facility that structural assembly and equipping of fuselage sections as well as final assembly take place [...] Hangar 245, which is the facility we visited, is said to be the most advanced in terms of robotics and digital technologies. Successful processes here will be copy-pasted into other Airbus facilities worldwide.
It might not look like something your manufacturing facility needs right now, but engineers at the University of Toronto unveiled a prototype, bio-inspired soft robot this week that they hope could one day lead to the development of soft cobots for use in manufacturing.

From University of Toronto Engineering News:
"Right now, the robots you'll find in industry are heavy, solid and caged off from workers on the factory floor, because they pose safety hazards," explains [Professor Hani Naguib]. "But the manufacturing industry is modernizing to meet demand. More and more, there's an emphasis on incorporating human-robot interactions," he adds. "Soft, adaptable robots can leverage that collaboration."
Elsewhere...
UK start-up SpaceBit announced a 2021 lunar robot mission at an event in London, Thursday. Several of the tiny rovers --each weighing just 1.5kg (3 lbs)-- will travel to the moon on Astrobotic's Pergrine lander. If the mission is successful, the UK will become just the fourth country to land a rover on the lunar surface.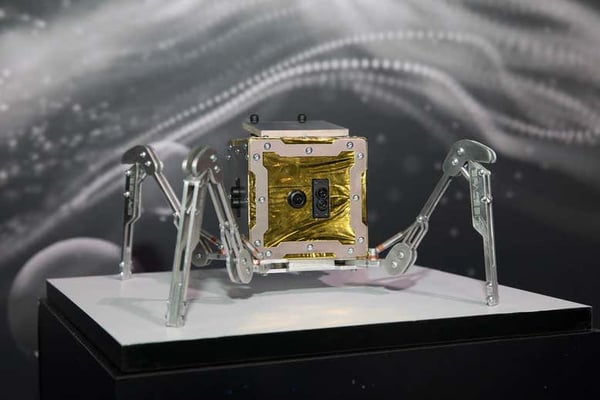 Credit: SpaceBit
Via New Scientist:
"It's going to be quite a spectacle when we land because we're going to have multiple small rovers dropping and rolling or crawling or walking off and taking all kinds of pictures and data," says Astrobotic CEO John Thornton. The rovers will send their data back to the lander, which will transmit it back to Earth.
Husband and wife team, Meng Wei and Tamara Finlay, founders of Forward Robotics, have developed a prototype specialist drone designed for use on large farms. The U7AG Aerial Application Drone enables fixed-wing spraying at 120 km/h (74 mph) with a 7 m (23 ft) boom and is capable of fully automated refills.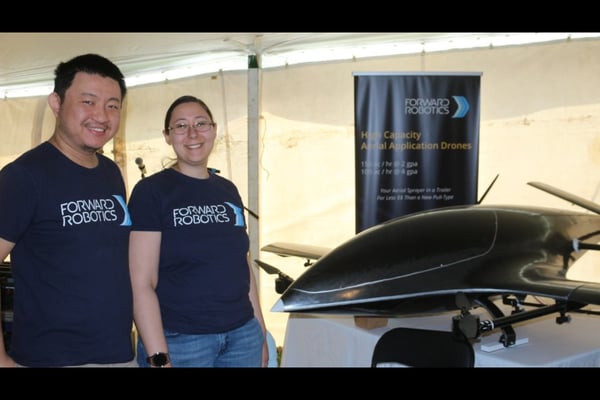 Credit: Northern Ontario Business
Via Northern Ontario Business:
Forward Robotics met with a lot of fans on the road this summer. There are roughly 70 farms across the province interested in their technology, including farms across Northern Ontario. They are currently in the process of setting up water-only trials for the spring of 2020, and want to set up a chemical trial with a larger company in the hope of commercializing the unit next year.
The world's first "autonomous humanoid robot with full-body artificial skin" was revealed Thursday by researchers at the Technical University of Munich. Designed to give bots the ability to feel its surroundings, the artifical skin opens up new application possibilities for humanoid robots.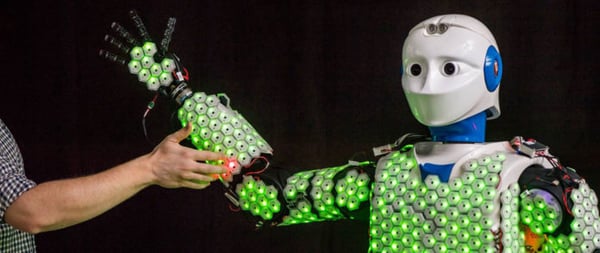 Credit: Astrid Eckert | TUM
Via Technical University of Munich:
[The robot] can even give a person a hug safely. That is less trivial than it sounds: Robots can exert forces that would seriously injure a human being. During a hug, two bodies are touching in many different places. The robot must use this complex information to calculate the right movements and exert the correct contact pressures.
Come back next week for more of the latest robotics news! Until then, please enjoy...


Five vids for Friday
1. A pop-up robot cafe with a difference opened in Japan on Monday. The system is set up so that the bots inside the cafe are remotely operated by people with conditions that leave them confined to bed, excluded from employment opportunities and deprived of social interaction. Cafe customers can even chat in real-time with the robot pilots!

2. In 'Of Bugs and Robots,' released this week, The Verge visits an automated cricket farm in Austin, Texas where up to a million insects --destined for human consumption-- can be hatched per day.

3. Bumble, one of NASA's Astrobee bots has successfully completed its first autonomous flight on the International Space Station. (H/T IEEE Spectrum)

4. In a development that could led to increased harmony in households all over the world, Rezzi has unveiled a self-driving garbage can. Now the trash is able to take itself out (well, with a little help from a smartphone app). (H/T ZDNet)

5. 2019 has seen a notable increase in the use of cobots in medical facilities, their flexibility and safety being a major plus in cluttered hospital environments. The latest to join the ranks of mobile medical cobots such as Moxi and YuMi is a National Science Foundation-funded project to develop a robotic nurse's assistant. (H/T National Science Foundation)