What's New In Robotics? 06.09.2019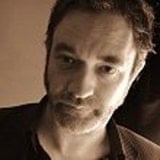 by
Emmet Cole
. Last updated on Sep 18, 2019 3:35 AM
Posted on Sep 06, 2019 7:01 AM. 9 min read time
Good morning. In this week's news mix: Robotiq unveils new products, tools & upgrades @RUC 2019, Hanwha opens German facility, and competition heating up in cobot market, says ABI. We also catch up with Fedor, take our hats off to Reach Robotics, wonder what on earth a Chinese robot just found on the moon, and much more!
Cobots & manufacturing
Robotiq launched an array of new cobot products, tools and upgrades at RUC 2019 in Quebec, Canada, this week, including an eLearning Platform and a Machine Tending Kit. This year's installment of the annual RUC event included a fascinating live stream panel discussion involving cobot users with varying levels of expertise... (The action begins @ 6 minutes in.)

Bot maker Hanwha Precision Machinery announced the launch of a 711 square meter (7,653 sq. ft.) integrated tech center in Germany on Tuesday.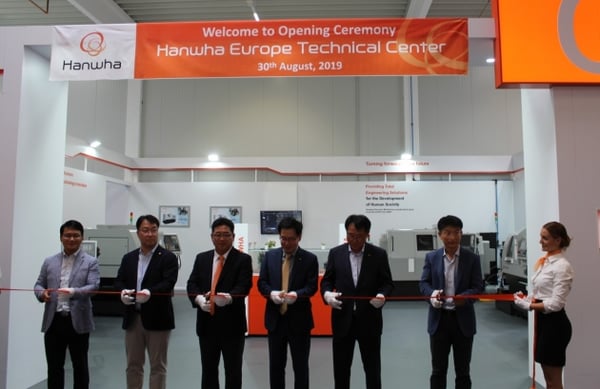 Credit: Hanwha Aerospace
Via The Korea Herald:
The space is fitted with a training area, office and meeting room, as well as a display area for the 10 main products of Hanwha Precision Machinery, such as the company's flagship product chip mounter, collaborative robot and assembly automation equipment.
Brand new video from the Century Mold Collaborative Robotics Laboratory (CMCRL) at Rochester Institute of Technology, New York showcases a new system for monitoring human physiological responses while collaborating with cobots to complete a task. The setup enables continuous collection of physiological data during human-robot interactions and, if successful, could lead to the development of new cobot designs and applications...
Universal Robots is still a clear forerunner in the global cobot market, particularly when it comes to implementation, according to a new report from ABI Research. But competition is on the rise, according to the report's author, Rian Whitton (who recently shared his insights with this blog on the factors driving cobot adoption in the UK).
Via Robotics & Automation News:
"Market leaders in cobots generally have well-developed cobot rosters, in many cases backed up by an ecosystem platform that integrates applications, accessories, and end-of-arm-tooling solutions in with the base hardware," [says Whitton.] With 37,000 cobots sold so far, UR leads, followed by Taiwanese provider Techman with 10,000, and Korea-based Doosan with over 2,000.
Elsewhere...
Try not to panic, but China's Yutu-2 rover discovered a "strange, 'gel-like' substance on the moon," according to reports this week. The material has not been identified yet, but experts suggest it may have been formed by a meteorite strike. (Or aliens.)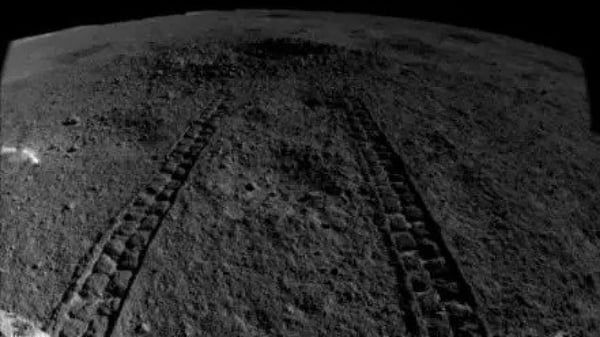 An image taken by the Yutu-2 rover. Credit: China National Space Administration
Via Sky News:
Yu Tianyi, a team member on Earth, was reviewing images taken by the rover when the material was discovered. Yutu-2 had been due to move on but the team instead decided to examine the substance found on the ground. The team's website describes the material's shape and colour as "significantly different from the surrounding lunar soil".
Forbes ran an exclusive interview with Facebook AI researchers this week which explored the company's progress and plans in the robotics space.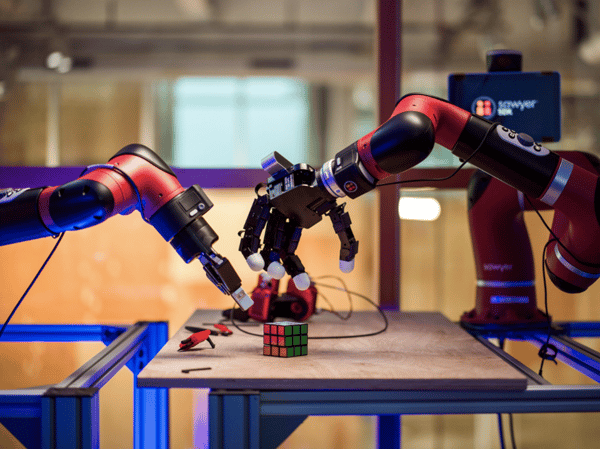 Facebook is trying to teach robots how to think, Forbes reports. Credit: Facebook
Via Forbes:
Dhruv Batra: Building embodied AI systems for robots is the next grand challenge for AI. Once you can train systems to navigate in these spaces and interact with them, it's groundbreaking because the robots are using their own intelligence, not a rule set. Everything is new that's being introduced and it's calculating every decision, making mistakes, exactly like a human would.
Meanwhile, in the same week Bloomberg published a cautionary story about the bursting of the "drone bubble" and its impact on startups and VC firms, UK-based consumer robotics firm Reach Robotics announced that it would be closing down. (H/T The Robot Report)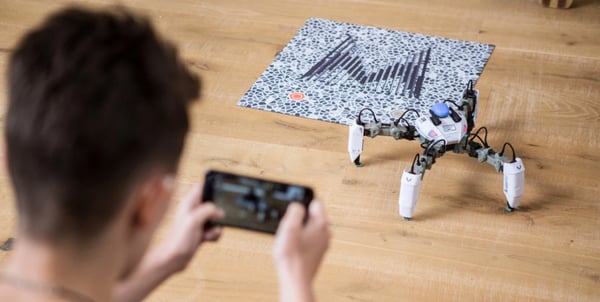 Reach Robotics' MekaMon. Credit: Reach Robotics

What gives? Robotics is hard. And consumer robotics is excruciatingly hard. Unlike industrial robots, which provide clear functionality in managed spaces, consumer robots operate in the wild. This adds layer upon layer of complication all the way from robot design to coping with the regulatory environment (or lack of it).

Plus, robots have been helping out in factories for decades, so the use cases for industrial robots and cobots are well established. The use case for many consumer robots --with the exception of ultra-simple, clear purpose Roomba-type cleaning robots-- is less obvious. Hats off to those trying to break into such a challenging space.


Come back next week for more of the latest robotics news! Until then, please enjoy...


Five vids for Friday
1. In the latest episode of its Futuris series, TV channel Euronews visited a hazelnut orchard in Italy to see how the new generation of robots is helping to make agriculture cheaper and more environmentally friendly. (H/T Euronews)
2. Monash University's Elizabeth Croft, a leading expert in human-robot interaction (who appeared in The Cobot Experience series recently), has been talking about her work building "human-robot interaction methods that will permit shared understanding of tasks, intentions and responsibilities necessary for humans to work and live together with robots." (Note: the video below is a 10 minute summary, the full version is available here.)

3. While CIMON, the International Space Station's spherical robot helper has just returned to Earth after a successful mission, Russian humanoid Fedor demonstrated its human-like handling skills this week by playing with drills. Sadly, Fedor's brief testing period onboard the ISS is scheduled to come to an end in a matter of days, so we may have to wait a while for further significant updates. (H/T Space.com)
4. The Guinness Book of Records released a nifty video this week telling the story of the "world's largest humanoid robot," the awe-inspiring anime-influenced Mononofu, developed by Japan's Sakakibara Kikai Company Limited. This video made me wonder whether Mononofu is a true robot (implying a significant degree of autonomy) or an exoskeleton though. While it seems more exoskeleton than robot to me, check out the video and see what you think!
5. Rogo, an agricultural robotics startup formed by a pair of Purdue University College of Engineering graduates has unveiled 'Smartcore' --an autonomous robot that's designed to "collect accurate, repeatable soil samples in fields and bring to the edge of the field for shipment to the lab." The aim is to help to improve yields, to save farmers money and to reduce the environmental impact of farming.