We Get a Look at the First Motoman Cobot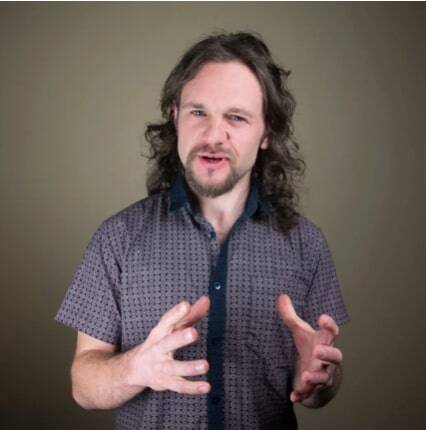 by
Alex Owen-Hill
. Last updated on Jun 23, 2016 1:59 PM
Posted on Jun 23, 2016 1:37 PM. 3 min read time
Yaskawa has been a little behind other manufacturers in releasing a collaborative robot. But, finally they've joined the club. Today at Automatica we got to see their brand new Motoman HC10.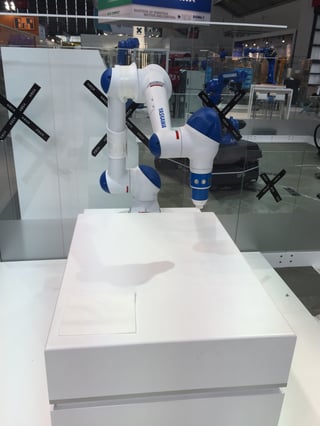 It's been a week of new robots here at Automatica 2016. On Tuesday we were there when Comau announced their huge AURA robots, yesterday we got a look at the new AGILUS series from KUKA. Today, we saw another first — the Motoman HC10 Cobot from Yaskawa.
This is a pretty momentous move for Yaskawa. Until now, they have been a little skeptical of cobots. Back in 2014, an article was posted on the Motoman blog which explained their reservations about the promise of collaborative robotics. Fast forward to August 2015 and we started to ask the question "Why isn't Yaskawa manufacturing force limited robots?" We were surprised that they were sticking to traditional markets while most of their competitors were joining the cobot revolution.
Well, it appears that Yaskawa have finally conceded that cobots are part of the future of manufacturing robotics. The HC10 is their first move into this rapidly growing market.
Although the HC10 had already been released in Japan (Samuel was there when it was released). However, the robot's European premiere was right here at Automatica 2016. Let's have a look at it!
A Slim Cobot for Tiny Spaces
The main feature which Yaskawa wants to draw attention to is the HC10's size. They say that "The robot is extremely slim, so it can be integrated optimally into cramped spaces." It has a height of just over 1m when stowed and a working envelope of 120cm. However, despite its small size, it has a payload capacity of 10kg.
Of course, as with any cobot, safety is a key feature of the HC10. It has power and force limiting technology which stops the robot when it comes into contact with a human operator. Yaskawa have designed it to comply with the TS 15066 collaborative robot standard (which you can read more about in our ebook ISO/TS 15066 EXPLAINED).
The HC10 also has a hand guiding option, which they call their "Easy Teaching Smart HUB." This allows the robot to be programmed by manually moving the arm then registering the positions of its joints and gripper.
Here's a video of it in action!
Now that Yaskawa has begun in the cobot game, it will be interesting to see where they decide to go next. They are talking about introducing a mobile platform option and integrating it into Industry 4.0. Watch this space!