Sanding Tools: 7 Steps to Pick the Best Tool for a Robot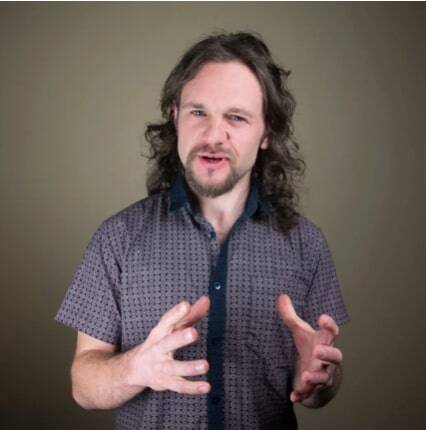 by
Alex Owen-Hill
. Last updated on Feb 11, 2020 8:00 AM
Posted on Feb 11, 2020 7:00 AM. 5 min read time
The quality of your finishing task is only as good as your sanding tool. How do you pick the right tool with robot finishing? Here are 5 simple steps.
Which sanding tool is the best for your particular finishing task?
There are many tools out there and not all of them are suited to every job. Are you better picking an oscillating spindle sander, an industrial drum sander, a file sander, a wide-belt sander, … or just a simple sanding block?
And what if you want to use robotic sanding?
Which sanding tools are best to use with a robot?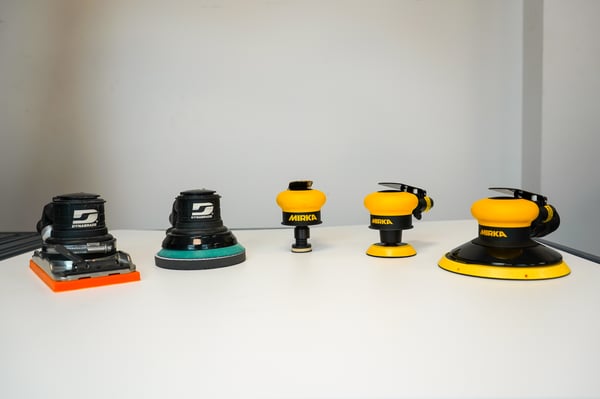 Here is a simple guide to picking the best sanding tool for your robot.
Which sanding tool is best?
There is no "best" sanding tool for every job, but tools are certainly better suited to some tasks than others. At one end of the scale, rough belt sanders are best suited to harsh sanding tasks where you need to remove a lot of material. At the other end of the scale, random orbital sanders are often considered to be the best all-rounders for fine detailed sanding.
There is some crossover between most types of sander — i.e. you may be able to achieve the same effect with multiple types of sander. Sometimes, the choice of which sanding tool you use comes down to personal preference and/or availability.
Best sanding tool brand
As well as the type of sanding tool, there is also a question of which is the "best" brand of sanding tool.
Some brands are very much marketed at consumers and entry-level home improvement so should be avoided for industrial sanding jobs. Within the market for industrial use, there are still a variety of models available. Again, this choice is partially down to personal preference and/or availability.
Electric vs pneumatic (air) sanding tools
There is also a choice to be made around whether you will pick an electric sander or a pneumatic one (often referred to as air sanding tools).
The main advantage of electric sanders is that you don't require a pneumatic supply. However, by most performance metrics, pneumatic sanding tools are considered to be superior. Pneumatic tools tend to be lighter, cheaper, and more powerful than their electric counterparts.
Can any sanding task be automated?
Not all sanding jobs can be achieved by a robot — at least, not yet. Our sanding kit, for example, is best suited to sanding with a pneumatic random orbital sander. As this is the most versatile type of sander, the kit is suitable for the widest range of sanding tasks possible with one sanding tool.
However, there are more options for automating sanding tasks besides robots. In our previous article, we listed the 3 main ways to automate a sanding task.
7 Steps to pick the best sanding tool for your robot
Before you pick your tool, it's always worth taking just a few minutes to reassess your task to ensure you pick the right one for your needs.
Here are 7 steps which can help you to make the decision:
1. Clarify your task
Take a moment to really clarify what the task requires. Is it a simple flat surface with no variations? Are there bends or curves in the surface? What level of finish do you require?
The answers might seem obvious, but it's easy to miss a vital detail if you jump too quickly to a solution.
2. Look at your materials
The surface material can affect which sanding tool you choose. Our robotic sanding kit is compatible with a range of materials, including metal, marble, fiberglass, and plastic.
The properties of your material will also affect aspects like the type of abrasive, sanding time, and path.
3. Find suitable sanding processes
At this point, take a quick look at all the different sanding tools that could be used for the task (even if they can't be used with a robot). This is a good idea just to ensure that you haven't missed an option which could really be better for your job.
4. Find compatible sanding tools
Look at the sanding tools that are compatible with your robot.
For example, our sanding kit is compatible with a range of tools from these two brands:
Dynabrade — a popular brand of industrial pneumatic sanding tools made in the USA.
Mirka — also a popular brand of sanding tools made in Finland.
Note that only some models are compatible with robot sanding.
5. Pick your tool
You now need to pick which tool you are going to use.
Your choice of brand will depend on your personal preferences and whichever is most popular in your workshop. The choice of model will depend on the specifications and requirements of your task.
6. Pick your abrasive
The decisions aren't over yet! You will still need to pick the correct abrasive for the surface finish that you need. If you've previously done the task with a power tool, this should be quite simple.
Check out our article How to Pick the Right Abrasive for Robot Sanding.
7. Program the sanding path
Finally, you will need to program the robot to be able to follow the correct sanding path. In the past, this type of robot programming was quite complicated. However, with our robot sanding kit, you can program a complete path with only a few points.
What next: How to use robot sanding
Are you looking for a more detailed description of how to program robotic sanding?
You can now sign up for free to our eLearning platform which will take you step-by-step through the process of programming a robot for sanding. The lessons take you through the process of installing the sander and programming it for your task!
What's your favorite sanding tool? Tell us in the comments below or join the discussion on LinkedIn, Twitter, Facebook or the DoF professional robotics community.