Neura: The New Kid On the Block You Need to Know About @ Automatica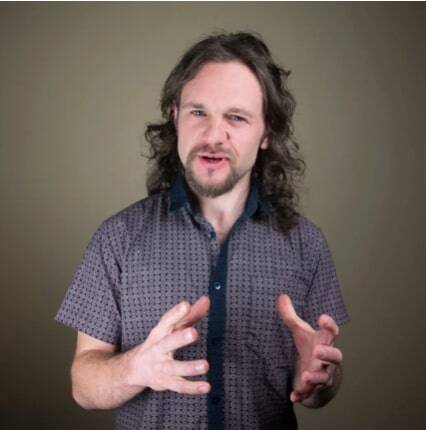 by
Alex Owen-Hill
. Last updated on Jun 23, 2022 1:11 PM
Posted on Jun 23, 2022 1:11 PM. 6 min read time
If you're anything like us, then you love learning about new robotics companies. They often have the most fascinating approaches to the technology and popular booths at trade shows.
Well… the "new kid on the block" here at Automatica 2022 is Neura, a brand new robotics company from Germany. Theirs is one of the biggest booths in Hall B4 here at the show, and they've got some of the most impressive demos on display.
They also win our prize for having the most Robotiq grippers in their booth this year… they are using more of our grippers than we are in our booth!
This company – which was only founded 3 years ago – is really going hard on marketing. You would be hard-pressed to miss them. They have even put up these entertaining stickers in the bathrooms!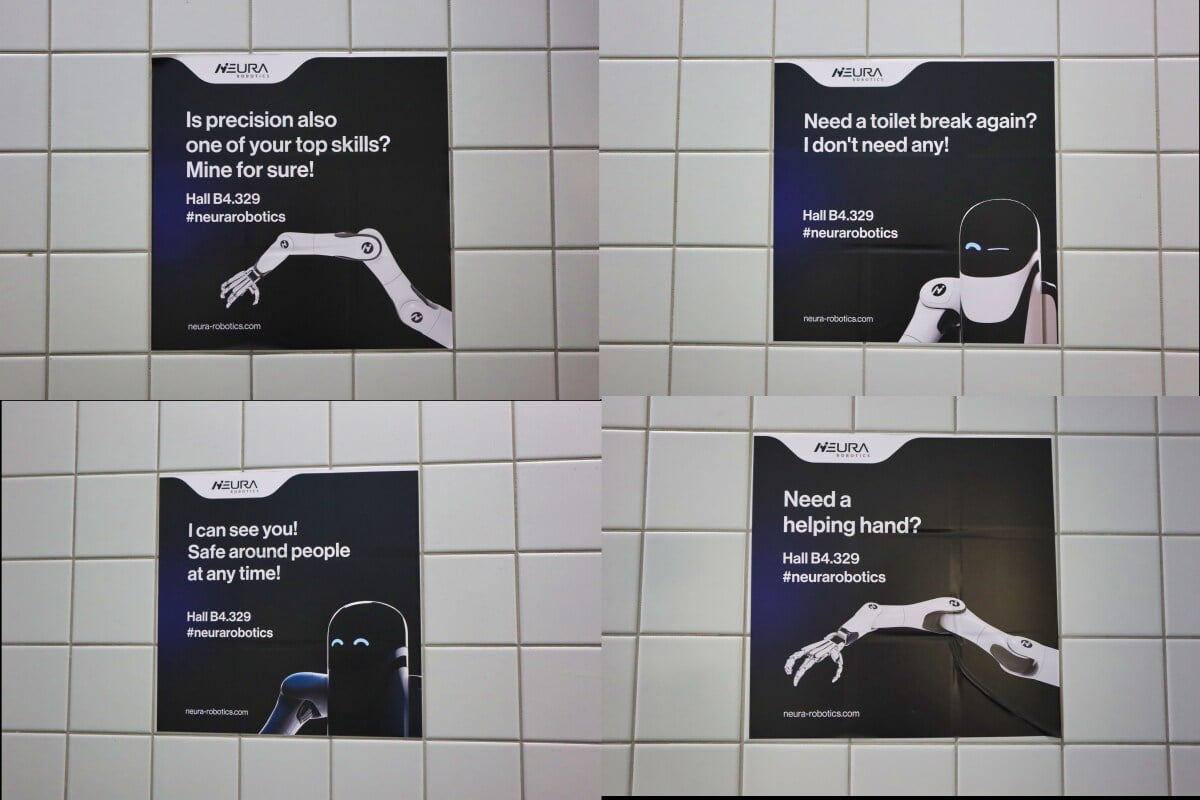 Who are Neura and what do they do?
Neura is a German company, a subsidiary of Shenzhen, China-based Han's Laser Technology Industry Group. The business unit was first launched in 2017, making its own motors, servo drives, motion controllers, and machine vision systems.
But the date that everyone is quoting here at Automatica is that Neura launched 3 years ago, with the aim of bringing about cognitive robotics to the industrial domain for the first time.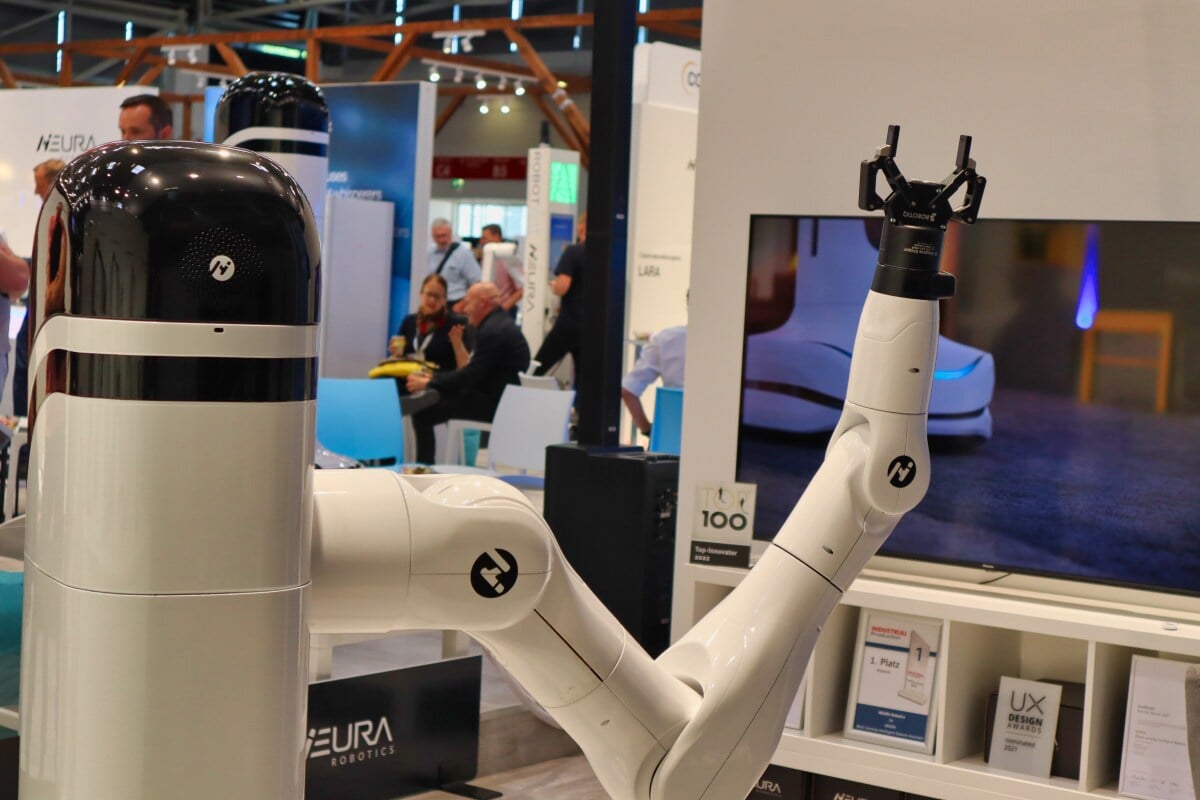 Cognitive robotics is an area of research that focuses on creating robots that can replicate or exceed human cognitive abilities. This includes areas such as natural language processing, reasoning, and problem solving.
The goal of cognitive robotics is to create robots that can interact with their environment in a more natural and efficient way. So far, cognitive robotics functions have remained almost entirely within the research field.
Can Neura really be the first company to bring cognitive robotics to industry?
As Anton Kiebler, one of Neura's Project Managers, told us at the booth "We have a big vision and are realizing what people won't expect. We are working on areas where people don't want to start because they think it's impossible. We love challenges. It's not just work, it's to create something new."
They certainly have some ambitious demos here at Automatica! To me, their applications feel like they're sitting somewhere between research and industrial applicability.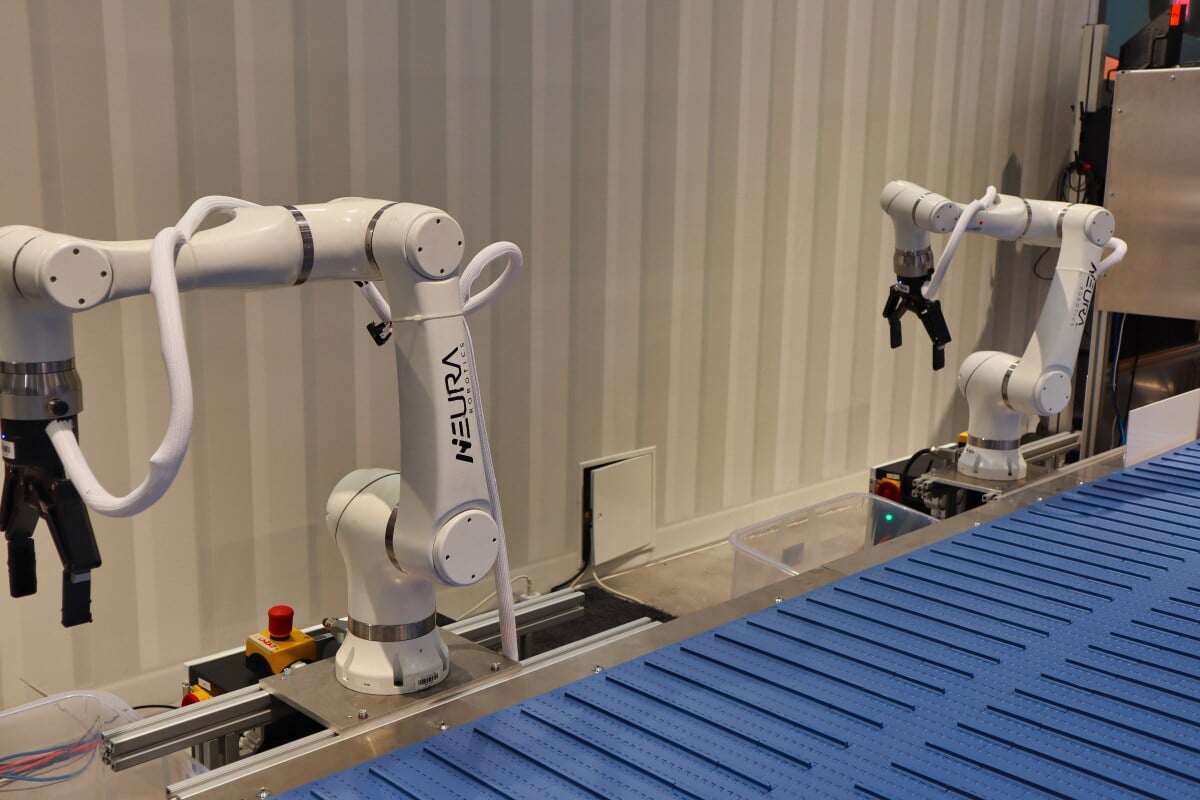 For example, as often happens with research robotics, not all of their demos are working 100% all the time (the above demo of autonomous river cleanup was having some technical hitches when we visited, for example). This is compared to more industrial-focused demos in the show, say, our Robotiq Machine Tending demo we showed you earlier today that has run without hitch since day one of the show.
But this is normal for a new tech startup and new technologies. The vision and technology is certainly there… and Neura is certainly going heavy on their marketing and R&D.
3 fun demos they have on display at Automatica 2022
We love that Neura is using so many of our Robotiq grippers on their robots! We counted 17 Robotiq grippers, including our 2-Finger Grippers, AirPick, and EPick. But we might have miscounted… there are so many of them!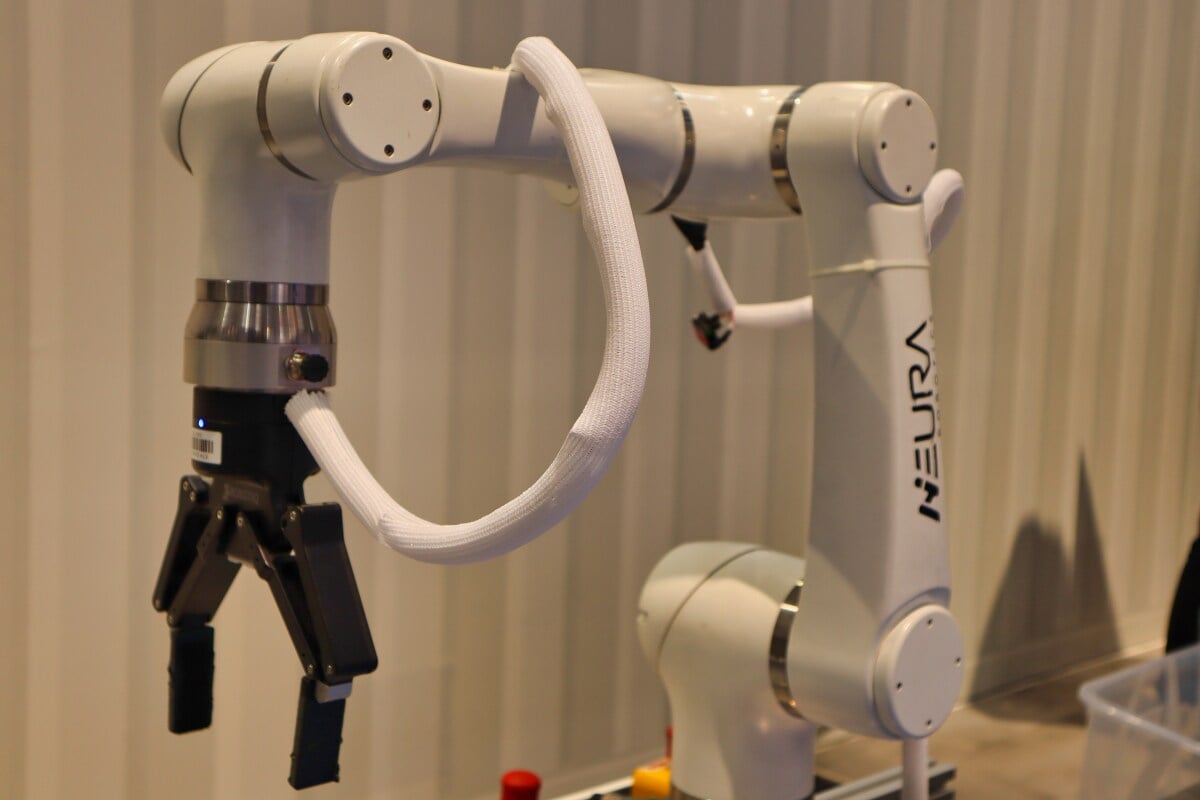 We were interested to see that they are using quite a few 2F-140 grippers. These grippers have longer fingertips than our 2F-85 grippers, which are often more popular. They explained the longer fingers suit the wrist curves of their MAiRA cognitive robot, as they allow bigger clearance for picking applications.
Here are 3 of the many fun demos that we saw at their booth using Robotiq grippers:
1. Voice activated cognitive robots
Neura's flagship robot is the MAiRA robot. It includes a 3D vision system, the company's own proprietary hardware, and (in various demos here) a Robotiq gripper.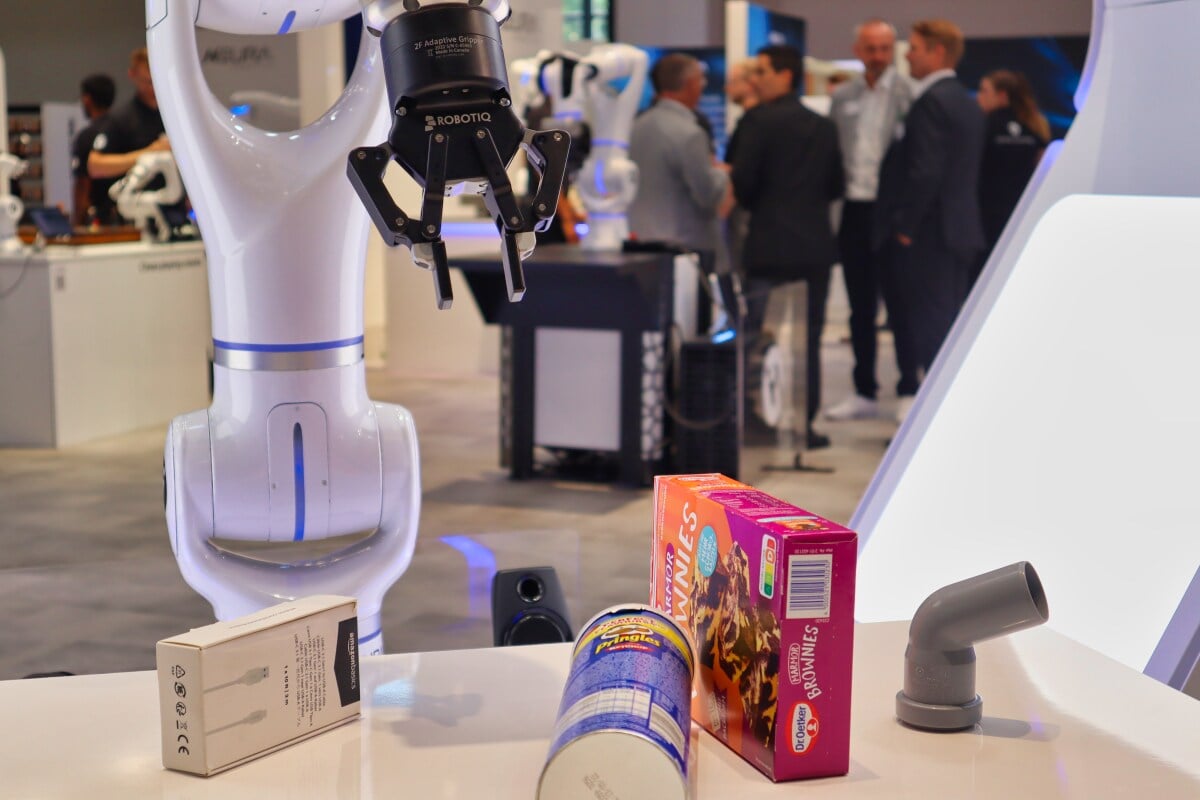 Their robots also have a unique collision detection system that senses only the motor current, with advanced (I assume AI) algorithms to recognize when there is a collision – I wonder if such safety algorithms would go adhere to the worryingly strict newly proposed AI regulation Esben Ostergaard talked about in his keynote yesterday?
This demo, explained by Project Manager Jan Bühler and AI Engineer Chun-Wei Tung, shows two of the cognitive functions of the robot – voice control and 3D point-cloud-based grasping.
2. MAiRA autographs your photo for you
There are a couple of "robot selfie" demos here at Automatica, including this curious one from the Doosan booth.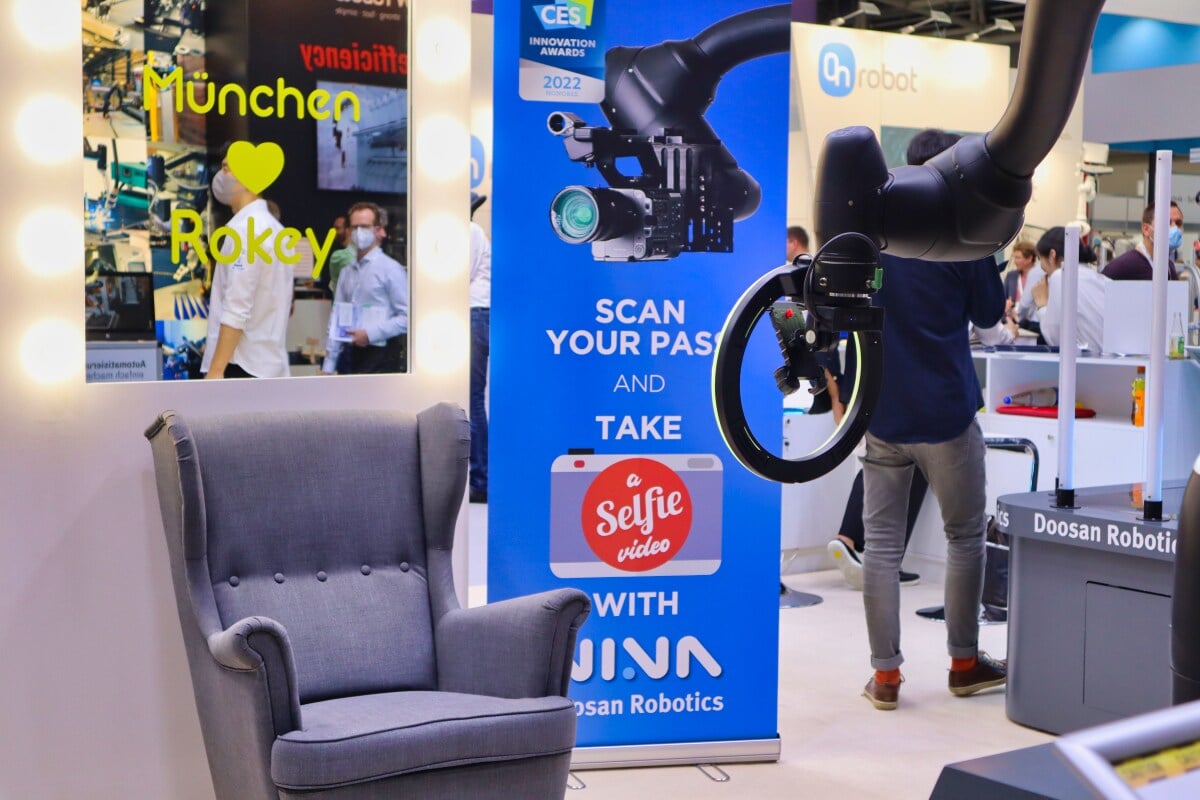 In this demo, introduced by Anton Kiebler, one of Neura's Project Managers, the robot will sign a photo with you and write your name on it.
3. The first steps to smart assembly
While a few of Neura's demos have clear industrial applications (such as the palletizing and mobile picking demos) many of them seem designed to show off particular features of the robots.
This demo, explained by Alina Kloss, one of Neura's AI engineers, shows the AI algorithms and physics-based simulation that could one day be used for smart assembly applications.
Why Neura a company to watch in the years to come
These are only a few of the many applications that are on offer at the Neura booth. There's no way we could cover them all!
Neura is certainly a company to watch in the years to come.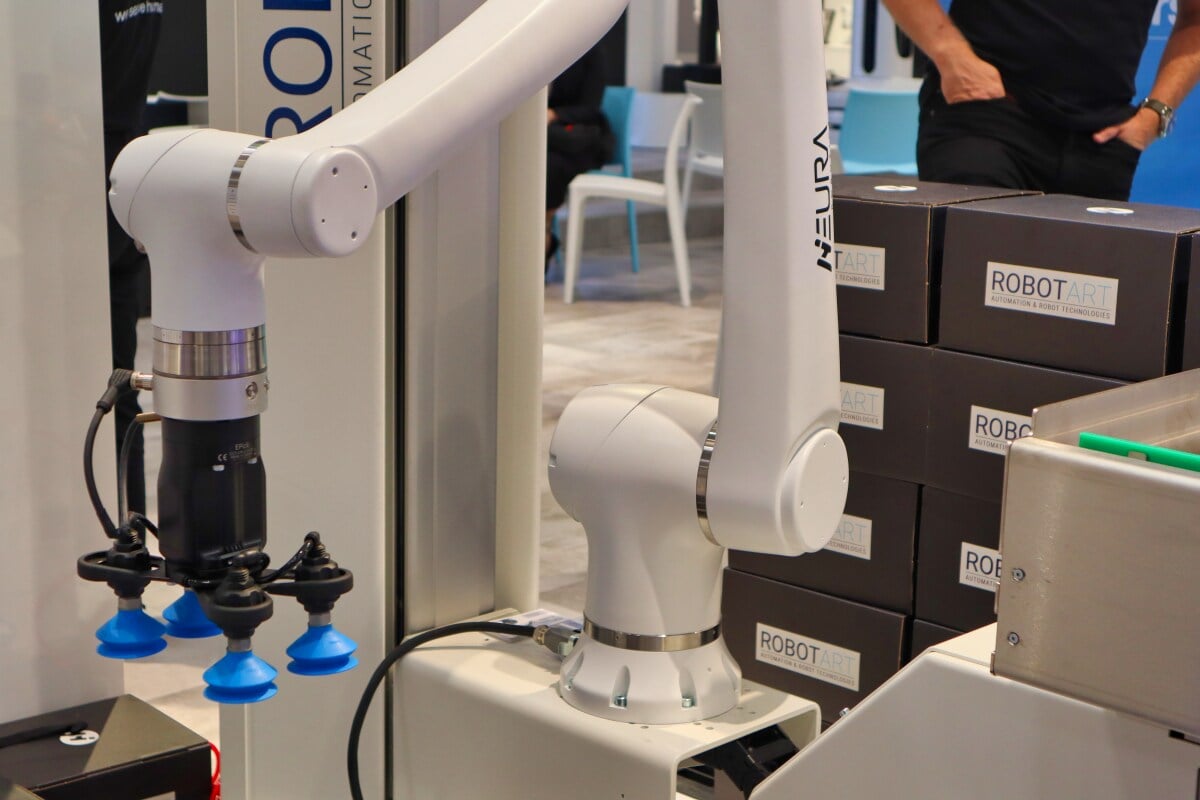 Their fast trajectory could make them into one of those startups that shoots for the moon and hits it. If they are successful, we could be seeing more cognitive functions coming into industrial robotics… something that has been elusive for many years.
They have an impressive booth at Automatica we love that and they are using Robotiq grippers in their robots.