How to Evaluate and Compare Different Palletizing Solutions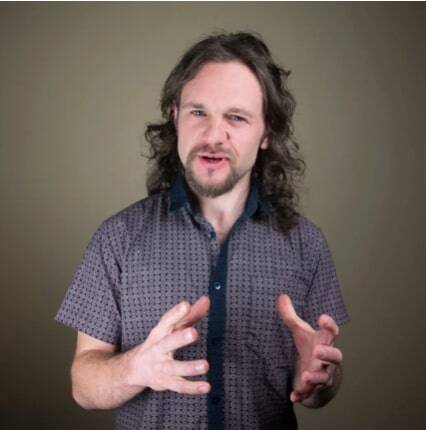 by
Alex Owen-Hill
. Last updated on Mar 09, 2023 1:55 PM
Posted on Mar 08, 2023 10:55 AM. 6 min read time
When you're looking to automate your end of line process with a palletizing solution, there are a variety of options available in the market. Depending on your performance needs and budget, one solution may be a better option than another.
How do you compare the various solutions to determine which one is right?
The right solution can help you optimize your production, make better use of your manual labor, and reduce costs. But the wrong solution could end up being an expensive mistake.
By evaluating a selection of key considerations — such as cost, throughput, ease of integration, and more — you can make a better decision that will ensure you find a palletizing solution that works for you.
Here's a guide to comparing the different palletizing solutions on the market.
A step-by-step guide to comparing palletizing solutions
Before you even think about purchasing a palletizing solution, you should first get clear on what you need from one.
Here are 5 steps for comparing different solutions:
Understand your needs and goals — It's important to have a clear idea of what you want from a palletizing solution. This may include performance metrics, such as throughput or payload. But it may also include service requirements, like customer support or availability of training.

Research different solutions — Once you clearly understand your needs, it's time to research the different solutions available in the market. Use your chosen metrics as a guide and don't be afraid to question suppliers for ideas on how they would solve your particular challenges — they are the experts in their own solutions, after all.

Evaluate potential vendors — Look at the vendors that can supply a suitable solution for your palletizing needs. Also, be aware of the partner networks — providers in the Robotiq partner network, for example, can deploy The Palletizing Solution with extra support from Robotiq if necessary.

Compare solutions against your metrics — Once you have narrowed down your list of potential vendors, compare the proposed solutions against your chosen performance metrics. At this stage, this is more of a "sanity check" to ensure you haven't forgotten a key requirement during your search.

Make an informed decision — Finally, decide which robotic palletizing solution you will use. As you have likely contacted vendors during your search, you should be starting from a warm relationship.
You can sometimes speed up this process if you have already seen a palletizing solution working that you like the look of. Many people who use the Robotiq Palletizing Solution previously saw it working in another facility or in one of our trade fair booths.
11 key considerations when choosing a palletizing solution
When comparing different solutions, there are a few key considerations that can be helpful to take into account.
Here are 11 considerations:
1. Types of palletizing solutions
First, it's a good idea to become familiar with the various types of palletizing solutions available.
Types of palletization include fully manual, semi-automatic, robotic, and full conventional automation. Each has its own benefits and is suitable for different purposes.
2. Cost of complete solution
The cost of a palletizing solution is top of many people's minds when they are comparing options.
While cost is certainly important, it is more important to balance the return on investment with the cost of the solution. Remember that some solutions, particularly conventional automation, can incur extra costs that are not immediately apparent.
3. Throughput capabilities
For many companies, adding throughput to their palletizing task is a top priority. By increasing the throughput of your end of line process, you can often increase the output of your entire operation.
There are also features of some solutions that can help to increase throughput even further. For example, using the Robotiq multipick feature can increase throughput by 75%.
4. Scalability for growth
Look for palletizing solutions that can be easily scalable, as your palletizing process can directly affect your ability to distribute products efficiently.
Manual palletizing and inflexible automation solutions can often hinder the growth of a company. It is harder to scale than more flexible palletizing solutions, particularly when there are labor shortages.
5. Quality of palletizing
While people more often focus on the throughput gains of palletizing automation, robots can also significantly improve the quality and consistency of palletizing. This leads to fewer breakages and happier customers.
Look for solutions that can consistently meet the quality that your palletizing task requires.
6. Ease of integration
For many companies, adding the Robotiq Palletizing Solution is their first step into robotic automation. This is why it's so important that the solution is easy to integrate.
Consider how easy it will be for you or one of your team members to edit the robot program. When you choose an easy to integrate solution, it gives you control over your own palletizing process.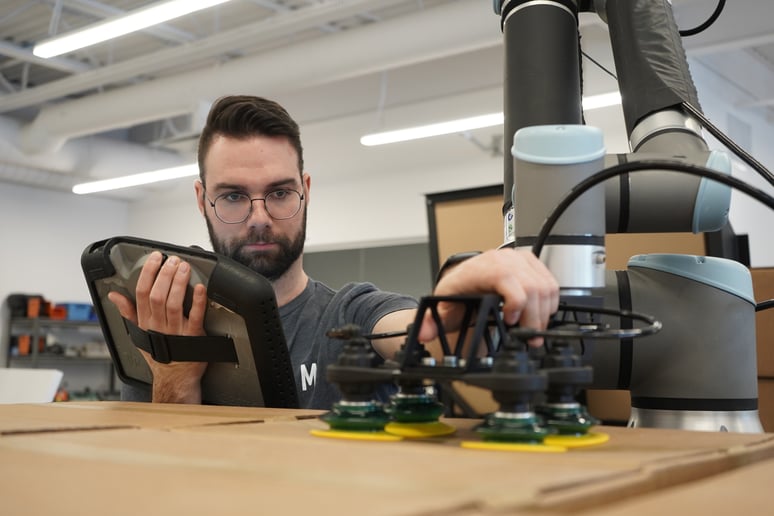 7. Configuration options
Different palletizing solutions may offer different configuration options, including adding sensors and additional equipment.
Better configuration options make it easier to fit the solution to your specific needs. The PowerPick Gripper, for example, provides 46 configuration options.
8. Safety features
Safety should always be a priority when looking at palletizing. This applies both to automated solutions — which should have suitable safety features — and manual palletizing, which can cause safety issues because of ergonomics.
Collaborative robots are usually inherently safer than other types of automation. However, even they require safety fencing for palletizing due to the nature of the task.
9. Information and training
A factor that people often forget to consider is the amount of information and training available to support your palletizing solution. With the right training, even members of your team with no previous robotics experience can take charge of the running of the robot.
For example, the Robotiq eLearning platform is filled with useful courses to help you get up and running with robotics quickly.
10. Customer support
One thing that users of the Robotiq Palletizing Solution often comment on is the high level of support that comes when using our products.
Good customer support is essential for troubleshooting any problems that may arise and ensuring your palletizing deployment runs smoothly.
11. Time from order to deployment
Finally, a key consideration is how quickly you will be able to deploy your palletizing solution once you have decided to use robotics.
For many customers, the Robotiq Palletizing Solution can be up and running within a matter of weeks from the time of order. For more customized versions, it can take a few months.
Get started with robotic palletizing now
Shifting to robotic palletizing doesn't have to be a daunting process. When you know what you are looking for in a palletizing solution, you can get started quickly, easily, and with the confidence that your chosen solution will work for you.
If you want to get started quickly, get in contact with us about the Robotiq Palletizing Solution and let us help you make your automation project a success.
What extra considerations do you have when looking for solutions? Tell us in the comments below or join the discussion on LinkedIn, Twitter, Facebook, or the DoF professional robotics community.