Color Detection and Chewing Gum on Day 4 of Automatica 2018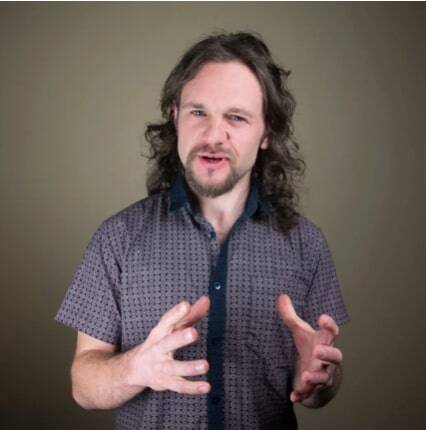 by
Alex Owen-Hill
. Last updated on Jun 22, 2018 7:39 AM
Posted on Jun 22, 2018 7:39 AM. 7 min read time
We are chased around by a chewing gum robot, see geese standing on water and watch some pigs going crazy. The last day of Automatica 2018 looks to be interesting!
It's the final day of Automatica 2018!
Soon, Automatica will close its doors for another two years... and we'll start preparing for Automatica 2020.
But, not yet! We've still got half a day left. And today, the atmosphere is quieter in the exhibition halls. Some people have already left and those of us who are still here are really feeling at home. We've been doing this for four days now, it feels like we're getting pretty good at it.
You know, we've been so busy this week we haven't stopped to take in the beautiful surroundings here at the Munich Neue Messe Exhibition Centre. This morning, we went for a stroll around the lake outside to have a look.
Is it just me, or does this suspicious line of geese look like they are standing on water?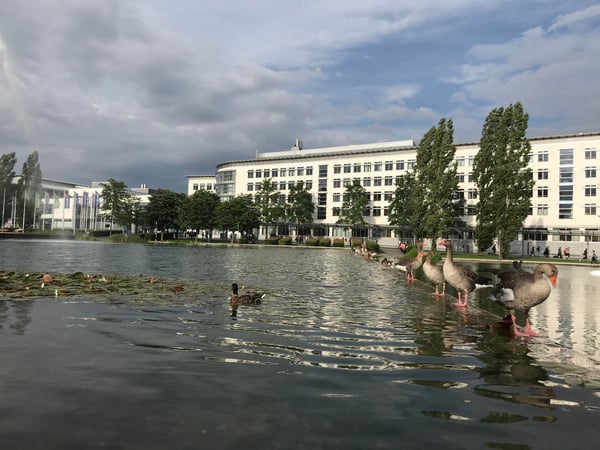 When we arrived in Hall B4, our booth was already well under control. So, we went for another walk around the halls. What else are we going to do?
KUKA takes a look at an Audi V10
One of the most useful activities that you can do here at Automatica is to just walk around and look at the robots that everyone is using for their demos. It really gives you a good idea of which robot models are most popular right now.
For some robot brands, you only see them in the booth of their manufacturer. Other robot brands and models seem to be all over the place. For example, we've seen a lot of Universal Robots (usually UR5 or UR10). We've also seen a lot of KUKAs, which makes sense given that it's a German brand and we're in Germany. But, specifically we've seen a lot of their iiwa lightweight robot models — and not just in their impressive Smart Factory demo that we saw yesterday.
On Wednesday, we saw one iiwa plugging an electric Volkwagen into a charger. Today, we saw another iiwa shining a laser on an AUDI at the booth of inos Automationssoftware (Hall A4 Booth 319). It was a demonstration of their "fit and flush" measurement system.
This is a metrology setup which verifies that all the parts of the manufactured car have been fitted together correctly. It measures the gaps between the panels to ensure that they are within specification. It's quite an advanced vision system!
See what the Robotiq Camera can do now!
There's a lot of robot vision here at Automatica 2018. Laser-based systems, like the one you've just seen, 3D bin-picking systems like the one we saw yesterday, and a whole load of advanced sensing technologies.
But, sometimes you don't want a complex, hyper-advanced vision system which can detect 3D models of every detail down to the last nanometer. Sometimes, you want a simple, reliable vision system which is easy to program.
We first launched our Robotiq Wrist Camera right here at Automatica back in 2016 (it's been 2 years already!). Since then, many people have been using it for exactly that reason: it's a simple camera which is easy to program.
This year, we've just announced some new functionality to the Camera. Specifically, we have added color validation and a custom detection setup which allows you to set the camera focus and optimize other settings for your application. Although it adds extra features, we've made sure that the camera is still very easy to program when you're using them.
Probably the best way to explain these additions is to show you the tutorial we made a few weeks ago:
Our Wrist Camera is on show in the Dual-Gripper demo in our booth (Hall B4 Booth 405). As you can see, it detects the position of parts before it picks them up. Keep an eye out for the active light source illuminating the table as it does the detection.
We are chased around by a chewing gum robot!
There's one problematic question here at Automatica that every company deals with: How do you get people to see your robot if they don't pass by your booth?
The team at Dahl Automation (Hall B6 Booth 329) have come up with an amazing solution: just get your robot to follow people around!
Their demo uses both robot vision and our brand new Hand-E Adaptive Gripper, which we announced here at Automatica 2018.
I'll let David explain to you how the demo works:
Another example of a useful demo. Everyone likes free sweets!
Why are there dancing pigs!?
However, not all of the demos we've seen today are useful. In fact, some of the robots look like they're completely confused about what task they're supposed to be doing!
Check out this crazy delta robot that we saw at the B&R booth (Hall B6 Booth 311).
What is it supposed to be doing!? Why are the plates just spinning madly around the outside!?
It makes me dizzy just looking at it!
We also got a bit dizzy looking at this odd demo in the Drumag booth (Hall B6 Booth 301). Drumag specializes in compressed air processing, so I guess the demo makes a bit of sense. It seems that they're going up in the world!
In case you're wondering, the sign on this demo does not (unfortunately) say "please play with this balloon" as we had hoped. It says something like "For urgent fair visitors. Throw your business card in here. We'll get back to you." So, we left the balloon alone.
However, the prize for weirdest demo so far today must definitely go to this bizarre pig-themed demo at the Paro booth (Hall A6 Booth 306). Paro specializes in production and assembly systems, including assembly, injection molding automation and transfer systems. This demo is showing off their Blitz pick and place system.
But, what we want to know is: Why pigs!? Just why!? And what's the deal with the money!?
This is all getting too weird for us.
We're going on a search for some more sensible demos.
We'll show you what we found later today in the final post of Automatica 2018!