Case Study: Universal Robots in Volkswagen Facilities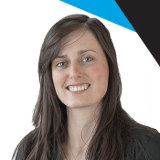 by
Catherine Bernier
. Last updated on Jan 29, 2015 11:04 AM
Posted on Oct 29, 2013 2:25 PM. 3 min read time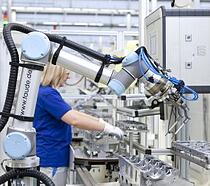 The car manufacturer, Volkswagen, is renown to be an innovative company. The manufacturer proves it again, not by its products, but by its production methods. It decided to install a collaborative robot from Universal Robots, UR5, on its production line.
The company now sends an important message to industry: this is a new era for robotics. The time where robots were working on their own in safety cages is about to end. The new technologies in robotics allow for human-robot collaboration.
UR5 enters the automotive industry
The car manufacturer decided to work with the Danish robot manufacturer, Universal Robots and Faude Automatisierungstechnik, the distributor of UR5 in Germany, to equip its motors manufacturing plant which is situated in Salzgitter, Lower Saxony. The implementation lasted two years. The factory is spread over 2.8M square meters and builds 7,000 diesel and gas cars per day. There are 6,000 employees and, now, a UR5.
The UR5 is the smallest robot from Universal Robots and weighs about 18 kg. It is a six-axis arm that can also detect collisions by monitoring the current used in its joints. If a collision occurs, the robot will automatically stop to avoid any injuries or damage. Here is a video presenting this collaborative robot:
For more information about this robot, you can also take a look at the article: Collaborative Robots Series: Universal Robots
By using these new types of industrial robots, the company wants to automate monotonous and repetitive jobs to preserve its employees. The task of the robot will be to slide glow plugs into cylinder heads of motors. To do so, the robot will have to lift a 5 kg part, which is not possible with some other collaborative robots.
Another reason why the company chose Universal Robots is that they are the only robots to respect the ISO/TS 15066 standard, which allows the robot to work without a safety cage around it. This standard is not yet published but it will specify the limits of force and speed that will not harm a human in a collaborative task.
Jürgen Häfner a project manager at the plant explained why they introduced the UR5 to their production line:

"We would like to prevent long-term burdens on our employees in all areas of our company with an ergonomic workplace layout. By using robots without guards, they can work hand-in-hand together with the robots. In this way, the robot becomes a production assistant in manufacture and as such can release staff from ergonomically unfavorable work."
However, working around collaborative robots is not risk-free. The programming and the movements of the robot should always be under surveillance. Moreover, the environment of the collaborative zone is also important to consider for safety.
Universal Robots' Success
Universal Robots already had important clients such as packaging, tobacco and car manufacturers (BMW). Yet, it has enlarged its place in the car industry, which before was reserved for big robotics manufacturers such as KUKA. Universal Robots was, at first, considered by small and medium companies, but, now, it has made its way into the big league. Who knows what's next?