10 Differences Between Industrial and Service Robotics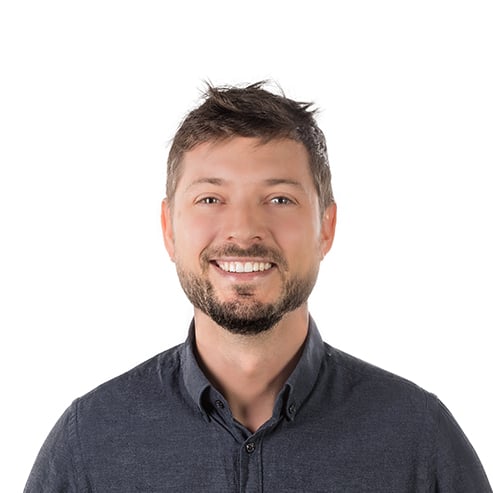 by
Samuel Bouchard
. Last updated on May 05, 2016 4:26 PM
Posted on Jun 06, 2014 6:35 AM. 4 min read time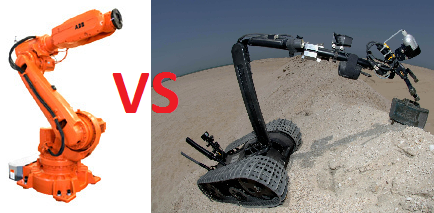 Robotiq makes components that can be installed both on industrial robots and service robots. Even if both fall technically under the wide umbrella of robotics, there are major differences in the technologies and markets. Having one foot in each world, here are 10 points we can identify to demonstrate how these two industries differ.
1. Application Areas
The term "industrial" robot is somewhat misleading. In fact, what people refer as industrial robots are robot arms used in manufacturing. By opposition, service robots are everything else but manufacturing. Examples of better known service robots are:
Personal robots such as the Roomba
Military robots like the Talon
Medical robots like DaVinci
Logistic robots such as Kiva System's
The Robot Report has an exhaustive list of service robots for personal or commercial use.
2. Money Making
Industrial robots have been around since the 70's. If they're still here today, it is because they have figured out how to make money. On the other hand, as a mature industry, margins are tight and it is challenging for companies to differentiate.
iRobot is one of the few successful examples of a service robot company. The "museum" next to their lobby is filled with various prototypes that show that even they had a path of evolution in getting to commercialized products. This is the case for many other companies also. You can expect a lot of trial and error with the service robotic approach in coming years.
3. Market Potential
All experts agree on the huge potential growth of service robots and the relatively lower growth rate for industrial robots whose fluctuation is more tied to economic conditions.
4. Market Data
The best source of data about the robotics industry that we've come across is the World Robotics yearly report done by the International Federation of Robotics (IFR). Since 2010, IFR has split their report into two sections, one for industrial robotics and one for service robotics. It is very clear from the two reports that the type of data available to analyze the different industries varies. Because the industrial robotics industry has consolidated over the years, the data is much more precise than the fragmented service robotics area.
For both industries, the data is mostly about the robots themselves and not about the peripherals or integrations around them, which is an important piece of missing information.
5. Target Customers
Industrial robots are bought primarily by manufacturers and are most dominant in the automotive industry, although this is diversifying at a high speed. Industrial robotics is a typical B2B sales approach. And, purchase decisions are made according to ROI calculations.
The types of customers for service robotics are much more diverse. They might be manufacturers, military groups, hospitals, or even individual people. The decision to buy is diverse and sometimes a price tag can't be put on the benefits.
6. Leading Countries
The largest industrial robot manufacturing country is Japan with giants such as Fanuc, Yaskawa - Motoman, Kawasaki, OTC Daihen and others. Europe also has important players, mainly with ABB, Kuka and Universal Robots. In the US, there is Adept and others that are not as dominant in the market.
With respect to service robotics, the situation is the opposite, with the US clearly leading the way. The US approach is not to build humanoid robots but rather robots dedicated to one application. The fact that US robots were the most useful in the recent Fukushima disaster tells us that we are on the right path. Robotic industry clusters have formed around MIT, Stanford and Carnegie Mellon universities of which many startups have formed from these institutions, some of them now established players.
7. Open to the World
Industrial robotics are very proprietary. All the controllers use a different language and are often closed. This is sometimes true even at the communication protocol level. This makes the development of third party applications more cumbersome though with the development of ROS-Industrial even industrial robotics are beginning to opening up.
Open source initiatives are about to reach the tipping point in service robotics. The best candidate to become the de facto standard is former Willow Garage's ROS. Having access to tools developed by an exponentially growing community of developers will greatly speed up the progress of service robotics.
8. Leveraging Technology
This point is similar to the previous one. Industrial robotics use hardware and software that are robotic specific.
The service robotic industry does a much better job at leveraging off-the-shelf technologies that have a lower cost and require less customization. Embedded electronics, network technologies and communication protocols, even sensors such as Microsoft's Kinect are used in service robotics. This recycling of widely adopted components enables faster development and cheaper robotic solutions.
9. Platform Maturity
We install our Adaptive Gripper on both service and industrial robots. Installing it on an industrial robot is very straightforward, everything is typically stable and requirements are well defined. Service robotics is not quite as straightforward. On that note, service robotics could learn from the structure and organization of the industrial side.
10. Cool Factor
Yes, service robots are much cooler than their industrial counterparts. Kids get into robotics not to make industrial arms, but rather autonomous mobile robots. That being said, and as iRobot's CEO states, "the service robot industries won't grow because it is cool but because it solves problems." However, it's often still the "cool" factor that helps service robotics attract young talent, which seems to be harder in industrial robotics.