Tactile Sensors for Robotic Gripper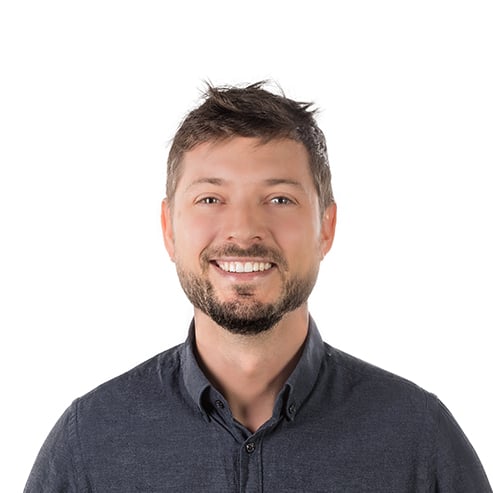 by
Samuel Bouchard
. Last updated on Apr 01, 2015 11:20 AM
Posted on Mar 02, 2011 12:22 PM. 1 min read time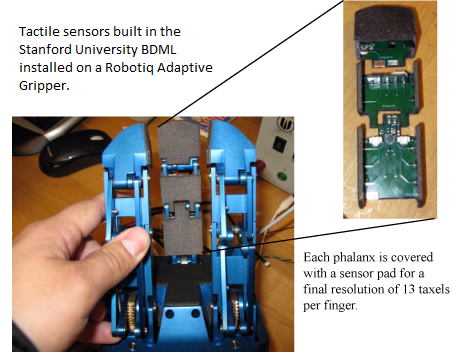 On the Robotiq Adaptive Gripper, you can control the overall force that you apply on a part. You can also detect that a finger has hit a part and that a grip is complete. For most applications, these features are sufficient to have proper control on a part, making sure is it grasped and not damaged. But for some research and even industrial applications, it might be desirable to add tactile sensors to the gripper.
The Biomimetics & Dextrous Manipulation Laboratory of Stanford University, lead by Professor Mark Cutkosky, is currently exploring the use of tactile sensing to improve grasping with an underactutated hand. Barrett Heyneman, a Ph.d Student of this lab has built a pressure sensor matrix that goes over each of the phalanges of Robotiq's Adaptive Gripper (see picture above). Like some other tactile sensors available on the market, Heyneman's sensor is based on the well known capacitive effect. In this concept, applied pressure is estimated from the capacitance change between two conductive plates that are embedded in the sensor.

Special care was taken during the mechanical and electrical design of the sensor to reduce the hysteresis in the output signal as well as its sensitivity to noise. These efforts resulted in a tactile sensor that as unprecedented sensitivity and also high quality noise immunity. If you would like more details on the technology used in the sensor , we invite you to read the paper "A robust, low-cost and low-noise artificial skin for human-friendly robots" written by John Ulmen.