Why Use a Robot Gripper with 3 Fingers?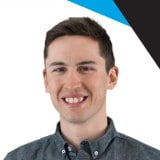 Seeing all these robot grippers out there you may wonder, what are the advantages relative to the number of fingers presented on the gripper? Well, I would be lying to you if I said that there is one single solution to every robotic problem. The reason why there are a lot of different grippers out there is because there are a super wide range of applications that each does best at. But, if you simply look at the number of fingers on a gripper, what are the advantages of using a gripper that has 3 fingers?
Well to analyze this scientifically, we have to evaluate the other options too, i.e. other than using a 3 fingered gripper. So let's see what is available on the market.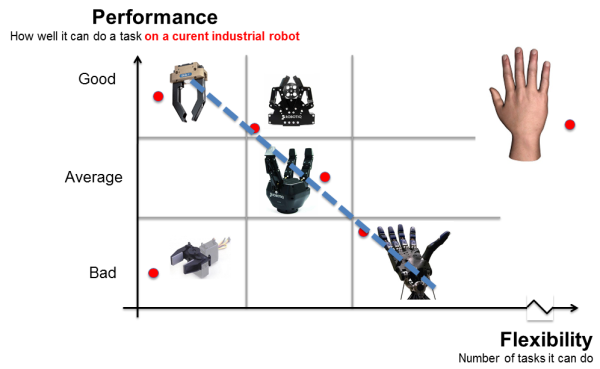 1 Finger Grippers
Basically a hook. This is probably the simplest way to put a gripper on your robot. Even if you think it sounds ridiculous, some applications simply need a hook or probe to achieve what they need to do. In terms of precision and repeatability it is probably not very accurate, but it is also the cheapest you can get, no power needed, no maintenance. Look at the following example that uses a hook to bring a part out of the CNC machine in a machine tending operation.
Flexibility: +
Repeatability: +
Price: +
2 Finger Grippers
Parallel
There are different kinds of two fingered grippers on the market. The most popular ones are the parallel grippers. These grippers are either electrical, pneumatic or hydraulic and use two jaws that close against each other and remain parallel to each other. This means that only a pinch grasp can be accomplished using these grippers. These grippers are then really limited and are really rigid. In fact, they can rarely be programmed to adapt to the shape of the object. So custom fingertips and/or custom jaws have to be made when a new production or a different product has to be handled with the gripper.
The advantage of having 2 fingers in this scenario is that you can roughly locate the part in the gripper. You can assume that the part will always be between the fingers, so it is relatively easy to automate a process knowing that.
Flexibility: +
Repeatability: ++++
Price*: +++++
* Pricing is mostly related to tooling.
Adaptive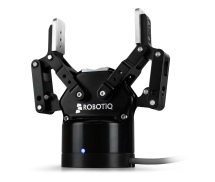 These grippers are a little more exotic than the standard parallel grippers. They can be use in a production that requires more flexibility. In fact, these grippers can adapt themselves to the shape of the object it is grasping (rectangular, cylinder, etc.). In other words, if the production first involves a small rectangular part and then later on a round part, there is no need to change the gripper, it can adapt itself in the blink of an eye.
Having a 2-Finger Adaptive Gripper means an automatic repositioning of the part in the Gripper. The Gripper will be in parallel grasping mode or encompassing mode, either way the part will be where it should be. In terms of robot programming this makes things easier since your part is always located at the same place in the Gripper.
Flexibility: +++++
Repeatability: ++++
Price: +++
3 Finger Grippers
Parallel
These grippers are pretty much similar to a turning machine chuck fitted on a robot, they are also known as self-centering. The 3 ''fingers'' are closing toward a central axis to squeeze the part at the very center of this axis. Most of these grippers are actuated by hydraulic or pneumatic energy. They can usually carry a large payload, but are not very flexible at all and you have to change fingers or jaws for each different application.
Flexibility: ++
Repeatability: +++++
Price: +++
Adaptive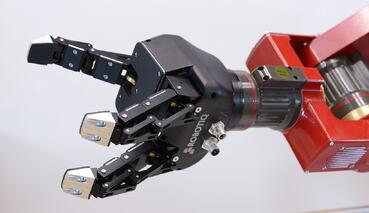 Using a 3-Finger Adaptive Gripper means that you will have a greater flexibility and more reliability to grip or grasp different kinds of parts. In fact, with under actuated fingers, the Gripper can adapt its configuration to the part geometry. The Gripper is also able to carry a relatively large payload for its weight (structural to payload ratio). This Gripper has 3 different grasping modes (scissor, wide and regular) which gives you a wide range of grasping setups for all kinds of applications. Just to put another spin on it, this Gripper has been used by 8 teams at the DARPA Robotics Challenge to achieve manipulation tasks for disaster relief and it was also able to absorb huge impacts from the 200 kg robots when they fell on the Gripper.
The advantage of such a Gripper is the level of flexibility that can be accessible for any given application. Whether it is for research or industrial applications, it can adapt to pretty much everything. It can also handle a payload of 10 kg. The positioning in the Gripper highly depends on the grasping mode you have chosen, but is generally pretty accurate and has a repeatability of less than 0.05 mm.
Flexibility: +++++
Repeatability: +++++
Price: ++++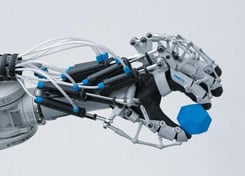 4-5 Finger Grippers
These type of grippers are still pretty unusual for any type of application. Even if they have been proven to work as a prosthetic for the human body, it is quite tough to make this work on a robot. So these grippers, most of the time, are very flexible because they can grasp a LOT of stuff, but they do not often have an accurate repeatability and they often cannot handle a heavy payload. This why these kinds of grippers are not very popular, they are just not ready yet for industry.
Flexibility: +++++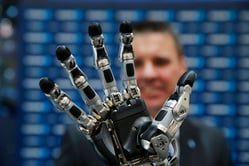 Repeatability: ++
Price: +++++
So if we are making a short resume of all kinds of 'fingered' grippers. Single fingered grippers are cheap but are not too precise, they can work well for removing a part from a machine for example. Two finger grippers are better because they can grasp a wider range of parts and handle them with better precision and their payloads are descent, but it can be complicated to use a parallel gripper when changing part size or geometry. The three fingered grippers are more precise and can handle more diverse part sizes and shapes. Thus, they are generally more expensive. Grippers with more than 4 fingers are complicated to use and cannot carry a heavy payload, so they are still in the research stage and are not really used in industry.
Five fingers and opposable thumbs are pretty cool, but at the moment you will have to choose a gripper that can fit whatever application(s) you are doing.