Which Robot Gripper is Easier to Integrate ? Part 2 - Design Process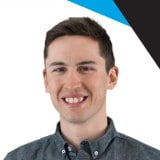 In this blog series we are looking at the different steps involved in collaborative robot integration. The first article in the series was about the gripper selection process, now it's more about the engineering/design process and how to best integrate a robot gripper onto your robot arm.
We have met lots of customers and partners who have told us that they were not monitoring the amount of money they spent in the design process related to their choice of gripper. So, not calculating this expense is one thing, however, it is another thing to take precious engineering time and place it in a situation where it has to use its restricted availability on solving a problem which could be easily solved with a ready-made solution. We have compared the traditional 'custom gripper' to a Robotiq Gripper to see the level of implication required to design a complete robotic cell with custom parts.
Custom Gripper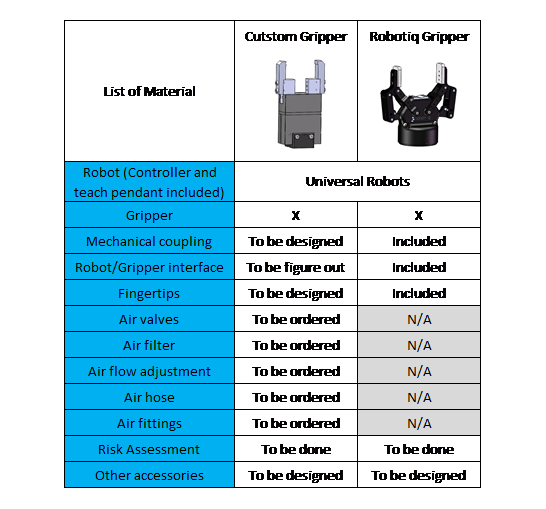 First off, most custom grippers are delivered without any fingertips. You need to either manufacture custom fingertips or order blank fingertips and machine a shape compatible to your parts. If you are doing machine tending for example, you might need to have a finger set with several shapes or steps in it to be able to grasp the part before and after it has been machined.
Since this kind of gripper can be fitted onto all kinds of robots (Scara, Delta, Linear, 6-axis, custom robots) there is no ''plug and play'' bundle that will allow you to directly fit your gripper on a robot. You will need to design a gripper-to-robot mechanical interface and you will need to figure out a way to program the gripper using valves (if it is pneumatic) and I/O's entries. This is a complex process, but if you have already done complex automation you will probably figure it out.
What you need to design
Custom mechanical coupling

Custom

robot to gripper interface

Custom

fingertips
One important part of the robotic cell design is the risk assessment. Especially in the case of a collaborative robot you will need to evaluate each potential risk and make sure it is safe for your human workers, if not you have to figure out how to reduce their risk. For example, in the case of pneumatic grippers, the force between the fingers can be massive. You will then need to reduce this pressure to make sure nobody gets hurt while the robot is operating. Make sure to take a look at ISO 10218 and ISO 15066 (to be released by the end of 2015) to make sure your collaborative robot application is safe for the people working around it.
Robotiq Adaptive Gripper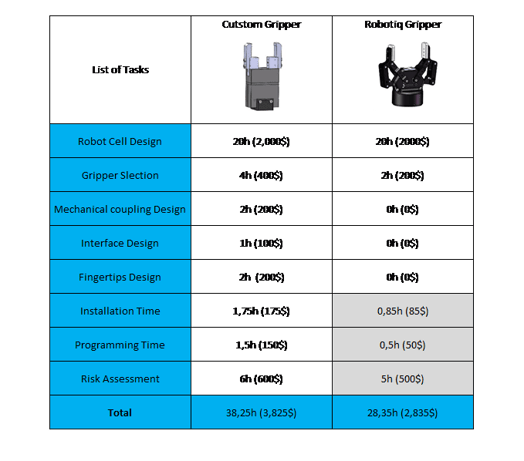 Ordering a Robotiq Adaptive Gripper is pretty simple. In fact, since the fingertips are included and they can virtually adapt to any shape or geometry within its stroke, there are very few design changes necessary to make sure the Gripper will grab a part correctly. The Gripper has force feedback and object detection to make sure the object is securely grasped. Also, you can control, opening, force and speed directly on the Universal Robots teach pendant, if you are using a ready-made option including the Robotiq Gripper and a Universal Robots. Notice that we have custom couplings to fit almost all robot tool flanges, so you can save design time.
What you need to design
Integrated solution (especially on Universal Robots).
Simple to use, embedded interface in robot teach pendant.
Flexible Gripper to repurpose on other applications.
The connectivity is also really simple. It is done through a single USB cable and one I/O entry to connect to the robot controller and you are good to go. You can also use the embedded widget to control the Gripper directly from the teach pendant so you can program the Gripper very easily. Once again not much designing time and a simple way to order. Just order the all-inclusive UR kit and you know you will have everything you need so the integration team will not have to come and see you while they are installing the Gripper. It is a time saver and it is also a secure solution, you know that you will receive everything you need in the box, so you can get back into production in a couple of hours. Here is a video showing how easy it is to install.
So in terms of simplicity the choice is not hard to make. In fact, the integrated solution makes a lot more sense. It helps you save engineering time, while eliminating potential bugs at the beginning of the installation process. Also you are guaranteed that everything will fit on your robot, it has all be done before, so you can sleep tight knowing that when the integration team opens the Gripper box everything has been designed to work together. Since this saves you time, you can get back into production quickly. So whatever your choice is, you may want to look at the different programming paths and applications that have been done with the Robotiq Gripper and Universal Robots.