The Latest Manufacturing Tech from IMTS 2016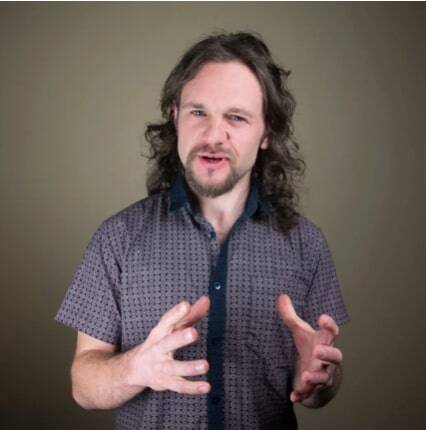 In this second live blog from the IMTS 2016 trade show, we bring you a CNC machine that's bigger than an elephant, some expressive robots and a smart-phone controlled demo from our friends at Hirebotics. Let's get on with the show!
It has been a busy week here at International Manufacturing Technology Show 2016. We arrived here on Monday and gave you a blog update on Wednesday.
It's now the fifth day of the show. We're getting quite fit after all the exercise of walking around these huge, walkway-connected buildings in McCormick Place, Chicago.
Here are some of the exciting technologies we've seen over the last couple of days.
The Latest in CNC Technology at IMTS
Our coverage on Wednesday was all about robots — of course it was, that's what we're most interested in— but we'd be wrong if we didn't mention some of the other impressive manufacturing technology the show has on offer. After all, IMTS covers the whole of the manufacturing industry, from aerospace and automotive to medical.
First things first, there are CNC machines everywhere!
One booth that caught our eye was that of Doosan Machine Tools (Booth S-9100). They haven't brought just one CNC machine to demonstrate; they've brought the whole factory: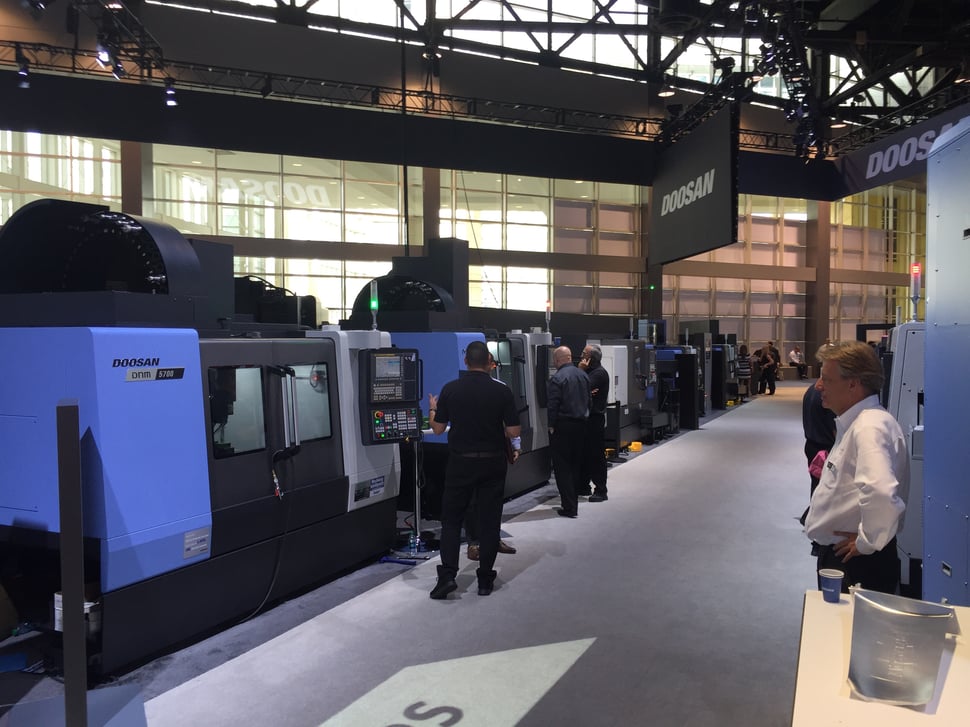 You can only see four machines in the photo, but there are over 20 machines in the whole booth. Doosan is demonstrating a whole load of different CNC technologies, including horizontal and vertical machines, pallet systems, and turning machines.
Equally impressive are some of the really huge machines, like this CNC Plasma and Oxy-Fuel Cutting Machine from AJAN (this model apparently comes up to 12 meters long) and the MCR-BIII Double-Column Machining Center from Okuma. By the way, the MCR-BIII is five meters tall, which is about the height of two Asian elephants standing one on top of the other.

But, the prize for most spectacular big machine of the day has got to go to this DMC 60 H Milling Machine, also from Okuma. Check out this tool-changer! It's like the automation version of Edward Scissorhands.
Are Expressive Robots Helpful in Manufacturing?
We've noticed a few robots with expressive heads here at IMTS 2016. Most of the delegates are less familiar with automation, as we discussed in Wednesday's post. Maybe expressive robots could be a good approach? Robot faces are certainly an effective way of demonstrating the robot's intent, particularly to non-roboticists who may find it harder to judge the actions of the robot. Then again, maybe not.
The first expressive robot we came across was Nextage from Kawada Industries. We first introduced Nextage on the Robotiq blog back in 2013, although it has been around since 2009. We last saw it at IREX 2015, but they don't sell outside of Japan so we haven't seen it since then. It is here at IMTS thanks to THK America (Booth E-4514) but there's no news yet that they'll be sold internationally.
Another expressive robot we bumped into was Sawyer from Rethink Robotics. We also saw him at Automatica back in June, where he was packaging hand cream — one of several robots at the event which were possibly aimed at Germany's large cosmetics market. Here at IMTS, he was being used in an electronics manufacturing demo.
While we were at the Rethink Robotics booth (E-4125) we also went to visit Baxter, Sawyer's two-armed counterpart. He was in the middle of this funky dance when we got there; an entertaining way to show off the impressive workspace of the robot's manipulators.
Robotiq Shows Up at the Yaskawa Booth
On Wednesday we walked past the Yaskawa booth on our way to the yellow FANUC booth. So, we thought we'd go back and have a look at what Yaskawa has been up to recently. The first thing to catch our eye was this this familiar gripper and our logo on the board. You know, we still get a little bit excited when we see a sign like this.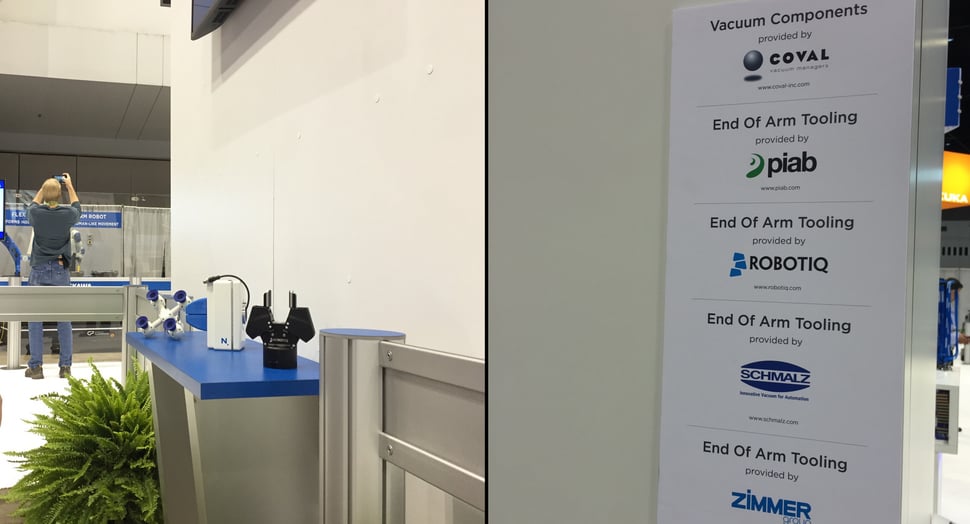 We were also really pleased to see our Kinetiq Teaching on show. This allows you to program a welding robot by simply moving around the tool by hand, which can halve your programming time.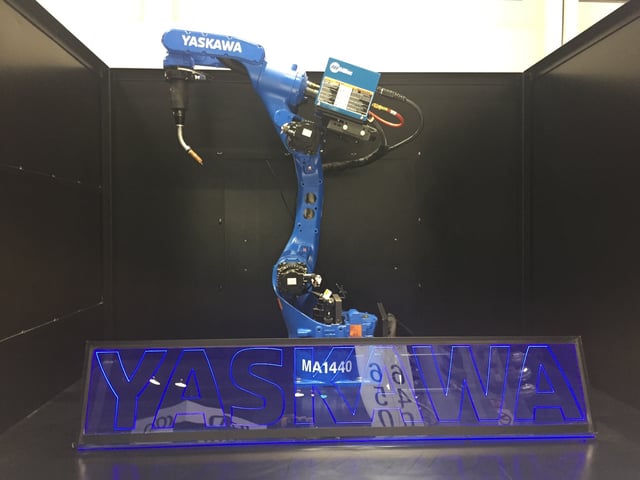 One of Yaskawa's bigger demos was using the OTTO mobile platform from Clearpath. They were showing a similar pick-and-place demo at Automatica 2016, although today the robot was moving large boxes rather than small parts. Remember that OTTO can transport the weight of a hippo, so you could fill those boxes with very heavy parts and the system would handle it perfectly.
The Two-Finger Gripper Gets Hot Fingers
As we were walking through the halls, we also spotted our 2-Finger Gripper in another couple of demos. The first one was in the booth of Ambrell Induction Heating Solutions (Booth N-6042). They were using the Gripper to pick and place metal rods into a heating coil. This would be quite a tricky task for human operators (you'd almost certainly have to use to tongs to handle the hot metal) but for a robot it's so easy.
The second demo that caught our eye was this one from Energid Technologies (Booth E-4336). It demonstrates a really neat way of avoiding collisions between collaborative robots and other people in a workspace. Dhiril Chheda also gave us this really nice explanation of the application and the software.
Hirebotics Explains Their Integrated Cobot App
On our way back home (well, to the UR booth) we went to check on our friends at Hirebotics who had a demo set up. They showed us their cloud-based app for monitoring and controlling UR robots on the factory floor. In this video, cofounder and CEO Rob Goldiez explains how the app works.
It was really cool to see the app working on a real application, especially after seeing the presentation from cofounder Matt Bush at the AUTOMATICA Forum event in June. The idea behind Hirebotics is to help factories reduce the risks associated with using collaborative robots, by offering robots at a fixed cost-per-productive hour. You can read all about it in this post.
Here, Matt shows us a bit more of the demo.
Robots With Sheep. Whatever Next?
The week is almost coming to a close, and we've only just scratched the surface of what the International Manufacturing Technology Show has to offer! We'll tell you about some of the other cool things we've seen on Monday, when we publish our final thoughts on IMTS 2016.
As we headed back to the UR booth, we couldn't help feeling sorry for this little guy, stuck in a cage.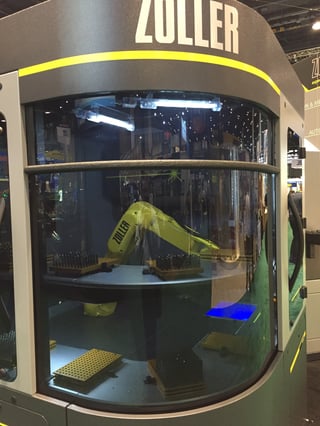 Our dream at Robotiq is to move robots "out of the cage", to get them working alongside human workers with no need for safety fences. If you do have to put robots behind a barrier, at least put a load of sheep in with them, like this odd UR demo we came across.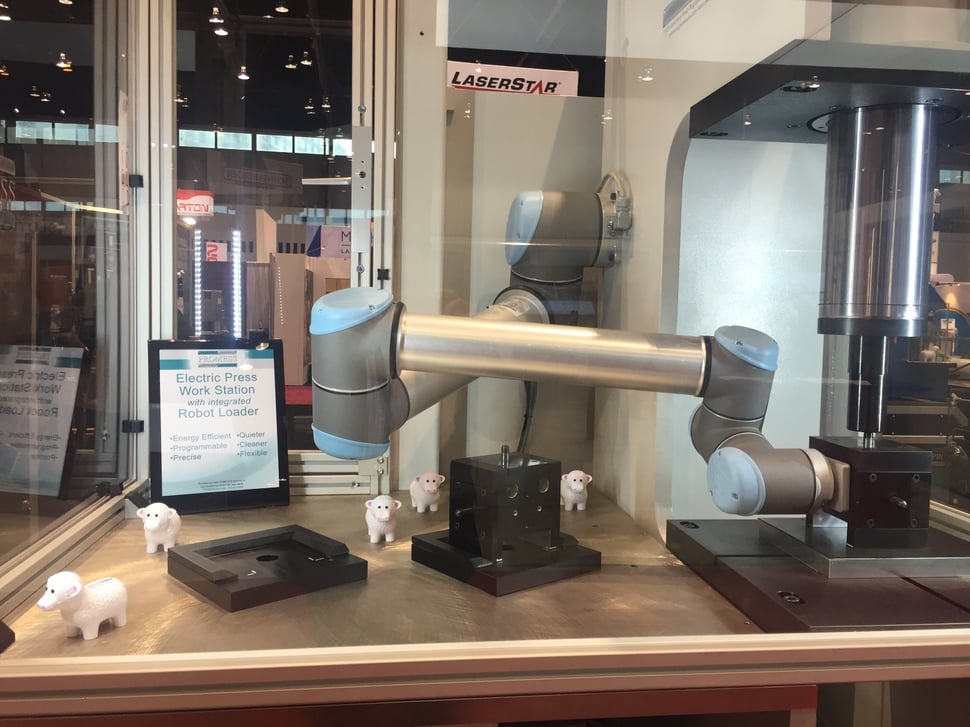 Hmm... on second thoughts, leave the sheep out of the factory. I think it's time to get some rest before tomorrow — the final day of IMTS 2016!