Can Automation Be Easy and Affordable for Everyone?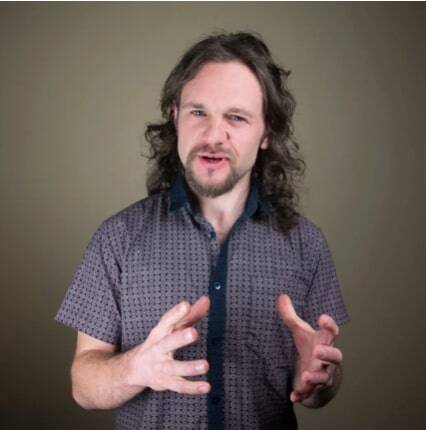 by
Alex Owen-Hill
. Last updated on Jun 23, 2016 7:41 AM
Posted on Jun 23, 2016 7:41 AM. 4 min read time
We attended a very interesting presentation yesterday at AUTOMATICA Forum. US company Hirebotics posed a question which really got us thinking - How can you justify having a robot that you'll only use one or two days a month? Here's a summary of the presentation from Hirebotics COO Matt Bush.
Here at Automatica 2016, the AUTOMATICA Forum has a different program of topics every day. The tagline for the event is "Daily impetus for shaping the future." Through a series of presentations and discussions, the speakers look at some of the the newest applications in the world of automation. Yesterday, the topics were Service Robotics & Startups in the morning, and Human-robot-collaboration in the afternoon. We attended the presentation from Hirebotics, which was part of the latter session.
Matt Bush introduced the concept of Hirebotics in a presentation titled "Industrial Robotics: from a Static Production Environment to a Mobile, Collaborative Workforce."
How Can Automation Be Easy and Affordable for Everyone?
"We had a dream." Matt's presentation began. "How do you make a collaborative environment in a Low Mix - High Volume workforce? I am dreaming of democratizing automation - so that factories can take advantage of robotic automation without the capital investment, programming, part presentation, maintenance and other headaches involved."
The concept of Hirebotics began, he explained, when he was working as the Director of Operations for the Scott Fetzer Electrical Group (SFEG) in a factory with a very big mix of products. They had a lot of machinery that needed to be automated, but nothing really supported using traditional robots. Tasks like wire-cutting and lifecycle testing were just not suited to standard automation.
Who Are Hirebotics?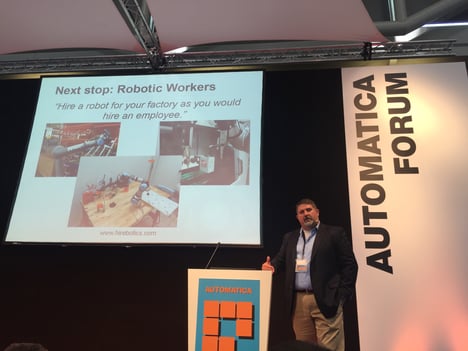 Hirebotics is a US company based in Nashville Tennessee. Their mission is "To make automation easy, affordable and within the grasp of manufacturers across all industries and of every size and type."
They provide robots to companies at a fixed cost-per-productive-hour, with no long term commitments or upfront investment. Basically, they hire robots in a similar way that you might hire agency staff.
His experience with SFEG was one thing that drove him to start Hirebotics LLC. In the factory, they introduced a couple of UR Robots using Robotiq Grippers for manipulation. They were able to optimize production by 20% and move workers away from monotonous and dangerous jobs.
We featured Matt's SFEG case study here on the Robotiq blog back in February, when we we discussed the real reason that workers distrust new technology. In this case, the factory workers accepted the robots with enthusiasm, and even named them Thelma and Louise.
He said that employees went from "take those robots off our line we don't want them" at the beginning, to "bring more of those robots, we love them and they make our jobs more motivating" after the implementation.
The Challenge and The Solution
One of the questions which Matt posed was quite interesting - How do you automate tasks that are not necessarily used every day in a cost effective manner?
This is a very important question to consider if you are a small business who wants to use automation. Unlike traditional mass-manufacturing, smaller manufacturers will probably not be using their robot for 24 hours a day. The Return on Investment can be great for collaborative robots, but you have to calculate it carefully (by using our ROI calculator, for example).
Hirebotics proposes to overcome this challenge by building a fleet of mobile UR robots deployed throughout the production floor, to be used for particular tasks as needed.
Picking the right task was just a matter of asking the right questions, he said. What were the tasks that workers didn't like to do? What tasks did managers not want them to do? What tasks were dirty? Those questions guided them in deciding which tasks to automate.
He also discussed the importance of designing for robotic assembly: "We're looking at everything we're designing now to make sure we can assemble it with a robot. If we can't put it together with a robot, we've got to go back to the drawing board and try again."
Moving Into the Cloud
Finally, Matt's presentation touched again on the big topic of this year's Automatica 2016 - Industry 4.0 and moving robotics to the Cloud (which we discussed yesterday in our account of the KUKA event).
By integrating their robots into the Cloud, Hirebotics have allowed users to use a cellphone app to access real-time information about their robotic applications. "You know in real time what the robot does and how many parts it has picked so far." The robot itself is able to tell you, for example, "I'm missing parts!"
We thought that Matt's presentation gave an exciting glimpse into a possible future of collaborative robotics for small companies, and it's great that the Robotiq Gripper is helping them to do that.