Robotiq Improves its Hand-E Adaptive Gripper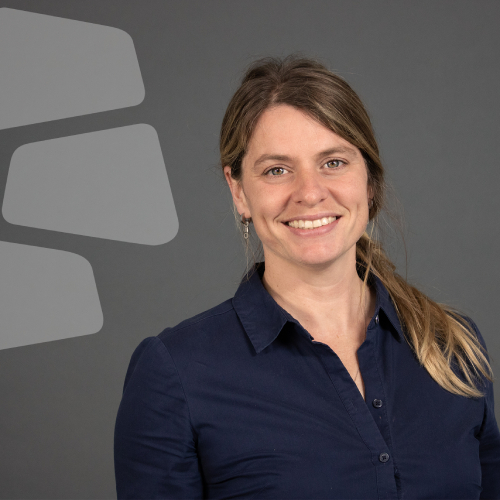 by
Valérie Lavoie
. Last updated on Jul 03, 2020 4:06 PM
Posted on Jun 11, 2020 3:13 PM. 2 min read time
Challenges in automation continue to grow as robotics evolve over time, which leads to opportunities for improvement. Critical factors like long lead times, time-consuming mistakes during assembly, and simple human error are what led us to make your favorite gripper even better! We've modified Hand-E's internal components to improve many features, while keeping its signature form factor.Hand-E is now:
Stronger—from 135 N to 185 N.
Higher friction payload—from 3 kg to 4.7 kg.
More durable

—from 2 million cycles under warranty to

5 million.
The perfect universal gripper
Hand-E is easy to manipulate:
Precise with parallel gripping and an encoder
Suited to dusty, harsh environments

with an IP67 rating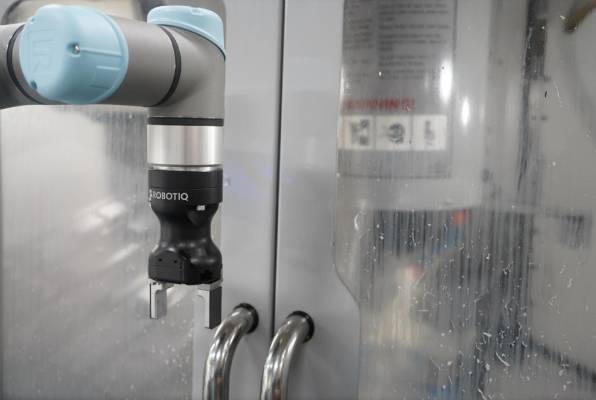 Thanks to its unique design, including a special space for a comfortable hand grip, the Hand-E Gripper is easy to manipulate during trajectory teaching. Its slim design lets it fit into tight spaces for all applications, even the most space-constrained ones like machine tending, packaging, and bin picking.
Use your full cobot capacity
With its new 4.7-kg payload, a dual Hand-E setup makes the most of your robot's full capacity. Your favorite gripper will make you more efficient and increase your rentability, giving you more time for creativity and project improvements.
Up to 4.7 kg, x 2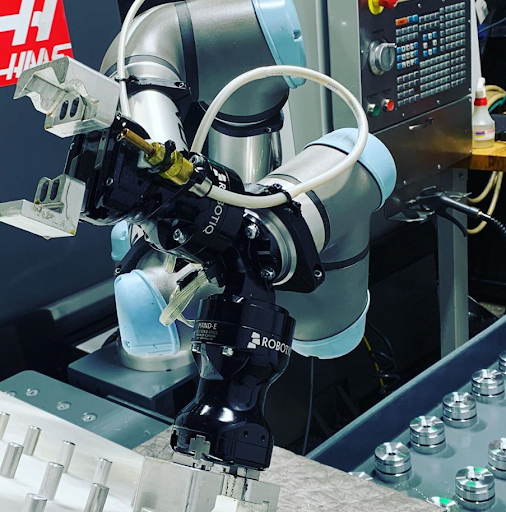 Hand-E's grip force, from 135 to 185 N, is perfect for handling a variety of part sizes and weights. Hand-E's force can be controlled with robot software to handle everything from delicate materials to heavy objects. You can quickly implement applications like assembly, bin picking, and pick and place that require considerable flexibility.
You'll find it easy to use personalized fingertips with the anchors included in the Hand-E sliding system. Need more space? Use fingertip extenders to reach up to 98 mm!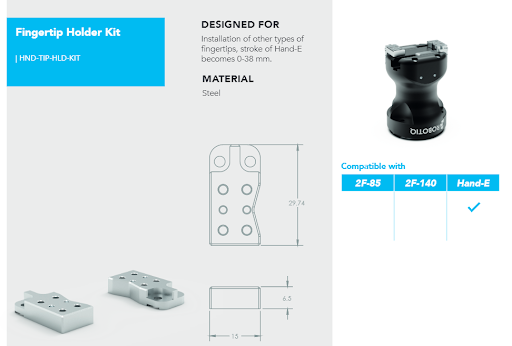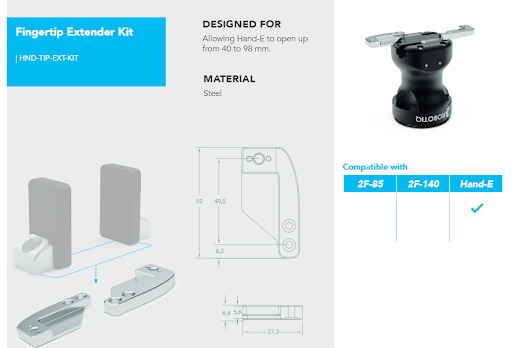 You might already have it!
From March 2020, all Robotiq Hand-Es produced include these new features! Don't hesitate to contact us for more information.