Modern Cooking: Are Robot Chefs Really Here?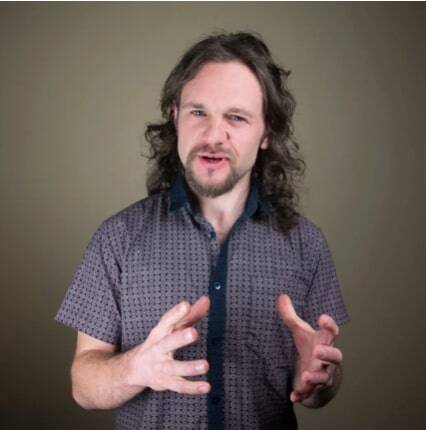 It looks like 2015 has become the year when robot chefs finally enter our kitchens, or at least the year when it's started to look realistically possible. When Moley announced its robotic kitchen back in April, the media jumped on the story as a promising glimpse into the future. Could robot chefs really have arrived? As robotics' professionals, we're understandably skeptical about such news stories - since the 1960s we've heard that "robot servants are coming". However, if Moley manages to overcome one major issue, their approach could have real potential. Why? Because their kitchen is basically a flexible robotic workcell, and in manufacturing that's nothing new.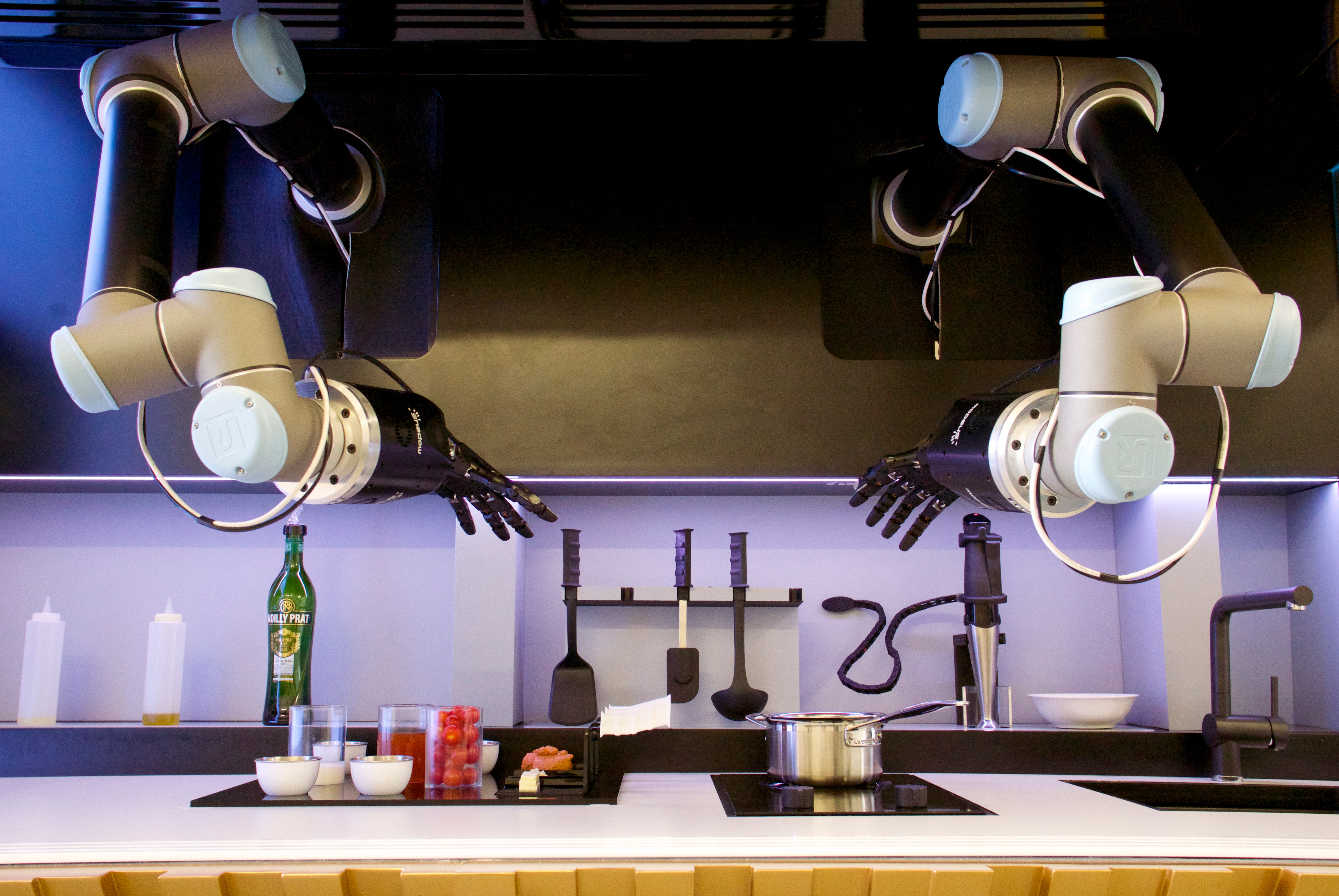 When you tell people that you work in robotics, one of the most popular responses is: "So, when are you going to make a robot that cooks and does the washing up for me?"
Robot cooks and maids have been promised to us since personal robotics were first predicted in the 1960s: In 1966, Shakey was introduced as "the first electronic person", in the 1980s Omnibot could carry a tray of drinks and in 2009, several "Robot Chefs" were center-stage at Japan's Food Machinery and Technology Expo, flipping pancakes and arranging plastic sushi.
Finally, this year in April a London company called Moley robotics gave the first live demo of their motion-capture based robotic kitchen.
Could robotic chefs really have arrived?
Why Robot Cooks are So Challenging
The traditional challenges for creating a cooking robot have been the challenges of operating within a human environment, including navigating in cluttered environments, operating safely around humans and animals, as well as classifying unknown objects.
We are probably still a long way off from producing safe, multi-purpose robotic servants which can operate reliably within a cluttered human environment.
Moley has removed many of these challenges by changing the requirements of a robotic cook.
Their approach seems to be: Why make things difficult by trying to design a robot which can work in any kitchen?
Instead, they have chosen to supply the whole robotic kitchen. Safety is provided by a protective window, in the same way that we ensure safety for industrial robots.
The Moley robotic kitchen is more like a flexible manufacturing workcell than a "robot servant". Instead of manufacturing mechanical parts, it flexibly manufactures food. The biggest difference is that it is programmed by a motion-capture of a real chef preparing the dish, and is designed to copy the organic motions of the chef as closely as possible.
This approach to programming could be a source of complications. However, it is far less problematic than the question of how to reliably chop and prepare the ingredients before cooking.
Moley would do well to learn some lessons from the existing cooking robots that are already used in the world today. Though several robots exist, none of them have reliably solved The Feeder Problem (i.e. providing the essential ingredients for your robotic cell).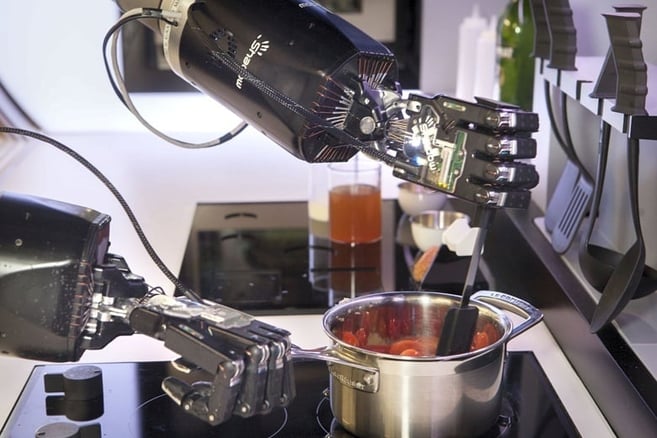 Food Manufacturing: Robots Already Make Your Food
It should come as no surprise - we eat food prepared by robots all the time. There are many robots already used in the food manufacturing industry. Chances are you have probably eaten at least something recently that has been touched by a robot. For example, robots are often used to butcher meat.
But, using a robot to make a home-cooked meal is not the same as processing raw ingredients in a factory. Even so, people have been eating robot-cooked meals for several years.
It turns out that the Moley robot is just the latest in a whole line of robotic cooks, with well-established machines like the Thermomix being a starting point.
Although it doesn't look much like a robot, a Thermomix is more than a robotic food processor. It follows simple programs, but lacks advanced sensors. It chops, cooks, steams and blends, allowing it to cook a lot of varied meals, making it as versatile as many of the existing cooking robots in China.
China: Home of the Robot Chef
Right now, China seems to be the home of the robot chef. During the last 5 years, various restaurants have been using wok-tossing robots, which cook stir-fried food using pre-measured and pre-chopped ingredients. The same cooking design has even been turned into vending machines and robot restaurants.
Measuring and chopping are supposedly complex tasks and so are still carried out by humans.
These simple machines are really no more complicated than the Thermomix, and are far more involved than the very successful Ultraman noodle-shaving robot, which has basically removed a menial job from the hands of human chefs entirely. Its humanoid appearance is little more than a marketing gimmick.
Such robots demonstrate that profitable markets for highly specific cooking robots exist, if those robots are not overly complex.
The brand-new Sereneti kitchen robot, announced at the end of September, has taken the same approach. It basically consists of a pot-stirring robot. Feeder trays, very much like those of the wok-tossing robots, pour pre-measured and pre-chopped ingredients into the pot.
However, these are obviously far less complex than the robotic kitchen that Moley is proposing.
The Feeder Problem: The Challenge for True Robot Chefs
Truly versatile robot chefs are a bit more complex than a wok-tosser, as is clear when you watch this demonstration of a Motoman dual-arm with Roboiq hands cooking an egg sandwich.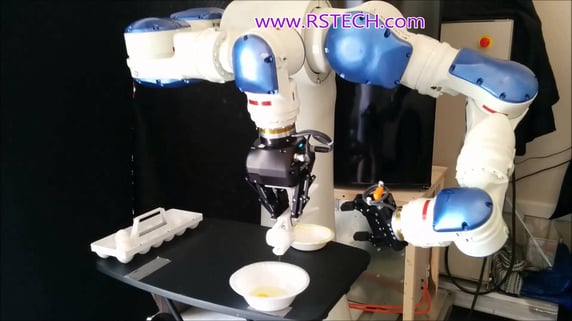 However, just as with the simpler systems, there is still no easy solution to The Feeder Problem.
Every ingredient must be measured out and placed in the right location for the cooking operation to be a success. This is the core challenge that Moley will have to deal with. It currently does not chop or prepare any of the ingredients (they are placed in position by human operators).
As the CRC Handbook of Mechanical Engineering says: "Experience so far has shown that in most instances, it is the feeder that fails in the workcell, not the robot. Feeding methods must be carefully considered when designing a workcell."
Moley would do well to focus heavily on their feeder method. Perhaps it would make more sense to employ modified industrial food slicers instead of trying to keep every aspect of the operation anthropomorphic, as they are trying to do now. Or perhaps they'll come up with an even more ingenious method.
The expected release date of the robot kitchen is 2017. So, we will have to wait until then to see if Moley manages to overcome The Feeder Problem. I look forward to seeing how they solve this core manufacturing challenge.
What do you think will be the biggest challenge for building a robotic kitchen? Do you have any ideas how Moley could overcome the feeder challenge? Would you be willing to employ a robot chef in your own home? Tell us in the comments below.