Eliminate These 5 Common Pallet Problems With Robotic Palletizing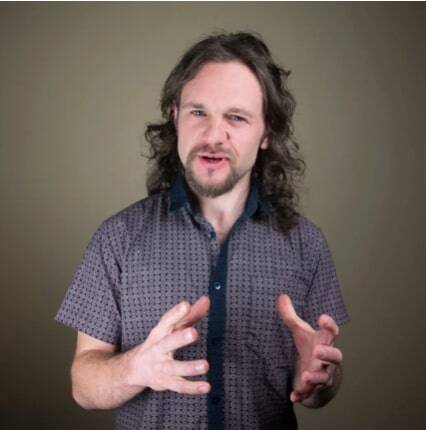 by
Alex Owen-Hill
. Last updated on Mar 09, 2023 2:00 PM
Posted on Feb 07, 2023 11:34 AM. 5 min read time
Palletizing is a core process for many businesses, but it's not without its difficulties. The impact of some common pallet problems can include higher product costs, delays in delivery, and damaged goods.
Some problems cost your business more than others. Worker injury, for example, can be very detrimental, as can customer dissatisfaction.
There are many distinct problems that could occur in a palletizing process. These range from system design problems, like badly configured conveyor systems, to human error during manual palletizing.
The first step to overcoming common pallet problems is to identify them. Through proper planning, training, and equipment, you can avoid these common problems to maximize productivity and profitability.
Here is a guide to 5 of the more common palletizing problems and tips on how you can overcome them by adding robots to your palletizing process.
Types of palletizing problems you might encounter
For such an apparently simple task, palletizing has many areas in which things can go wrong.
There is no definitive list of types of palletizing problems. But here are a few types of problems you might encounter:
Conveyor and feeding problems — Conveyors are used to move materials and products throughout your facility. They are also likely to be the step immediately before your palletizing process. If not designed or maintained properly, they can cause issues that affect palletizing.

Pallet loading issues — Many of the product damages that are caused during palletizing or subsequent shipment can be traced back to loading issues. For example, when goods are placed too close together or too far apart on a pallet, they can move in transit.

Pallet wrapping problems — Another major cause of product damage is incorrect wrapping of the filled pallet. Wrapping is important because it helps protect goods during transit. Common problems include not using enough stretch wrap, using too much, or using the wrong type.

Inconsistency problems — When you perform palletizing manually, many problems that occur are inconsistent. People become tired after a long shift stacking boxes onto a pallet. This can lead to them making mistakes that affect the quality or integrity of the palletizing.

Efficiency problems — Perhaps the least obvious type of palletizing problems are those related to task efficiency. It's not always obvious when a palletizing task is inefficient, but the impacts can be significant. You could lose a lot of money and time by not improving the efficiency of the task.
These are just a few of the types of palletizing problem you might come across. But all can affect the operation of your business and palletizing process.
5 common pallet problems and how you can overcome them with robots
Robotic palletizing is now one of the most effective ways to overcome some common palletizing problems. Adding a robot can also reduce some of the huge wastage that can occur with manual palletizing.
Here are 5 specific common pallet problems and tips on how you can overcome each one with robots:
1. Pallet loading inefficiency
One problem with manual pallet loading is that it is time consuming and prone to errors. It can take a long time for human workers to properly stack items onto a pallet, resulting in longer wait times and lower throughput.
There is an entire research field devoted to this problem, where it is known as The Palletizing Problem. In this field, researchers strive to find the most efficient loading pattern of a particular pallet so packages can be securely transported.
Robots have an advantage over manual palletizing because they will always place packages in the programmed pattern, which ensures they adhered this optimally efficient pattern.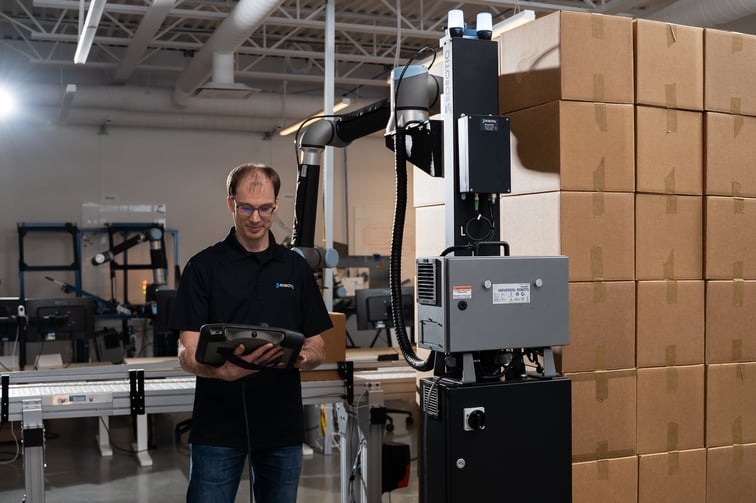 2. Misaligned packages on the pallet
Misaligned packages are common in manual palletizing. Such packages can cause an unstable pallet, increasing the risk that products will move around during transit or storage.
Robotic palletizing can help reduce misalignment by ensuring a precise placement of boxes every time. The accuracy required for palletizing is quite low compared to, say, fine assembly actions. This means that robots can place packages quickly and still achieve better accuracy than human workers.
3. Inconsistent palletizing quality
Inconsistent palletizing is common with manual labor as people work long shifts. It's often hard to track inconsistencies because, by nature, the mistakes vary every time. This can cause a lack of visibility of common errors, increasing the risk of costly and time-consuming mistakes.
Consistency is one of the major benefits of robots. Robotic palletizing is thus an effective solution to this common problem.
4. Inaccurate inventory counts
It's hard for human workers to remember to log or scan every item that they place on a pallet. Over long shifts, it's inevitable that people will inaccurately count at least something. This leads to inaccurate inventory counts.
Robotic palletizing can help reduce the risk of inaccurate inventory counts, as robots can accurately count every box that it places. You can also add sensors to automatically scan each box using a scanner or vision sensor.
5. Damages caused by dropping products
Manual palletizing can lead to product damages in various ways. People are often in a rush when palletizing, especially if it is only one of their many tasks during a day.
Examples of ways that products can be damaged include boxes falling in transit because of bad stacking and dropping boxes during the palletizing task.
Will robotic palletizing solve your pallet problems?
If your palletizing process has more problems than you would like it to have, it's very likely that robotics could be an effective solution.
To find out, it's a good idea to get in touch with a supplier of robotic palletizing solutions. The Robotiq Palletizing Solution offers various configurations to suit a vast range of palletizing tasks.
With the right robot in place, you can improve the accuracy, efficiency, and safety of your palletizing task.
What problems have you encountered with your palletizing? Tell us in the comments below or join the discussion on LinkedIn, Twitter, Facebook, or the DoF professional robotics community.