Dual Arm Warehouse Picking Using Robotiq Gripper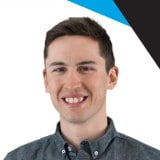 At the last (and first) Amazon Picking Challenge, we saw different prototypes of robots trying to grab objects from shelves to do warehouse pick and place. A lot of different techniques were used. In fact, we saw: vacuum cups, single armed robots, dual-armed robots, grippers, 3D vision, 2D vision and everything inbetween. Since it was a contest, it was generally at a very experimental level. However, the industry is pushing this field and it won't be long until warehouse picking will be a regular thing.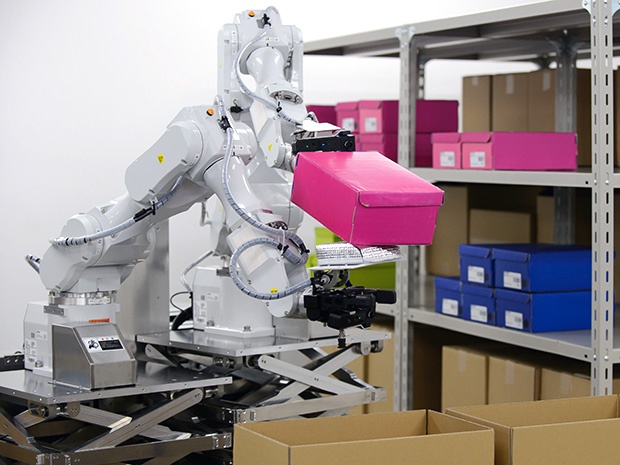 The Japanese company, Hitachi, recently released a mobile manipulator for warehouse picking. The mobile cell is a mobile automated platform with two 6-axis Epson ProSix C4-A901S robots mounted on a scissor lift. One of the robots is equipped with a 2-Finger 85 Adaptive Gripper, suction cups and a vision system. The other robot is equipped with another vision system, a bigger suction cup and some kind of platter.
Why use 2 arms?
Well, the reason is pretty easy to explain: Mimic human motions. As warehouse workers have 2 arms, they won't necessarily use one arm to achieve their task even if the object is lightweight. In fact, when observing a worker, s/he will use two arms to open a drawer and pick a part in it. Or s/he will use both arms to carry a bulky or heavy item. Well, the same principle is used with this mobile platform.
With surprising speed, the robots can carry a lot of different objects and do several tasks without limitation (well according to the video). The robot is locating and grasping the object at a very fast rate and with good accuracy. When compared to some robots who might stand for long minutes in front of the shelf wondering what to do, this cell acts fast.
"Because of this coordination, it takes about three seconds for the arm to pick up an item once it is in front of a shelf." states the Hitachi Spokesperson.
You can find the answer in the name of the Gripper: Adaptive. In fact, the Gripper can adapt itself to many different geometries. In this particular application, it makes the cell a lot more flexible since you can use a single Gripper for most of the parts you need to carry. Depending on your prioritization, you maybe want to carry some items with a suction and all other objects with the Gripper or prioritize the use of the Gripper. In any case, this tool will complete your mobile manipulator and make it easy to use.
Why still use suction cups then?
Since the Gripper used in this demo was limited to an 85 mm stroke, it is then tougher to grasp a wide box with it. A suction cup might then be a good alternative. However, you sometimes need to secure the grip using the other robot arm. In this case, the second robot arm can be placed under the box to insure the box will not slip and can be placed at its final destination. However, using a single robot arm and a single suction cup will not insure the grasp as well as an encompassing grip with the Gripper will.
When can I buy this gem?
It seems like the cell is still at the prototype stage. Hitachi appears to be planning its release within 5 years. In my own opinion, 5 years is too far away for the release of such a cell. With smaller companies like Fetch that are deploying mobile platforms right now, their second (and maybe third) iterations will already be on the market before Hitachi releases their first final product.
I sincerely hope that this short video will stir up a little friendly competition between the mobile robot manufacturers and motivate them to develop their mobile manipulators at a faster pace. With Fetch, Clearpath and many others, the mobile manipulation market is growing fast and I am sure that contests such as the Amazon Picking Challenge have shown the use and need for the technology.