Choosing the Right Electric Gripper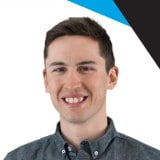 There are a lot of different robot grippers on the market. However, there are two very distinct types of industrial gripper available; Electric Grippers and Pneumatic Grippers. Electric grippers can be very useful in specific robotic applications compared to pneumatic grippers. Although, in the electric gripper family, there are several differences between them. The following article goes into more detail about the differences between these various types of electric grippers.
Servo-Grippers vs On-Off Grippers
First of all, you should notice that the word ''electric'' only refers to the power source of the gripper. Which means that the gripper is operated via electric actuators.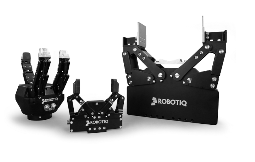 A servo-gripper uses servo-motors where position, speed and sometimes force applied by the gripper's finger can be controlled. In other words, the gripper can have a wide range of positions to grasp, at different speeds and with different amounts of force. This means you can grasp wide objects with a high amount of force or small objects with a lighter force or vise versa depending on the material to be grasped. If your gripper has a wider stroke, then you can do partial opening and closing with this kind of gripper. You should also know that, the grippers feedback can be used in the robot logic. This means you can detect if an object has been grasped and continue the program afterward.
On the other hand, an on-off gripper has minimal adjustment available to it. The gripper's fingers are either opened or closed. This means, the opening range and force cannot be modified providing a lot less flexibility. You can only grasp a very specific kind of object/part. Most of the time these grippers will need a custom jaw to grasp a fragile or irregularly shaped part. These grippers use simple input/output commands (I/O) exactly like pneumatic grippers. Most of the time, this technology is used to replace a pneumatic system in the robotic cell for various reasons.
Electric Gripper Integration
On-off grippers are easy to integrate. In fact, it is a simple I/O technology. Only, two position are possible; open or closed. Integrating a servo-gripper can be more complex. In fact, there are different ways to communicate with a servo-gripper.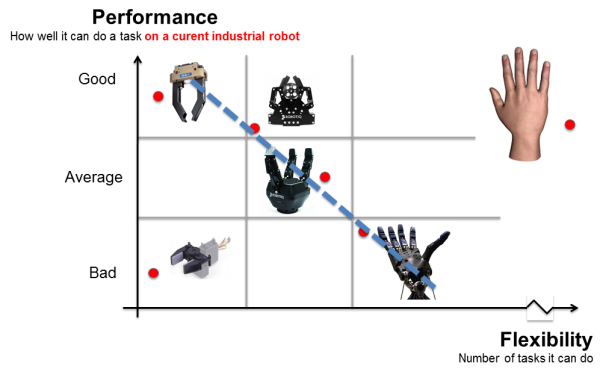 Some have pre-sets and can be actuated with simple I/Os. Most of the time, though, the grippers need to use a communication protocol like FieldBus. This is the case for an Adaptive Gripper. To make it easy to integrate, we provide software packages for a plug & play integration on the most popular robots.
However, even if communication with the gripper is particular to the robot, the mechanical fit with the robot is often even more unique to the individual robot. For the Robotiq Adaptive Gripper, we usually have adapters or couplings that are fitted between the gripper and the robot. We have a very wide range of these adapters and couplings so that we can fit a lot of robots and tool changers. To have a better idea take a look at the very end of our product list to see the choice availability, probably there is something there that will work for your robot.
The other important aspect concerning the integration of an electric gripper is providing power to the robot gripper. Most of the time, the industrial robot already uses electrical power. So, connecting the controller to the gripper is quite easy.
Just like other Robot Grippers
Of course, the best gripper is always the one that fits your application. Specifications such as payload, speed, weight and environment are critical in your choice of gripper.
While the majority of grippers available on the market today have some type of holder on a slider for which you need to make custom jaws, Robotiq Adaptive Grippers come with self-adaptive fingers that can pick an unmatched variety of parts.
If you aren't sure what kind of grippers you might need for your application, go to the link below and read about how to choose the right robotic gripper for your application.