What is the Cost of a Robotic Welding Cell?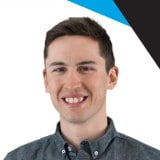 If you're considering buying your first robotic welder, the first question that you have in mind is probably: How much will the robotic welder cost? The answer greatly depends on what you need to weld, but here are some different items to consider in your analysis.
Welding Robot
It is very hard to set a specific price for a welding robot. In fact, the price of your robot will depend on its reach, its purpose/use (TIG, MIG, etc.), its repeatability, payload, etc. Such specifications have to be known before you start to shop for a robot. So, it would be a good idea to measure and monitor what you need and take a look at the welding robot comparative chart we have compiled. Once you have made your choice, contact your local dealer to get a quote.
Welding Source, Torch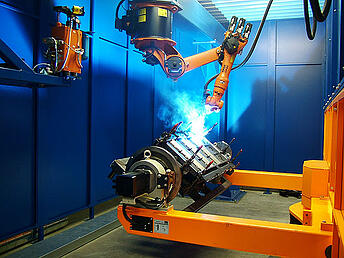 Generally, the targeted application will drive your choice. The things you need to look at are the output rate and the electrical specifications for your machine. You also have to make sure your power source is compatible for robotization. Just because a lot of sources are good for traditional welding, doesn't mean they are good for an automated welder. Once you have a good idea of what your needs are, you can take a look at what power source would be a good match for the system you are looking at. We have also compiled a comparative chart on the most popular robotic welding power sources. Once again, it's hard to estimate a price, you should definitively request a quote from your dealer and see what your options are.
Torches will depend on the type of welding (TIG, MIG, MAG, etc.) you are planning to do. When shopping for a power source, most of the integrators or distributors of various systems will have welding torches. Ask them at the same time what recommendations are likely to suit you best.
Table, Turntable, Ferris Wheel
A table is a table right? Well, yes, it is, but you have to consider the different jigs that you'll need to install on it in the estimated price of your ''simple'' table. If you need to have a supplementary axis in your robotic cell, you may want to go with a turntable, also known as an external axis. Some traditional welders use them to weld round parts, for example. By doing so, you can produce very accurate and constant welds. And if you decide to automate to the next level, you might need to have a ferris wheel, see the following video for a better idea of what this really is.
Welding Enclosure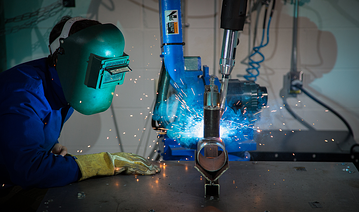 Do you want your welding enclosure totally opaque or tinted? How should your part feed be done? Where is the most logical place to put the enclosure? And especially, how much space do you need? These are all questions that you should look at seriously before ordering your robotic welder.
Robot Training
The next question is how will I program these things? Learn by yourself, request on-site training or send your technician for 2-3 days of training at the welding robot manufacturer's training site. Kinetiq Teaching is an option that will make it easy for more people to use your system, as it allows any operator to program the robotic welder through its intuitive interface.

Other things to consider
Floor space - Where will you put the robotic cell enclosure? You have looked at the size and structure of the enclosure already, but now you need to integrate it into your workflow. Do you need to change the workflow on the shop floor? Do you need to change the input of parts or the output after they have been welded?
Parts preparation - You'll need repeatable, quality parts coming in. This may mean you want to look at your steps prior to the welding. You might have to change your process or perhaps you need to look at a vision system to increase precision.
Packaged or unbundled?
You can find here pre-engineered welding cells from Motoman ranging from $87,000 to $121,000. If you amortize it over 5 years, it would come out to around $10 of operating cost an hour. If you consider the cell is working 2,000 hours yearly. Also, consider that every manufacturer or integrator will have similar pricing. Choosing a manufacturer like Motoman that can include a Kinetiq Teaching device will save you a lot of preparation time on set-up. Remember too that quick changeovers can make your cell more productive and economical for your smaller batches.
If you're a Fabshop, you might want to fabricate the enclosure yourself. Make sure to include all possible senarios in your calculations, as for example while you're welding you're enclosure, you're not producing for your customers. For the first cell, it might be worth using the robot manufacturer or integrator's experience and get up to speed quickly.
It is hard to come up with an accurate price, but a complete solution can be anywhere from $75,000 to $175,000 depending on your options. Remember that the more time the robot is welding, the faster your investment is payed back. There is no real sense in buying a robot welder and only using it part time. Also take a look at the following articles which could be useful if you are planning your first robotic welding cell. They should give you more ideas on what to look out for when choosing your robot welder.
Related Articles
Integrating a Robotic Welding Process Part 1 Make a Pre-Diagnosis
Integrating a Robotic Welding Process Part 2 The Feasibility Study
Integrating a Robotic Welding Process Part 3 Selecting Your Integrator