Universal Robots Release their New Generation of Collaborative Robots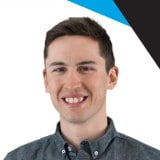 The robotic manufacturer Universal Robots has release their next generation of collaborative robots at the opening of Automatica. The manufacturer remains on the same robotic platform, the UR5 and UR10 still have the same safe human-robot collaboration, but with a couple of add-ons. The addition of absolute encoders, adjustable safety features and an increased number of I/Os are the main upgrades for this lightweight robot. These collaborative robots still remain strong in their well-known characteristics such as ease-of-use and quick ROI.
''We are the only manufacturer of lightweight robot arms which already has a long lasting experience in a wide variety of industries. Our R&D department worked hard in order to integrate input and feedback from end users in our product development'' - Enrico Krog Iversen, Universal Robots CEO
New Hardware
The main innovation of this new generation of collaborative robots is really the true absolute encoders. This device allows the robot to achieve faster start-up because its position is recognized from start-up. There is no need to frequently reinitialize the collaborative robot since its position in space is known, although the robot doesn't need any battery power to achieve this function. Another addition to the hardware is the redundant electronic board so the robot can comply to performance level D (ISO standards).
''With the integration of the True Absolute Encoder, our robot-arms can be integrated even more easily into other machineries while startup also becomes much faster and simpler for all applications'' - Esben H. Østergaard, Universal Robots CTO.
New Software
These new safety features allow the user to set the collaborative robot for each situation. The robotic settings can be achieved by monitoring eight different safety functions such as: Joint positions and speeds, TCP positions, orientation, speed and force, as well as the momentum and power for the robot. Doing so, the robot can operate at different speeds depending on the context. For example, the collaborative robot can run full speed when working in conjunction with the CNC machine and slow down once it is working along humans outside the machine. Those safety features can be changed using a unique password, although the configuration can be done on 8 different safety planes in space, which means 8 different areas where the robot can change its parameters automatically. UR went through the process of 3rd party certification for their new collaborative robot generation. All the new features have been certified by TÜV (Technischer Überwachungs-Verein - a German organizations that work to validate the safety of products) and tested in accordance with EN ISO 13849:2008 PL d and EN ISO 10218-1:2011, Clause 5.4.3.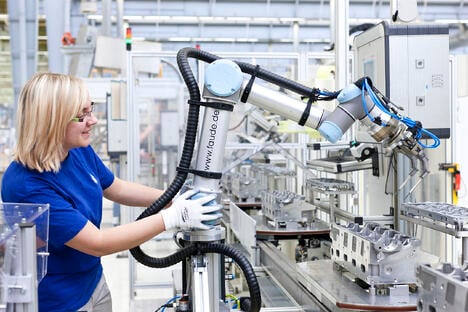 Other features
Other features include the addition of sixteen digital I/Os that are easy to configure either as safety signals or as digital signals. The controller and the control box have also been improved.
All these features are planned to be released in September. We are really looking forward to having some feedback from end users about these new features.