11 Useful Tips When Deploying Decentralized Palletizing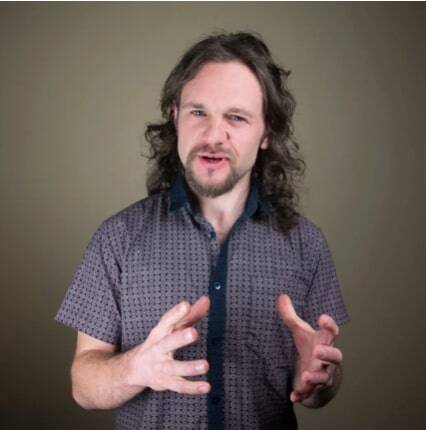 by
Alex Owen-Hill
. Last updated on May 12, 2022 5:11 PM
Posted on Jun 04, 2021 2:35 PM. 5 min read time
Want to speed up your palletizing deployment? Decentralized palletizing can offer some important benefits for your business. But, you need to ensure that you do it right.
Palletizing is often the first task to be automated by a business. It's a repetitive, boring, and non-value added operation that can be easily given to a robot… as long as you set it up correctly.
Automating a palletizing task can improve worker safety (thanks to the ergonomics benefits), ensure consistent handling of palletized items, and regulate the flow of product through your facility.
Decentralized palletizing provides added benefits compared to centralized palletizing. Each palletizing robot serves just one or a few product lines, giving you better flexibility and control over your whole operation and reducing the impact of incidents on your entire workflow.
In this article, we'll provide a few tips on how to deploy your decentralized palletizing robot more effectively and how to get the most from collaborative robots for this task.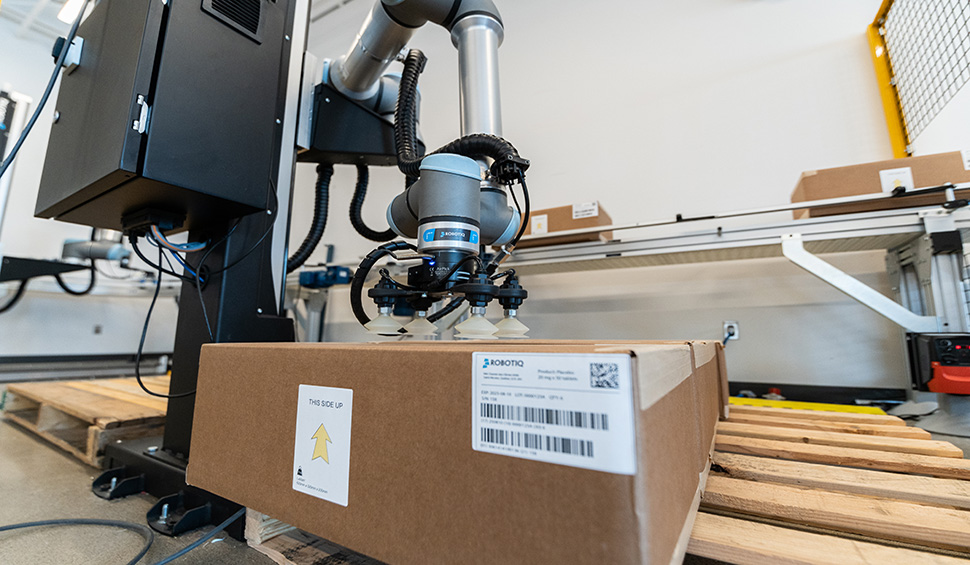 What makes deploying decentralized palletizing different?
Deploying decentralized palletizing is a little bit different from deploying other robot applications.
For one thing, the real benefits of it come when you have multiple palletizing robots performing the same task at once. Instead of just deploying one robot and seeing how it goes before deciding to deploy more — as you would with another application — you are likely starting with the intention to deploy multiple robots soon.
Our usual advice when deploying a new robot is to just start with a single, simple cell.
This is still true with palletizing. However, you will make your life easier if you focus on creating a robot cell that is easy for you to copy-paste when you are ready to deploy your next cell.
For this reason, it can be very helpful to start with a pre-designed palletizing cell.
6 useful tips when using decentralized palletizing
Deploying a robot for decentralized palletizing is slightly different from just deploying a single palletizing cell.
Here are some specific tips for decentralized palletizing:
1. Decentralize palletizing responsibility
With decentralized palletizing, each palletizing robot is assigned to one or a few product lines. Therefore, it the makes most sense to assign the responsibility of the robot to whoever is responsible for the product line itself.
This makes the approach different from centralized palletizing where one person can be responsible for all palletizing operations in a facility.
2. Use easy-to-operate robots
One potential difficultly with decentralizing the responsibility over the robots is that not everyone is skilled in robot programming.
This is why easy-to-operate robots (such as collaborative robots) are so effective for decentralized palletizing. If anyone can operate the robot, it's much easier to make changes.
3. Group similar palletizing tasks
Depending on your setup and needs, you might not want to have a different palletizing robot for every single product line. You can keep a decentralized palletizing approach by grouping similar palletizing tasks together and using one robot with a few product lines.
This is also suitable when you don't have a high enough throughput to justify using one robot per product line.
4. Create copy-paste cells
You will make your life much simpler by creating a palletizing cell that can easily be copy-pasted when you want to deploy your second palletizing robot.
Focusing on easy replicability will affect how you deploy the first cell.
5. Go with smaller robots
With centralized palletizing, it might make sense to opt for a large industrial palletizing robot if your throughput is very high. However, this is less feasible with decentralized palletizing.
Smaller collaborative robots are a more flexible, cost-effective solution that works much better for a decentralized approach.
6. Track the right KPIs
The only way you can tell how well your palletizing robots are performing is by measuring their performance with the right metrics. Choose those metrics that align with your wider business metrics.
Three good metrics to track with palletizing include:
Ergonomy —

e.g. track musculoskeletal injuries associated with the repetitive task of manual palletizing.
Capacity of the cell — e.g. box per minute or pallets per hour.
Employee turnover — e.g. employee turnover rate affected by the boring task.
5 useful tips when deploying a cobot for palletizing
Thanks to their small size and easy operation, collaborative robots are a great option for palletizing, especially if you use a pre-designed palletizing solution.
Here are some tips for getting the most from cobot palletizing:
1. Go for simple projects first
It's best to start with a palletizing task that is both simple and will have high value for the business. Examples of simple palletizing tasks that are ideal for cobots are those with no mixed pallets and that have a reasonably low throughput.
2. Start with a manual task mapping
Cobots are best suited to tasks that were previously performed manually by humans. For this reason, it's best to start your robot deployment by creating a manual task map, where you plot the operator's actions for the manual palletizing task.
3. Consider the payload and center of mass
With huge industrial palletizing robots, the weight of the items to be palletized is often well within the robot's payload capacity. With cobots, you will have to pay more attention to the payload capacity of the robot and the center of mass of the items to ensure they can be handled by the robot.
4. Consider the robot's reach
Cobots also have a more limited reach than most conventional palletizing robots. The benefit of this is that they take up less space. However, it does mean you need to be careful that everything in the palletizing cells is within the robot's reach when you design the cell.
5. Use a palletizing configurator
You can significantly speed up the deployment of your palletizing cobot by using a dedicated palletizing configurator. This allows you to prepare and program your robot quickly and easily.
To learn more about how to deploy your own palletizing cobot, check out our free eLearning course.
How to get started with your decentralized palletizing
Interested in learning how you could use cobots for decentralized palletizing in your business?
You might be interested in our Robotiq Palletizing Solution. It provides a quick-to-deploy solution that is suitable for many palletizing tasks.
What tasks could you do more effectively with a palletizing robot? Tell us in the comments below or join the discussion on LinkedIn, Twitter, Facebook, or the DoF professional robotics community.