Why Partnerships Are Now the Future of Robotics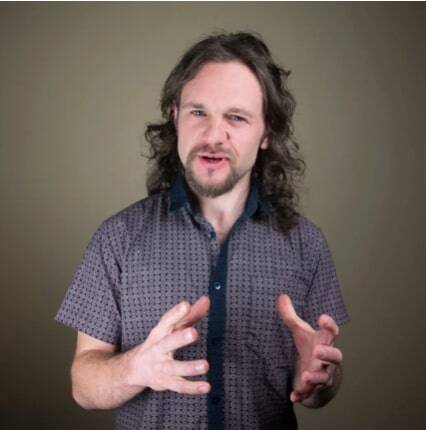 by
Alex Owen-Hill
. Last updated on Feb 25, 2020 11:28 AM
Posted on Feb 25, 2020 10:28 AM. 5 min read time
Collaboration is truly the future! A lot of robotics companies are partnering up now. Why are partnerships important and what does it mean for you?
We talk a lot about robot collaboration… but it seems that human collaboration is also the future of robotic business…
The world of business is undergoing a shift at the moment. As the technology landscape gets more and more complex, many companies seem to be moving away from the old approach of seeing other businesses in their market as just competitors. Instead, technology companies are increasingly partnering with each other.
At the Embedded Systems Conference last year, Fady Saad from MassRobotics explained that the robotics industry requires partnerships for it to be able to grow. His sentiment was echoed by the Robotics Business Review's "Trends to Watch in 2020," which predicted that we'll see more robotics companies teaming up and more acquisitions by larger companies.
There's a very good reason that strategic partnerships are becoming so necessary…
Here's an explanation of why partnership is booming in robotics and what it means for you.
Why today, partnership = business growth
It's not just the robotics industry that is starting to see more strategic partnerships. This is a trend that we are also seeing elsewhere in the technology space.
The Deloitte 2020 Technology Industry Outlook listed partnerships as the top strategy that tech companies are using to facilitate growth. As the report explained:
"Until recently, strategic discussions typically began with the following question: "Should I buy or build? As we head into 2020, that question should be modified: "Should I buy, build, or partner?"
The motivation for choosing to partner is easy to understand. All technology companies suffer from this same problem: We can't all be good at everything.
These days, it's just not possible to do everything "in-house." Every company has its unique strengths and then some other activities that don't fall within its "core competencies."
There are always going to be at least some technological capabilities that some other company does better than you do. While it's usually possible to outsource these capabilities, forging partnerships can help to achieve them along with a load of other strategic benefits.
Of course, partnership isn't always the answer. But, when another company's offerings directly complement yours, partnership can be a strong strategy for business growth.
Why robotics + partnership = a perfect match
The challenge for robotics companies is that robots incorporate so many different technologies. Creating a robotic system requires hardware development, software development, application development, sensors, actuators, interfaces… and that's not to mention all the other business processes that are not related to the robotic system itself.
It's impossible for a robotics company to excel at everything. Those who try are usually left scrabbling far behind the companies that stick to their core competencies.
By forging strategic partnerships, robotics companies can supercharge their core competencies by complementing them with those of other companies.
By forging the right partnerships, robotics companies can become more competitive and pave the way for their growth, without necessarily being acquired.
By forging strong partnerships, robotics companies can access a whole new set of knowledge and expertise through the teams they partner with, allowing for even stronger growth.
As the Robotics Business Review explained recently:
"In mature markets, […] success will be found by robot companies teaming up with each other on [combined robotic solutions] rather than trying to build it themselves."
When a company wants to grow, forging strategic partnerships looks like the way forward at this moment in the history of robotics.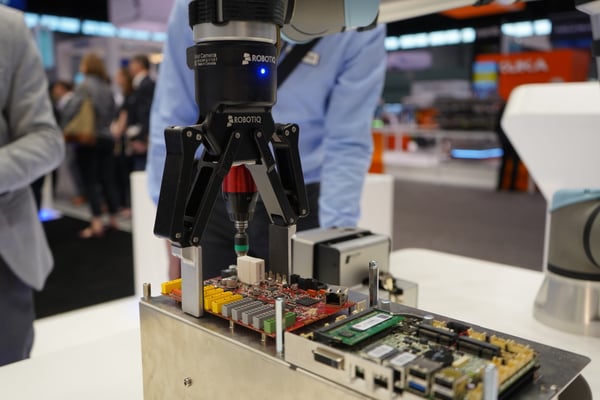 A PCB pick & place demo with a Robotiq 2F-140 on Universal Robots' booth at Automate 2019
An example: Robotiq + Universal Robots
A perfect example of the power of partnership is in our relationship with collaborative robot manufacturer Universal Robots (UR).
If you've been reading this blog for a while, you will surely have noticed that we talk about UR quite a lot. There is a good reason for this: UR is one of our core partners.
Before we partnered with UR, Robotiq was already becoming well known for our grippers. These grippers were good but — as Samuel Bouchard explains in the Lean Robotics book — they weren't yet easy enough for users to integrate. Over the years, we made it easier for customers to integrate them.
Partnering with UR allowed us to take this ease-of-use to a whole new level. We have been able to develop off-the-shelf integrated solutions for specific robotic applications; solutions like our Sanding Kit, CNC Machine Tending Kit, and External Tool Finishing Kit.
Although Robotiq products are still compatible with other robot brands, these off-the-shelf application kits would just not have been possible if we had to build them to suit every robot. By focusing on UR robots, we've been able to make (we think) the easiest ever robotic solutions to integrate for these applications.
Recently, we've seen partnerships like this popping up regularly in the robotics industry as companies start to recognize that, together, we can gain an extra competitive edge.
What it all means for you…
Unless you're the owner of a robotics company yourself, it might seem that this information is all just "nice to know" but with no practical purpose for you.
However, even if you are "just" a robot user, there is a practical benefit to knowing about this rise of partnerships within the industry.
When you are investing in a robotic solution for your business, it's worth finding out which companies are partners of your chosen robot brand. In general, robotic products produced by these partner companies will "play better" with your chosen robot than those which aren't.
The UR+ platform is an example of one way that a robot manufacturer is making sure that there is a range of accessories and compatible products available for users of their robots.
The flip-side is if you find your robot brand is partnered with the provider of an accessory that you are using (e.g. a sensor or end effector) which is not the brand that you are using. In this case, you should be prepared to put in a little bit of extra integration work to get the accessory to work well with the robot.
And, if you want to see how to combine Robotiq products easily, check out our new Configurator!
Which partnerships have you noticed recently in the robotics industry? Tell us in the comments below or join the discussion on LinkedIn, Twitter, Facebook or the DoF professional robotics community.