What Does Robot Training Involve?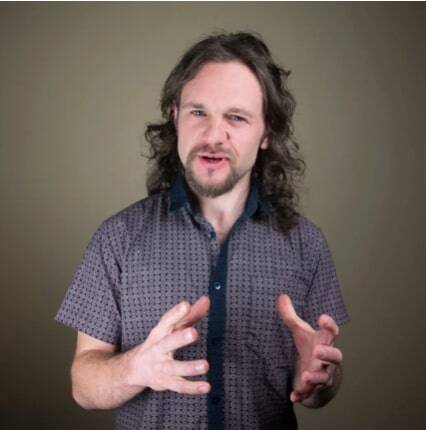 by
Alex Owen-Hill
. Last updated on Mar 22, 2017 7:00 AM
Posted on Mar 22, 2017 7:00 AM. 6 min read time
What can you expect from a robotics training? Collaborative robots are easy to use, but training will push your applications to the next level. Despite what you may think, there are many ways to train in robotics. We discuss which topics are covered in a robotics training.
Robotics training can give you a competitive edge, both as an individual — in the job market — and as a business. It allows businesses to move away from outsouring and invest in in-house robotics expertise.
Collaborative robots have brought rise to a whole new level to robotics training: one which is simpler and quicker than traditional robotics training. They are so easy to use that they can be programmed with no training at all. However, there is still a lot of value in ongoing robotics training. By investing in robotics learning, you will be able to design better, more effective robot applications.
In this article, we look at the various types of training, along with common topics of study.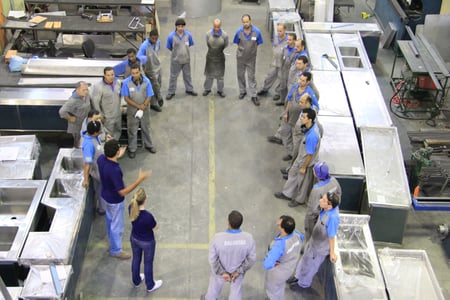 Types of Robotics Training
When we talk about training, we usually think of certificate courses or group seminars. However, there are many ways of learning about robotics. Examples of training types include:
On-the-job coaching, mentoring and job shadowing — These are a very effective way to integrate robotics training into the day-to-day job. Unlike external training programs, the learning is highly tailored towards the realities of your business. They do not require hiring extra staff; however, they can reduce productivity as both trainer and trainee are partly taken up by the training.
Self-directed study, video presentations and e-learning — These are becoming far more popular and many robot manufacturers have started to introduce self-paced, e-learning courses. There is a lot of readily available information online about using collaborative robots which can be used to supplement learning. The RobotiqTV YouTube channel, for example, has over 100 videos, many of which demonstrate collaborative robot skills, including: edge deburring, path recording with vision, object teaching, pick-and-place with an insertion jig, and complex surface programming.
In-house consultant training and one-to-one tutoring — Calling in a consultant to train staff is a common approach to training. If you have worked with an external integrator before, they may be a good place to start if they provide training services. Also, robot distributors will very often provide introductory training when the robot is installed. This may be a group training, but may also be one-to-one training for a key member of the team.
Seminars and group workshops — These are a primary mode of training across many areas of business. They are a good way of teaching to many people at the same time, which means that they tend to be more economical than other options. The downside of this is that the information they provide is usually quite general. Online webinars mean that trainees no longer have to be physically present.
College courses and professional certification — These offer more formal training in robotics, often with a recognized certification at the end. They range from single day courses to full degrees of one or more years. They cover topics in more depth than seminars or workshops.
It is often a good idea to mix training methods when you are designing a training program, either for yourself or for your business. For example, one approach could be to mix e-learning, seminars and on the job coaching.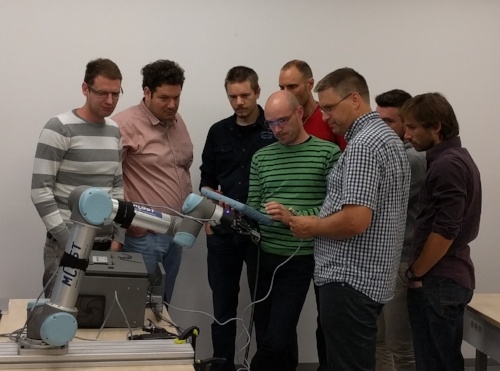 What You Learn in a Robotics Training
Robotics training can last throughout your career. There are so many topics to learn, and new techniques and technologies are developed every year. In this section, we introduce some common topics which you will find in collaborative robotics training courses.
A good training program will cover the skills and knowledge which are relevant for your particular use of robotics. In my opinion, the best time to learn something is just before you need it. It's more effective to learn robotics theory while also applying it practically in your work.


Basic Robotic Learning Topics
You can learn the basics of collaborative robotics in one day. Most courses will cover some of the following topics:
| | |
| --- | --- |
| How the robot works | Positioning the robot |
| General robot terminology | Basic programming by position |
| Types of collaborative robot | Creating and running a program |
| Operating the teach pendant | Robot teaching methods |
| Setting up the system | Performing common tasks with the robot |
End Effector and Sensor Topics
Grippers and other end effectors require slightly more advanced training. A similar set of skills are also necessary when using sensors.
| | |
| --- | --- |
| Types of end effector and sensor | Uses of different sensors |
| Attaching end effectors to the manipulator | Sensing technology fundamentals |
| Gripper selection | Designing with sensors |
| Gripper modification and design | Interfacing options for robotic systems |
| Compliance (active vs passive) | Interfacing with end effectors and sensors |
Sensors and customized end effectors can hugely increase the functionality of your collaborative robot, but require special attention. Before incorporating them in your training, check out our eBooks on Custom Fingertips for Adaptive Grippers and Adding Extra Sensors: How to do Even More With Collaborative Robots.


Robot Safety and Legislation
Although collaborative robots do not require fencing, safety is still vital. Safety-focused courses might include topics like:
| | |
| --- | --- |
| Collaborative robot standards | Safety sensors and applications |
| Collaborative robot risk assessment | Maintenance and installation safety |
| Responsibilities of users and designers | Types of robot accidents |
| Ergonomics of collaborative robots | Emergency stop considerations |
| Balancing performance and safety | Separation and distance monitoring |
As a starting point, you can find introductions to robot safety in our eBooks on How to Perform a Risk Assessment for Collaborative Robots and ISO/TS 15066 Explained.


Applications and Advanced Programming
More advanced training topics will depend on your particular use of robots. Some applications will require particular skills, which you can incorporate into the training program. Examples include:
| | |
| --- | --- |
| Robot selection for a particular application | Designing effective workcells |
| Designing processes for robots | Programming methods |
| Interfacing with networks and PLCs | Offline programming and simulation |
| Types of industrial networks | Advanced Debugging |
| Robot kinematics | Code testing and validation |
An effective approach to robot training is to start small and introduce new topics as they become relevant to your work or business.

Where to Find Training
There are a variety of different sources of robotics training. The simplest to access is the existing robotics expertise within your business. Does anyone have robotics skills that they could teach to others within the business?
Beyond that, robot manufacturers often have training courses, both in-person and online. Examples include Universal Robots Academy, ABB University and KUKA College.
There are also several institutes and colleges which provide robotics training, such as ToolingU, the National Robotics Training Center, Pilz, ITSL and George Brown College.

What method of training do you favor? Which topics are most important to your business? How do you source your robotics training? Tell us in the comments below or join the discussion on LinkedIn, Twitter, Facebook or the DoF professional robotics community.