Small Enterprises Like Yours Can Use Collaborative Robots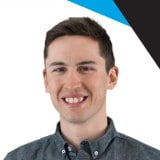 Your production is going all out and while you would like to increase production you cannot. You don't have the workforce and finding the right people isn't easy. Also your quality while good, is not as good as you would like. There are always rejects and if you could just reduce this waste, that product would go directly into profits. Well, you are in the same boat as most manufacturers out there. The eternal question is… How is it possible to do more with less? Well, the short answer would be… automation. The long answer involves introducing a collaborative robot to do repetitive and boring tasks. Learn how an Australian company increased its productivity with a UR robot.
Automation VS Manual Task

Prysm Industries in Australia introduced a UR5 robot to improve their product consistency. The job involved placing product stickers on a plastic bin. In fact, at a rate of 10 stickers per minute, this task was pretty boring, mentally demanding and was prone to a lot of errors because of the high cadence. By introducing the collaborative robot, the company could insure greater product consistency. They could repurpose the worker to do quality checks and reduce the risk of repetitive stress injury for the worker.
The cool part about this cell is that it can be adapted to the kind of product that has to be labeled. As the Prysm Operation Manager, Matt Murphy, explains: the robot is programmed depending on the product shape, either flat or round. Depending on the container shape the robot can be programmed to rotate or pass in front of the labeler in order to place the label on the plastic case exactly where it needs to be, each and every time.
The Cell

We like to promote cells that are as simple as possible, because simpler cells usually equate with more reliability and we are really pleased to see that this cell is quite simple. In fact, a conveyor (that was probably already there), a UR5, a simple suction cup and a labeler make a complete cell. When the robot is finished putting on the label it places the plastic containers on a flat table where an operator can do a final inspection before stacking them for shipping.
The key to the success of this robot is its ability to be reprogrammed in a very short period of time. If this feature wasn't part of the robot, a full time programmer would be mandatory to change the robot program each time a new product batch was produced. Thanks to hand guiding, a simple user interface and really easy to use programming methods the UR5 is very intuitive to work with. It basically uses waypoints and simple programming language, which makes this robot programming, faster and accessible to people that don't have any programming background.
Because Universal Robots are collaborative robots or cobots they are safe to use alongside people, though you still need to do a risk assessment. This means that no fencing is required and that the robot can basically be installed in front of a current machine without any additional devices or safety guarding.
For further information on how to get started with collaborative robots check out this eBook and email series, or take a look at our comparison chart. This will give you an idea of the robots that are on the market now and what their specs are. If they can improve your application, well go for it.