Now Is the Perfect Time to Develop Your Robotics Skills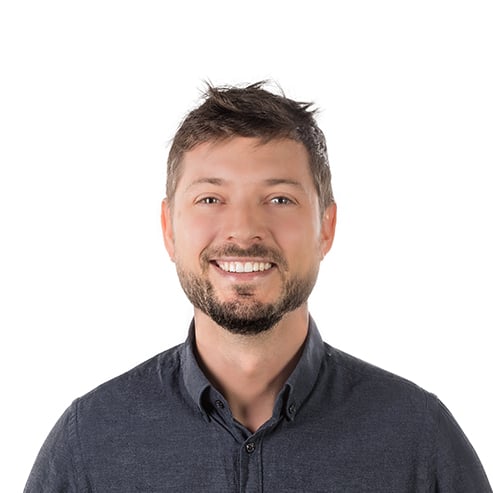 by
Samuel Bouchard
. Last updated on Aug 28, 2020 11:50 AM
Posted on Aug 28, 2020 11:41 AM. 9 min read time
The International Federation of Robotics recently discussed the high demand for "robotics skills" in post-corona recovery, arguing rightfully that "educational systems must effectively adjust to this demand [in robotics skills]."
In fact, the lack of robotics skills is the dirty little secret that we in the robotics industry don't tell you—the manufacturing industry—when we say robots will help solve your labor shortage issues.
It's true that robots can help you do more with less people, alleviating the labor shortage issue. But it's also possible that you might just trade this challenge for an even tougher one: finding people skilled in robotics.
That's why I always recommend factories invest in easy-to-deploy technologies, like cobots, so they can both solve their manual labor shortage AND upskill their people with more accessible robotics know-how.
With covid-19, there are now even more reasons to automate on top of the labor shortage issue—business continuity, and physical distancing of workers, being the top concerns among manufacturers I'm speaking with these days.
In a recent article, I explained what you should do right now for cobot deployment. Some factories are in a situation where they need to deploy robots quickly. Many others are evaluating even more projects but don't yet have a budget to pursue them.
In both cases, now is the perfect time to develop your robotics skills.
Why improve your robotics skillset now?
Isn't it important to build all skills on the manufacturing floor, not just the robotics-related ones? Yes; in a perfect world, everyone would be trained in everything that could have a positive effect on their work. But none of us have infinite time or resources for training, so we have to choose.
Here's why robotics skills should be high on your business's list of priorities.
Robots can impact the entire factory. Robots are like computers: general machines that can execute various processes. You already have computers on the desks of your engineers, executives, accountants, and shipping personnel. Similarly, you'll eventually see robots in the packing/unpacking, assembly, quality control, and logistics areas. Your investment in robotics skills has the potential to pay off throughout the factory by making numerous functions more efficient.
Robotics skills are necessary to maximize your robot ROI. Deploying robotic cells with your own in-house team drastically lowers the cost of deployment, maintenance, and upgrading. Even if you delegate your projects to external system integrators, your project will be much better managed if you have a few skilled employees, since your team will include a few people who understand the technology. However, if you and your team have no robotics skills at all, you'll be highly dependent on external resources and you'll be at risk of going with decisions that aren't in your best interest.
Limited robotics skills put your business at risk. If only one key employee knows how to operate robots, this creates a single point of failure in your system. So it's just as important to invest in a resilient, knowledgeable team as it is to invest in the robotics equipment itself.
What robotics skills does your team need to develop?
To successfully deploy a robotic cell, you need team members with robotics skills, project management skills, and deep knowledge of your manufacturing process.
The good news is you already have the most critical piece of the puzzle: understanding what your factory does that adds value for your customers.
The main robotics and project management skills your team needs are outlined below.
PROJECT MANAGEMENT SKILLS

With this skill, you can:

Robotic cell deployment project management

- Define a robotic cell deployment project.
- Assemble and mobilize the team to execute the project successfully.

DESIGN SKILLS

With this skill, you can:

Manual task mapping

- Document how a manual process is currently done with the information that will be needed to design the robotic cell.

Robotic cell concept

Develop a high-level robotic cell concept:

- Draft the layout.
- Choose components.
- Define the operation sequence (outfeed, infeed, process).

Robotic task mapping

- Document how a given process will be done with a robotic cell.

Manual-to-robotic gap analysis

- Compare the manual cell with the robotic cell maps.
- Identify modifications that will be needed upstream and downstream of the cell.
- Identify modifications in information transmission when going from a manual to robotic cell.

Robotic cell design

Do the robotic cell engineering work, by creating:

- Mechanical drawings (custom looting, enclosures, part infeed, outfeed, etc.).
- Electrical plans.
- Control architecture.
- Prototypes and proof-of-concepts.

Robotic cell safety

- Execute a safety risk assessment.
- Strategize to reduce the risk to an appropriate level.

INTEGRATE SKILLS

With this skill you can:

Mechanical installation

- Assemble the robotic cell components following design instructions.

Electrical installation

- Assemble the robotic cell components following design instructions.

Industrial communication

- Interface different machines and sensors so they can communicate with each other.

Programming

- Give the robot instructions.
- Perform logic programming.

Process adaptation

- Adapt a manual process so it can be done by a robot.

OPERATE SKILLS

With this skill, you can:

Troubleshooting

- Identify problems in the robotic cell and solve them.

Maintenance

- Replace worn-out components.

Optimizing

- Perform continuous improvement on the cell to increase its productivity.
In the table above, the items in rows with white backgrounds are general skills—they don't depend on a specific vendor or piece of technology.
Meanwhile, the items in rows with grey backgrounds are more particular to the specific technology or piece of equipment you're working on. For example, just because you can program one brand of robot, doesn't mean you can program another brand's products. Some concepts will be similar, but there will also be plenty of instructions in the robot languages that differ from one another.
Which skills should you and your team members focus on acquiring? To answer this question, start by assessing the current skill level in your organization.
Answer these questions for each item in the table above:
Who in your organization has this skill?
How critical is this skill?

If you were to lose the team member(s) with this skill, how detrimental would the effect be on your cell deployment (especially in terms of cost and productivity)?
If a team member gained this skill, how positive would the effect be on your cell deployment?
A template is available here.
How can your company develop these skills?
Regardless of how you rank the skills, you shouldn't start deploying robots without a basic ability to handle the beginning (manual task mapping) and end (troubleshooting, maintenance) of the deployment cycle.
Manual task mapping is a tool for evaluating potential robotic cell projects. If you work with system integrators, documenting your existing cell process with a manual task map will help you communicate efficiently.
Once you've completed a few mapping exercises and the relevant concept work (either in-house or with the help of external resources) your team will have a better sense of what is possible to achieve with robots.
The middle of the deployment cycle brings out the more "hardcore" robotics skills, including design, engineering, and programming. Developing these skills from the ground up requires a large investment, but it is absolutely doable and can bring a large payoff.
In fact, these skills make up the bulk of the cost when a system integrator does a project for you. Developing those skills enables you to deploy robotic cells internally, and just as important, lets you modify your early robotic cells to keep pace as your manufacturing needs evolve.
To develop these skills, you'll hire new employees or train existing ones—or both.
If you're starting from scratch and your automation engineering team is already stretched thin over many projects, look to hire an experienced engineer who already has these hardcore robotics skills. Find someone who can understand the nitty-gritty aspects of the project while seeing the big picture—someone with great communication and teaching skills for sharing knowledge with the existing team and future hires.
Keep in mind that many of the skills you're trying to find in this person will be dependent on a specific vendor or piece of technology. Make sure the candidate can apply these skills to new technologies and that they're willing to work with new vendors, not just old favorites. The technologies they used in the past might not be the exact ones you need, so find someone who's open-minded about robotic solutions.
If your existing team has the time and ability to focus, and basic technical background, they're able to learn robotics skills. The best way to learn is by doing, so have your team pick up skills while they work on projects. Start with simple deployments, and allow enough time in the schedule for the initial slow progress along the learning curve. Collaborating with external system integrators is a great way to build skills while getting concrete short-term results. With every project done this way, remember to define in advance the specific skills you're aiming to have your team develop.

Ready to jump into action to develop your robotics skills?
The content above comes from the book Lean Robotics: A Guide to Making Robots Work in Your Factory. Develop your skills further by reading the book (free download, Amazon) or listening to the audiobook.
We also offer free application training on our eLearning platform, as well as online group training.
Just like in sports, the robotics skills needed on the factory floor are hands-on, thus they require learning-by-doing. You can have the best basketball player lecture you on how to throw the ball, but you won't be any good at it without time on the court.
That's why my top recommendation is to identify a simple first project and start learning by doing.