The Next Generation of Robot Manipulators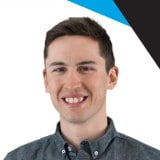 What is THE end effector of the future? Is there a specific end effector that will be able to grasp everything? From car doors to PCB's, is it really even feasible? Well, let's find out what the future of robotic end effectors might look like.
Requirements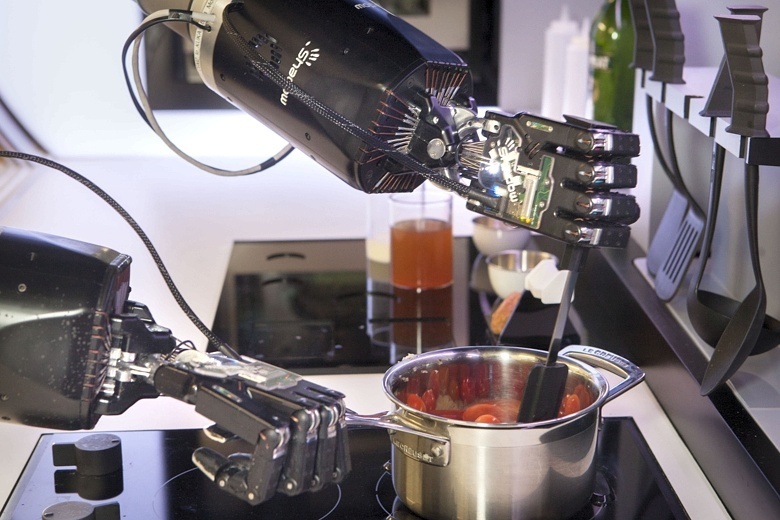 There are a couple of points that have always stood out in the past and will probably also guide future robot gripper purchasing; they are: price, dexterity and adaptability. Here's why these points will guide the market of the future.
Low Cost
Whatever you are manufacturing these days, there is a big concern about cost. In fact, the manufacturing process today has to be the most cost effective possible. To achieve such a goal you need to have hardware (such as robot grippers) that offer a good quality to price ratio. In fact, you need to get the best gripper at the lowest price possible. So basically, future manufacturing plants will require a gripper that can do everything, but is as cheap as possible.
As a rule of thumb, you can consider that the more complex a gripper is, the more expensive it will be.
Dexterity
Dexterity can also be called agility. It's basically how a gripper can handle an object and whether it can be used under every circumstance. We often imagine the human hand as the most flexible gripper possible and you can imagine what the level of complexity a gripper needs to be as dexterous as the human hand. At the moment actual grippers are only about 40-50% as dexterous as humans. So you should probably give them a little slack if they don't grasp each and every object the first time ;-)
Since future assembly lines will require complex assembly, you will want your robot gripper to be able to grasp objects on a table, in a drawer or in a tight space, that's the reason why you need dexterous grippers for your robot. Basically you will want your robot to be able to do more than one designated task repeatedly.
Adaptability
In the future manufacturing process time will also be a key factor. To reduce cycle time, you will want to eliminate tool changes and reduce programming time. You will then need a gripper that can adapt to different situations within milliseconds. For example, if during an operation you need to grasp 5 different parts, 4 tools and push a button... you don't want to use a custom tool for each operation. This is why adaptability is a key factor in your gripper choice.
Who are the contenders?
Since we don't have a crystal ball for future robotics, it's kind of hard to figure out which gripper will work best on every robot arm. But what we do know is that we can look at what is being done right now and see which ones would be the best contender for the prize of 'End-Effector of the Future'.
Robotiq 2-Finger Gripper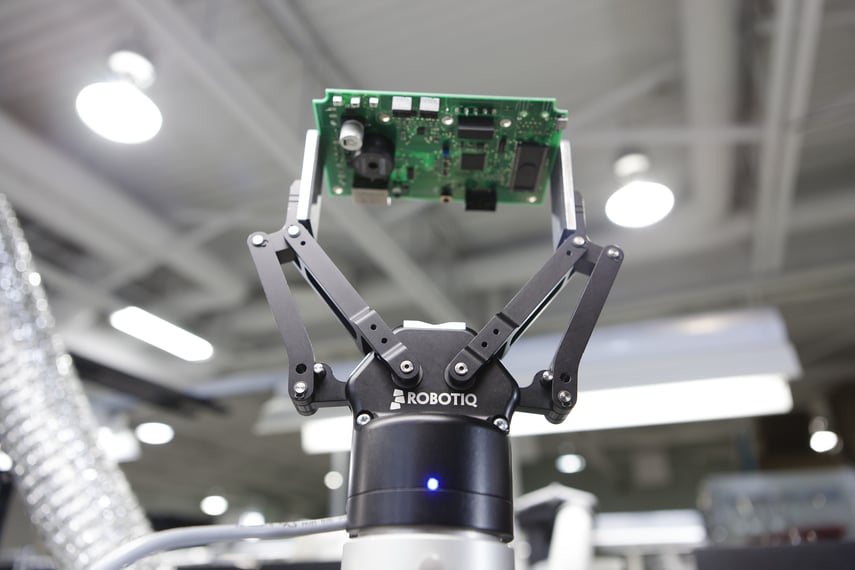 The 2-Finger 85 and now the 2-Finger 140 Adaptive Grippers are the perfect example of adaptability and dexterity at a low cost. In fact with a retail price of way under 10,000$ you can get a Gripper that can adapt to a wide range of objects in encompassing or parallel grasping mode. You can also set speed, force and position with a really easy to use intuitive interface.
The Grippers are well suited for collaborative robots. They can be connected directly onto a Universal Robots (wiring, mechanical and software interface). Also Denso Robotics has developed an all inclusive package that allows the end user to install the 2-Finger 85 Gripper with the correct coupling on their robot, while programming the Gripper with an already established programming library.
Price: ++ - Dexterity: +++ - Adaptability: +++++
Robotiq 3-Finger Gripper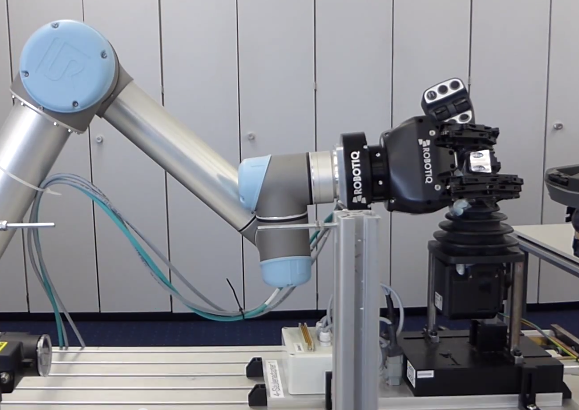 With a supplementary finger, using a 3-Finger Adaptive Gripper steps up your game in terms of dexterity. In fact, with 4 different grasping mode, this Gripper can handle a wider range of objects than gripper that only has 2 fingers. In fact, with a slightly higher payload and enhanced dexterity you can achieve more with this Gripper. As you probably expect, the Gripper is a little more expensive and a little more complicated to program. However, it may worth it for applications that require more dexterity and where a lot of different parts need to be handle by a single gripper.
You should notice that the 3-Finger Adaptive Gripper can also be adjusted for speed, force and position.
Price: ++++ - Dexterity: ++++ - Adaptability: +++++
Empire Versaball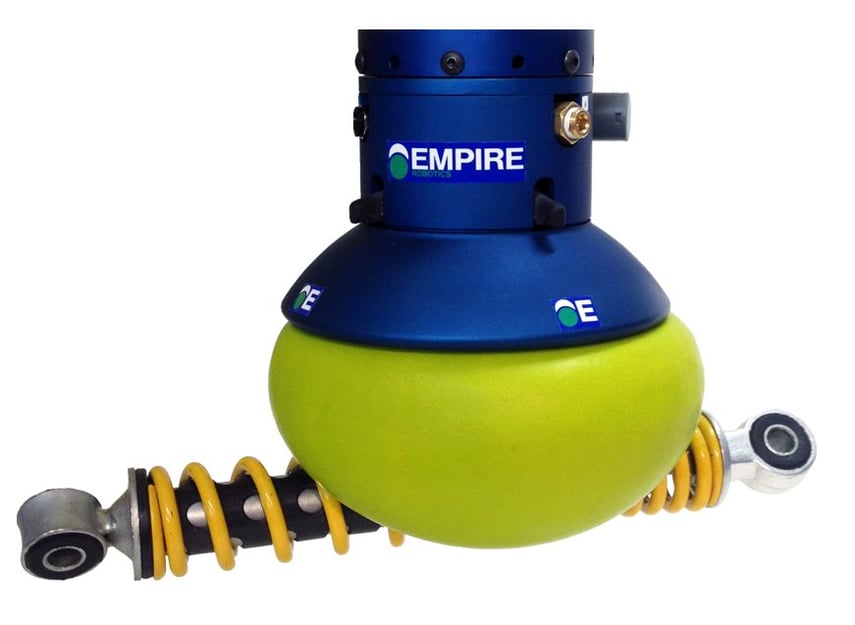 A great concept, the Empire Robotic Versaball, is a future contender, but it still needs to establish its proof of functionality. The principle is quite simple, you put substrat, in this case coffee grounds, in a flexible round shaped enclosure and surround an object, then you suck all the air out of your container, so the substrat congeals around the part you want to manipulate. You can then theoretically grasp anything you can surround.
In the real world it would be great to be able to grasp in non-ordered situations when you don't really know where the part is and you expect statistics to be on your side, so that you will hit your object some portion of the time. However, this is the most difficult kind of manipulation and generally requires an unfathomable amount of hit and miss attempts. If you are in a production process, you will need to know where the part is and not hoping that the coffee grounds have grabbed the object correctly.
So, while this concept is really good at grabbing certain object shapes, it is pretty bad at precision and repeatability. If your application requires grasping random parts and you have lots of time, this might be the end effector for you. Besides, it can do double duty and be used for your annual beer-pong contest. Watch the video.
Price: ???? - Dexterity: + - Adaptability: +++++
Grabit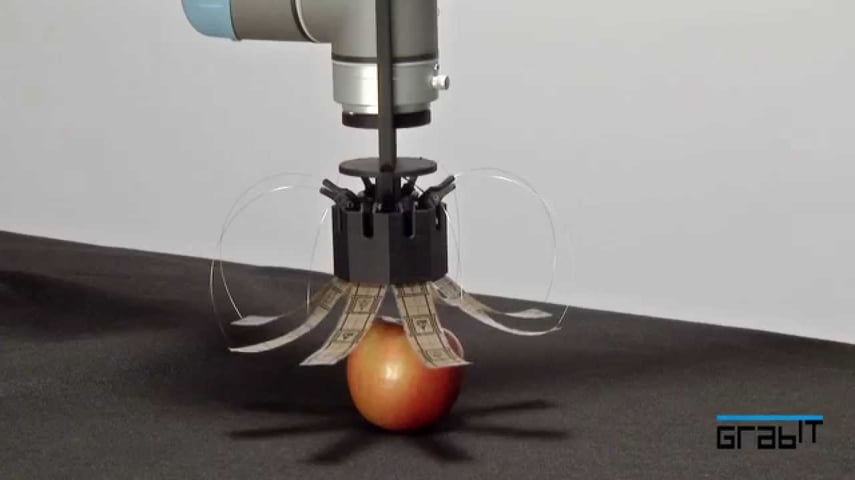 Another pretty new concept has arrived on the market lately. Electroadhesion can now be used in robot grippers to handle different kinds of parts and materials from PCB's to fabric. Electroadhesion works best with relatively flat parts. Since this technology needs a certain amount of surface contact to work well, a flat and smooth part is really the best case scenario.
In terms of dexterity, it is not quite there yet, but it will certainly improve. The adaptability criteria is scoring 'OK' since it can handle different objects, but for the moment it has a very limited payload and opening range. Finally, the product is still in development so no price has been determined yet.
Price: ???? - Dexterity: + - Adaptability: +++
Vacuum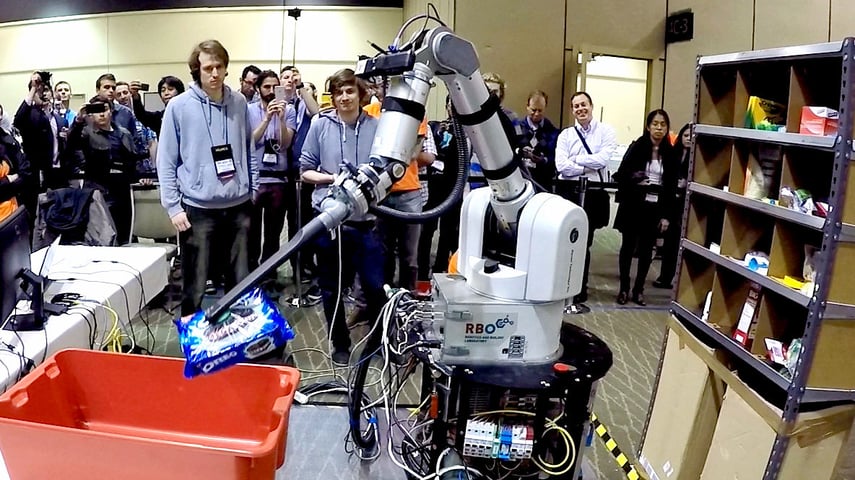 I am kind of ashamed to insert this in the ''top futuristic'' end effectors, but we saw a lot of ''vacuum'' styled end effectors at the Amazon Picking Challenge last winter. The contest required teams to grab a lot of light-weird-shaped objects and a vacuum system did win the contest. It certainly works well on flat and soft surfaces, however, for fragile, brittle, hollow or heavy objects, it is actually kind of crappy, since it is hard to regulate instantly the air pressure necessary. So in my books I don't really think it is a good solution.
Price: Very variable - Dexterity: + - Adaptability: +++++
Of course innovation is constant and there are many other types of grippers that will be used in the future, but for the moment these are the most promising examples. If you need more information on grippers or how to choose the right gripper, we have a bunch of documents that can help you in your selection. Follow the link below to learn more.