Marlan Lets Cobot Perform Heavy Repetitive Sanding Work
Marlan has been active in machining so-called solid surfaces since 1986. Marlan works closely with its partners, including dealers, architects and interior builders. Marlan supplies sheets, shapes and freestanding bathtubs and is active throughout Europe. The company is the driving force behind the product of the same name: marlan, a mineral (ATH) filled polyester resin that is extremely resistant to all home, garden, and kitchen chemicals. This is why this material is widely used for the production of bathtubs and sinks, among other things.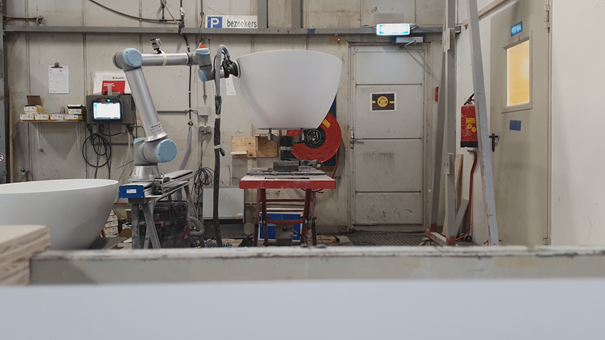 Programming the UR cobot is easy, so the cobot was working at Marlan within half an hour. Within two weeks, the cobot was fully deployable in production.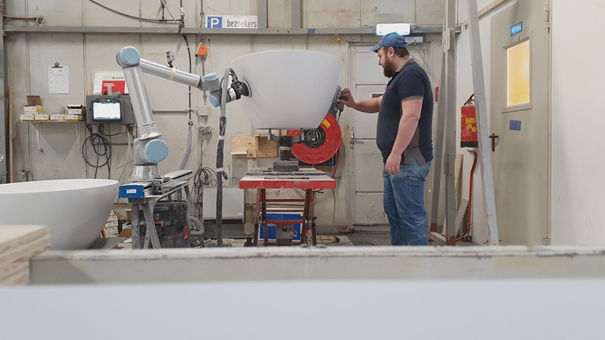 The cobot is very safe to work with, allowing employees to work on the same product at the same time.
The challenge
One of the operations that are common when processing solid surface products is sanding. This is heavy, repetitive work that requires skilled personnel. Such personnel is becoming increasingly difficult to find. In addition, it is important that the quality is guaranteed. It became increasingly difficult for Marlan to organize this task properly. The company therefore went in search of a way to automate this process as much as possible.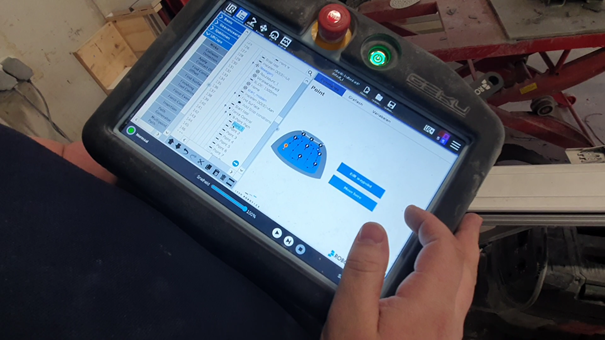 Workers only need to select a few reference points and the cobot starts sanding.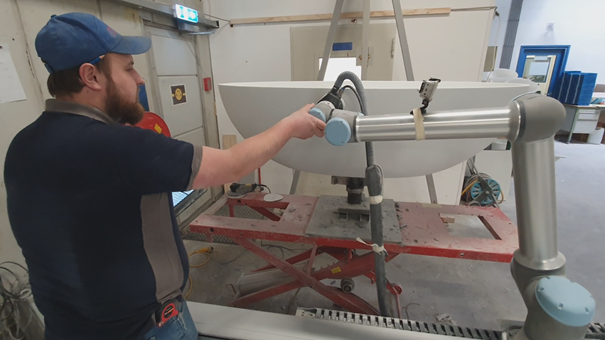 All that is left for the workers to do is the fine finishing and checking of the product.
The solution
Rik Heerema, general manager at Marlan, was sent a video via a relation of a robot that was used for sanding surfaces. "After some searching I found out that it was a cobot from Universal Robots with a sanding attachment from Robotiq. I decided within a week to use this combination at Marlan."
After delivery, the cobot was deployed within two weeks. Heerema was able to program it within half an hour, without any programming experience. After the implementation and installation, two employees were trained and the cobot was fine-tuned to determine the correct pressure when sanding. This step was also the start of further optimizing other parts of the production. According to Heerema, some employees were immediately enthusiastic, but others were afraid of losing their jobs. "But that's not what we're about at all. We want to make it easier for employees and give them the opportunity to increase their output." The employees are now fully accustomed to the cobot and see it as a kind of colleague.
The cobot at Marlan is currently used for sanding bathtubs. This is a large object that is difficult to sand manually. A major problem here is monitoring consistent quality. Heerema: "But with a cobot you can guarantee an even pressure which also ensures constant product quality."
This is one reason why Universal Robots and Robotiq were chosen. "The cobot from Universal Robots is easy to program and Robotiq made the right combination with the programming software for sanding," Heerema says. "The rest is just plug-and-play."
QUOTE: "If you know how a smartphone works, you also know how to program a Universal Robots cobot."
The Finishing Kit from Robotiq makes programming process applications, such as sanding and polishing, very easy thanks to the Finishing Copilot software. The shape of the surface, whether flat, curved or spherical, does not matter, which also makes programming bathtub sanding easy. Previously, programming without specialized software took several days, while complex trajectories can now be entered within minutes by selecting only 4-6 or 9 reference points.
The sanding process has become a lot smoother thanks to this application, as the cobot takes the heavy lifting out of the hands of the employee, who now only has to check a few points. In this way, Marlan is able to automate eighty percent of the process, which makes the whole thing more cost-effective compared to if a skilled employee were to sand manually full-time.
The experience at Marlan has been so positive that the company plans to install a second robot cell for bathtubs and, in time, another one for sinks.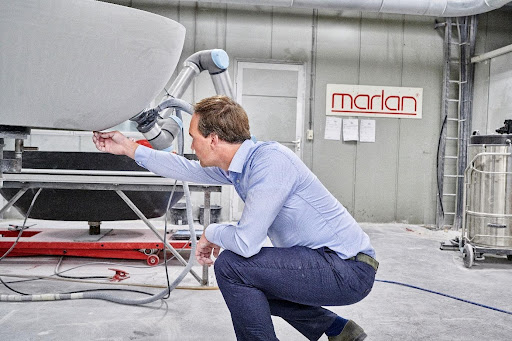 With a cobot, it is possible to apply even pressure, ensuring consistent product quality.