Manual Task Mapping Do's and Don'ts for Robotic Cell Deployment
by
Karen Smock
. Last updated on Dec 20, 2017 8:00 AM
Posted on Dec 20, 2017 7:00 AM. 2 min read time
In the lean robotics methodology for deploying robotic cells presented in the book Lean Robotics – A Guide to Making Robots Work in Your Factory, manual task mapping is the first post-planning phase. Manual task mapping is comparable to mapping a specific manual station in the current value stream in lean manufacturing. This article will explore best practices and missteps to avoid when completing the manual task mapping phase.
Don't start at the beginning
Instead, start at the end and define the output. By starting with the output requirements clearly in mind, you'll more easily identify non-value-added activities.
Even if it seems obvious, be sure to ask the questions what? and why? What does the machine or person who will receive the output needs? Why? Are you over or under-delivering? Polishing something that doesn't need polishing? Orienting something a particular way when it doesn't matter?
Starting at the end will force you to have a different perspective than you normally would have going in order, and prepare you to notice things you may have otherwise overlooked.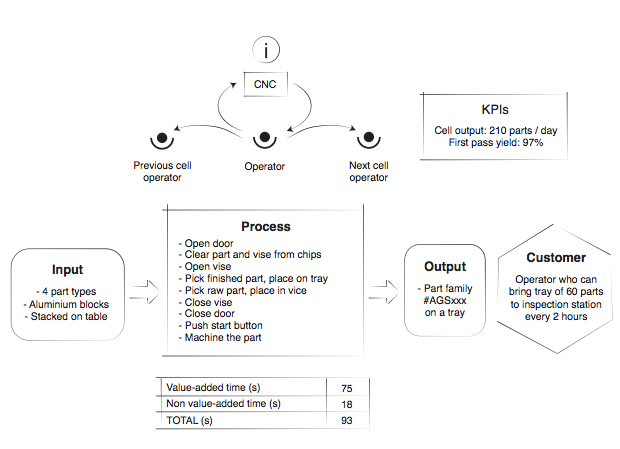 The Manual Task Map
Do watch for information the operator requires or provides.
If the operator communicates with the previous or next cell, find out what information is needed. Do parts need a certain amount of wait time to cool, warm up, or dry?
Don't try to document steps without watching a person perform the process
Having someone explain what they do isn't the same as watching them in action. Experienced operators often do things unconsciously without realizing it. If possible, watch a new person being trained to do the manual process. What do they do wrong? What corrections does the trainer has to make? Observing different operators complete the task can also show which steps can be completed using more than one method.
Do take a video
Video is a useful tool later when something that seemed obvious needs closer examination. You may also need to get task mapping input from someone who wasn't there watching the process, and would have asked different questions or noticed different details. A video will also allow you to stop and take a closer look at both the outputs and the inputs, without relying on memory.
Don't forget to ask why
Again, watch for little things the operator does without thinking. Why are you moving that way? Why don't you just do it this way? Why did you just turn that part upside down? Why did you just hold it up like that? Make sure you understand why the human operator is doing everything in the process, and document the reasons.
Do ask about defects
Find out what types of defects happen at both the input and output. Take video or pictures of any defective parts.
Do look for robotic constraint information
When your goal is to use a robot to do a task, it's important to be aware of and note anything that a human is doing that may be problematic for a robot. This is a major difference between the value stream mapping done in lean manufacturing, and manual task mapping in lean robotics.
Do pay close attention to part presentation
Parts presentation can be a challenge due to robotic constraints. Take videos and pictures and make drawings to show how parts are presented. Are they in a box or bag that needs to be opened? Are the parts in a chaotic pile? A human operator's ability to grasp unordered objects is a key differentiator between robot and human abilities (for now). Be prepared to spend time on parts presentation.
Do identify capacity constraints
How is cell capacity determined? Has capacity been measured correctly? Identify all constraining factors.
To learn more about using lean robotics to deploy a robotic cell, and the manual task mapping phase, visit leanrobotics.org.