How to Pick a Robotics Degree: Top 3 Questions Answered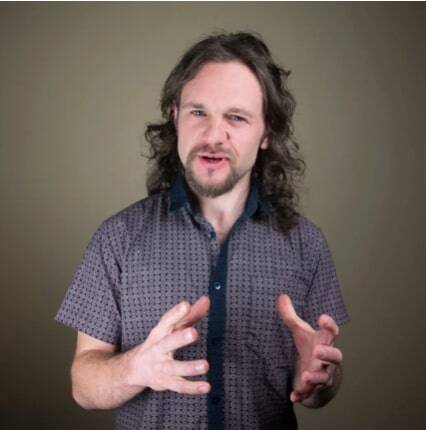 Picking a degree course is one of the most challenging decisions in any career. As a result, we have been asked lots of questions by blog readers who are unsure which robotics degree to pick. In this second article in a series of two, we answer the most top questions on how to make this big life decision.
One of our most popular articles on this blog is "What To Study for a Career in Robotics?" The article has attracted lots of great questions from you and your fellow readers. In the first article in this series, I introduced the four big decisions that you have to make when choosing a degree course. In this second article, I will answer three popular questions that your fellow readers have asked about picking a robotics degree course.

What if I Make the Wrong Decision?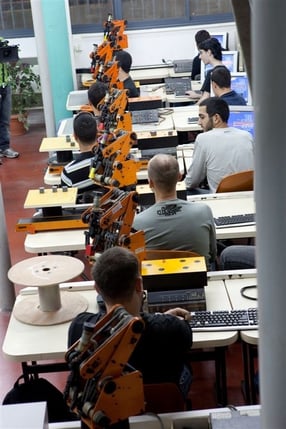 The first thing I need to say is that the advice I give in this article, and in the comments, is just that - advice. Nobody can make a decision for you about which degree course to choose. Please take the time to read the previous post, which explains why picking a degree course is such a challenging decision and gives some tips on how to approach it.
The main reason that people make "bad" decisions in life is when they don't take the time to truly consider their options before deciding. They just make a quick choice to "get it over with" but then regret it later, because deep down they realize they could have thought about it more thoroughly.
You are reading this article, so I know that you are not that person.
Whichever course you choose, and whatever happens in the future, you have the power to make a decision which is right for you at this moment in time. That's the best that anyone can ever hope for. (Now, read this paragraph twice more).



Choosing a Degree Course: 3 Popular Questions Answered
Here are the top three questions that we have been asked, plus a bonus fourth question.


Question 1: I Can't Decide Between Subjects! How Do I Pick?
In the previous post, I gave you a great technique to help you discover which robotics specialism you are most interested in. This was a response to the questions from Leonardo, Carlos and Joe, who all asked how to choose between different disciplines. The technique involved browsing a library or bookstore, with a particular plan in mind.
Read the previous post for instructions on how to use the technique. You can also use the techniques below to decide between specific degree courses.


Question 2: What Type of Degree Course Is Right for me?
Bachelors? Masters? Associate? The second decision you must make answers the question: Which type of course is right for me?
Eric asked this question when he wondered if an Associate degree can lead to a career in robotics. The basic answer is: yes, it can lead to a job in robotics. However, the type of degree you choose will affect what type of job you are qualified for.
Some jobs, such as robotics technician, might require an Associate degree. Other jobs, like robotics design engineers and software developers, might require a Bachelors or Masters degree. There are two factors which affect which type of degree you choose:
Your current qualifications - Do you meet the entry requirements of the degree?
Your desired job and career - Does the degree qualify you for the career you want?
The second of these is the most important - thinking about which career you want. If your current qualifications are not sufficient for a Bachelors or Masters, you could still achieve them by starting with an Associate, or other qualification, and working your way up to the higher level. But, how do you decide what career you might want?
The following technique is a good way to start:
Go to a few internet job boards in your area and look through all of the jobs being advertised in the field.
Note any jobs that jump out at you as looking interesting.
Copy and paste the name of each interesting job into a separate document.
Also, copy and paste the entry requirements of the job.
Finally, when you have collected between 10 and 20 jobs, stop.
Read through your document and look at the entry requirements for the jobs you have listed. Do most of them require advanced degrees? Do a significant amount only require associate degrees? What other skills do the jobs require?
This will give you an idea about what type of jobs might interest you. However, make sure to talk to people as well. Try going to a few careers advice services for a chat, as well as college recruitment fairs and open days. Ask the people there what type of robotics jobs their graduates go into and what these jobs involve.


Question 3: I've Got a Few Course Options. Which Should I Pick?
You've picked your specialism, and you have decided what type of degree course is right for you. However, the decisions aren't over! Now, you have to choose the degree course itself. But, how do you pick between two different degree courses?
I recommend the following exercise, which worked for me when I was choosing my degree:
Print out the course summaries for each degree course.
Get a pen and paper, sit down and relax (this should be a fun task, not stressful).
Read through the description of each module and notice which ones excite you. Which modules make you think "I really want to learn that!", give you a buzz of excitement in your chest or make you want to jump to Google and find out more about the topic?
Put a little dot next to each module which excites you and move on to the next one. A slightly more analytical alternative is to give each module marks out of 5 or 10.
When you have done this for all the degree courses, stop and compare them. Which types of topic seem to excite you more? Which topics have a low mark? Does one of the degrees have a much better "score" than the other?
As with the technique in the previous post, this is only a starting point. Make sure to visit the university or college and talk with the tutors before making your decision. Armed with this knowledge, you will be able to ask better questions to the course tutors during the open day. For example, if you like the look of one course but it does not have enough modules in a particular topic, you can ask them "How can I get more of this topic during my degree?"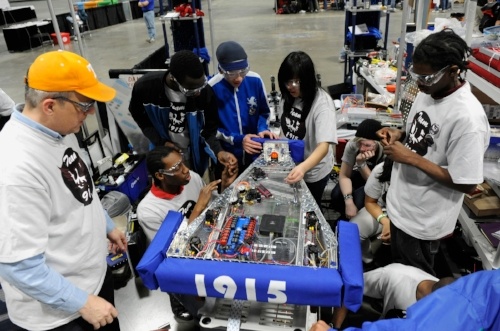 Finally, Remember: A Degree Is Not Enough for a Career
Back in the very first article, I explained the importance of developing experience with robotics outside your degree course. I call this "extracurricular fiddling." This is almost as important as the degree itself.
Eric asked a question, which boiled down to "Is this degree course enough to get a job in the field of robotics?"
The answer to this question is, almost always: No.
It doesn't matter which degree course you choose, the idea of a degree being "enough to get a job" is, unfortunately, no longer the case in any field. In the past it may have been enough, but it is not any more. There is so much competition for jobs and so many people have degrees these days. Employers will always be looking for you demonstrate that "something extra." They won't be impressed that you have simply survived a degree course.
Does that mean you should despair? Not at all!
It means that whatever degree you do, you should do extra-curricular (fun) work in robotics and try to get work placements in related fields during the holidays. The degree will give you the basics and the necessary "pieces of paper" (i.e. qualifications). But, if you can demonstrate to the employer that you are a keen learner and have an enthusiastic drive to get extra experience outside the course, it will go a long way to improving your employability.

Demonstrating your non-technical skills is the key with extra-curricular projects. These skills include: teamwork, leadership, entrepreneurship, time management, problem solving, and more. Check out our post "10 Essential Skills That All Good Roboticists Should Have" for a list of 10 skills and 25 sub-skills.
What one piece of advice would you give to someone who is trying to pick a degree course? Do you have any questions about picking a degree course? How did you choose your degree? Tell us in the comments below or join the discussion on LinkedIn, Twitter or Facebook.